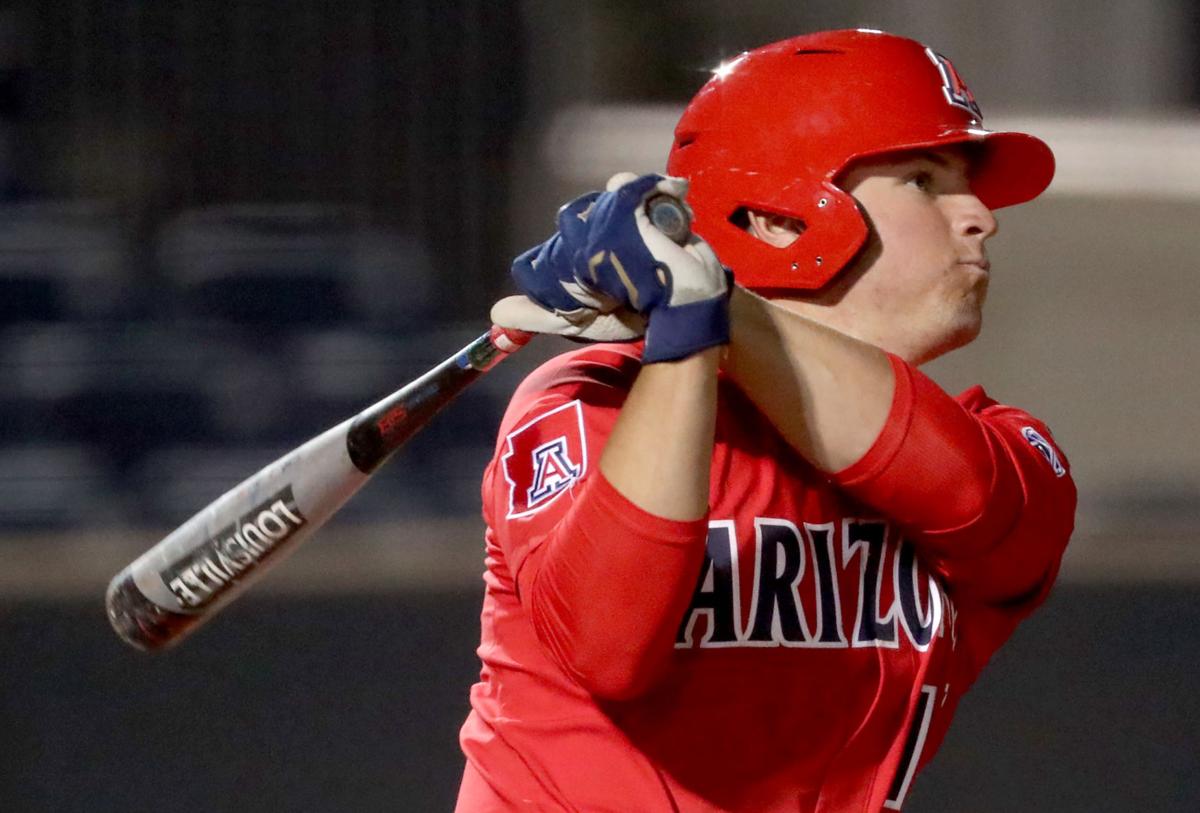 Jay Johnson recalled being "heartbroken" when he heard the news: Branden Boissiere was headed to USC.
The Arizona Wildcats coach had been recruiting Boissiere, a left-handed pitcher and outfielder from Riverside, California, since he was 15 years old. But Boissiere picked the Trojans. That's how it goes sometimes.
So how did Boissiere end up in Tucson after all?
He underwent Tommy John surgery as a sophomore at Woodcrest Christian High School. While on a family vacation in Wyoming, Boissiere got in an ATV accident. He broke his right ankle, among other injuries.
"I was out of baseball for a little bit over a year," Boissiere said. "It took a toll on my body."
USC rescinded its scholarship offer, according to Boissiere. He called Johnson to see if he was still interested. He was. Johnson flew to Riverside to visit with Boissiere and his family. Johnson didn't offer him a scholarship. But Boissiere knew he could go someplace where he'd be wanted.
"I'm very blessed to be here," said Boissiere, the reigning Pac-12 Player of the Week. "I love playing here under Coach Jay. This is the best decision I've ever made in my life. I don't regret anything. I think everything happens for a reason."
It'd be difficult to find a hitter who looks more at home in the batter's box than Boissiere. After going 13 for 20 last week, the third-year sophomore is hitting .483. He has two home runs and 10 RBIs — and only two strikeouts — in 29 at-bats.
"It was just a matter of time," said Johnson, whose team faces Oklahoma in the opener of the Frisco College Baseball Classic on Thursday in Frisco, Texas.
"He's got a great competitive nature about him in the box, has really good hand-eye coordination and a feel for hitting. I don't think maybe he's got as much credit for how good he is, and that's really only because the season got stopped last year. He was taking off as we were finishing up."
Boissiere ended the abbreviated 2020 season on an eight-game hitting streak that raised his average from .200 to .327. As a freshman in 2019, he batted .336 with a .430 on-base percentage. He just happened to be one of many prolific hitters in a loaded UA lineup.
Now Boissiere is a fixture in the middle of the order — and at first base. After arriving at Arizona as a pitcher/outfielder/first baseman, Boissiere has found a defensive home as well. He has become an asset at first, regularly averting errors by picking throws out of the dirt.
Johnson wanted to "shrink the focus" for a handful of players by assigning them to one position, and it appears to have helped Boissiere and second baseman Kobe Kato, who's hitting .357 and has yet to commit an error.
"Not having all these different things going around in my head about different positions, when I'm going to play, where I'm gonna play, it really helps me to be at ease," Boissiere said.
Although he's no longer a pitcher, Boissiere still thinks like one, and that helps him at the plate. He's adept at working counts, hitting with two strikes and using the whole field. When he gets his right foot down on time, he's able to square up fastballs and adjust to breaking pitches.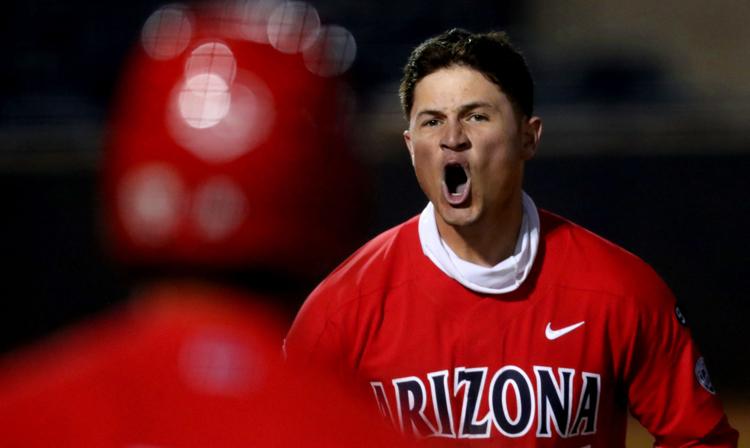 "It's definitely nice to not have to pitch to him every single day," UA right-hander Quinn Flanagan said.
"He's just a very mature hitter. He kind of thinks along with you as a pitcher. There's not a lot that's going to fool him. He's gonna get a good swing off on a lot of pitches."
Boissiere models his game after Freddie Freeman, the 2020 National League MVP. The Atlanta Braves first baseman has a bigger frame — he's listed at 6-5, 220; Boissiere is 6-1, 215 — but Boissiere admires Freeman's determined approach at the dish.
"I just like how he takes tough at-bats," Boissiere said. "He's a very tough out, and I feel like that's how it is for me too."
Road protocols
The Frisco Classic represents the Wildcats' first and only set of games away from home during the nonconference portion of the season. Johnson and the team have adjusted their travel regimen to mitigate risk amid the coronavirus pandemic.
The UA took two buses instead of one to Tucson International Airport on Wednesday morning. The traveling party wore N95 masks on its flight to Dallas. All meals will be delivered to the team hotel, where players are encouraged to stay in their rooms as much as possible.
"We're gonna give it our best effort," Johnson said. "Our players should be commended to this point in terms of how they've handled this. There's a reason we haven't had outbreaks and those sorts of things, and we'll just need to continue doing that outside of Tucson."
Johnson said the Wildcats have experienced "very little drama" regarding COVID-19 since they began practicing in late January. He credited the players for taking the matter seriously and adapting to new routines, including minimizing time in the locker room. Flanagan said his daily schedule is limited to workouts on campus, class at home and baseball at Hi Corbett Field.
"It took some getting used to," Flanagan said. "But that's the routine now, and that's what we've been doing."
It'll be about the same on the road.
"Just staying on the straight and narrow, sticking to the plan, not going to each other's rooms and hanging out," Boissiere said. "Ultimately, it's a business trip when we go to Texas. We're there to get a job done."
Inside pitch
No. 24 Arizona (6-2) faces No. 25 Oklahoma (4-3) on Thursday and Friday at Dr. Pepper Ballpark, which is the home of the Frisco RoughRiders, the Double-A affiliate of the Texas Rangers. Arizona faces Dallas Baptist (5-2) on Saturday and Missouri (3-5) on Sunday. The games can be watched on FloSports at flobaseball.tv. The cost for a one-month subscription is $29.99 ($12.49 per month for an annual plan).
Tickets are being sold to the Frisco Classic but must be purchased in pods of 2-6 "to comply with social-distancing standards," per the RoughRiders' ticketing site.
The NCAA has yet to release RPI rankings for the 2021 season. According to WarrenNolan.com, here's how the four teams stack up: Arizona 39, Oklahoma 81, Dallas Baptist 88, Missouri 199.
Arizona took part in the 2017 Frisco Classic, and Johnson was eager to return. "I feel like (A) it's one of the best tournaments in the country in terms of how it's run and put on, and (B) it has an NCAA Tournament feel to it," he said. "That's something I want our players to experience in terms of the quality of the teams, in terms of a neutral-site venue. I know they're really looking forward to it."
Johnson said right-hander Chase Silseth (2-0, 2.97 ERA) will start Arizona's first game against Oklahoma. D1Baseball.com clocked Silseth at 97 mph against Southeastern Louisiana last week. The site had UA freshman righty TJ Nichols topping out at 98 mph.