It isn't difficult to determine why the Arizona Wildcats are lagging behind some of their Pac-12 peers on the eve of conference play.
The lineup has been prolific, per usual. That's always been the case under Jay Johnson, and it probably always will be.
But Arizona's pitchers and defenders have yielded far too many free bases. Their generosity has led to big innings, which have led to losses.
The UA takes a 10-6 record into this weekend's home series against Utah. It matches the worst mark entering league play under Johnson, set last year — the only year in his first three in which the Wildcats didn't reach the postseason.
"We know we're capable of much more," junior third baseman Nick Quintana said. "Things are going to turn around."
Quintana and the offense have done their part. Arizona ranks second in the Pac-12 in batting average (.321), first in on-base percentage (.443) and second in slugging (.485).
"The offense to this point has been as good as it's been since I've been the coach here, and that's saying a lot because we've had some good offensive teams," Johnson said. "There's a lot of different ways that we can score and have scored. I like the trajectory of that."
Arizona ranks ninth in the Pac-12 in walks allowed per nine innings (4.50), a big reason the Wildcats rank 10th in WHIP (1.58). They're last in fielding percentage (.949). Arizona has allowed 33 unearned runs. No other Pac-12 team has surrendered more than 18.
"The defense piece obviously has been a big issue," Johnson said. "I think getting Jacob Blas back, even though it was only one game, really showed a little bit more of who we are."
Blas returned from a nine-game absence to deal with a personal matter and started at shortstop vs. College of Charleston on Sunday. Cameron Cannon, who had struggled at short, started at second base for the second straight game.
Arizona committed only one error in each of those contests after making four or more in each of the previous four. The Wildcats' "best defensive team" in Johnson's view features Blas at short, Cannon at second and fast, athletic Matthew Dyer in right field.
"Now that we have those pieces in place," Johnson said, "I anticipate we'll play a lot better on defense, which we need to to take the pressure off the pitching staff."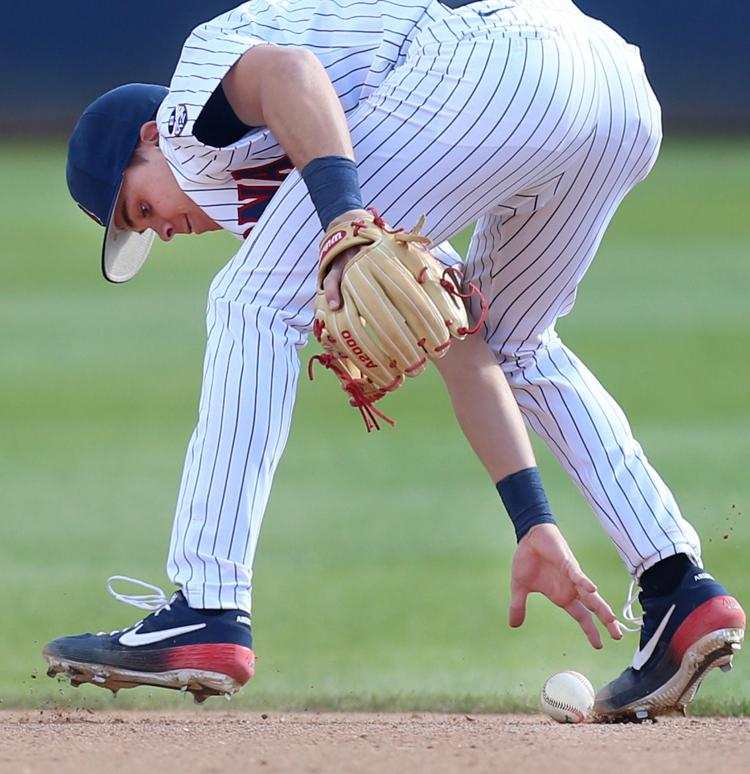 The defensive issues have given the staff no margin for, well, error. Arizona is 0-5 when scoring six or fewer runs. UA is 10-1 when it scores at least seven.
Arizona allowed three walks, combined, in the first two games against Charleston. Both were victories. UA pitchers walked eight batters (two intentionally) in Game 3. The Wildcats lost 10-6.
Arizona also has hit 16 batters, second most in the Pac-12.
Senior left-hander Avery Weems believes the staff has tried to be too precise at times.
"When I've had the most walks, I was trying to get strikeouts," said Weems, who will start Game 1 vs. the Utes on Friday. "When I'm trying to get strikeouts, I over-emphasize a pitch and try to be too perfect.
"It's really hard to pitch (from) behind. The best thing we can do is just attack hitters."
Weems (1.86 BB/9) is one of three pitchers on the staff allowing fewer than two walks per nine innings. Fellow lefty Randy Labaut (1.45) and right-hander Quinn Flanagan (1.8) are the others. Every other UA pitcher is yielding more than four walks per nine innings.
Johnson said the plan for this weekend and beyond is to funnel "most of the innings to our six or seven best pitchers." His hope is that the walks and hit batsmen will decline as a result.
"I think we know our team a lot better 16 games in, who can get the quality outs," Johnson said.
He wouldn't commit to a starter beyond Friday, but it's a safe bet Flanagan will be in that mix. Labaut, who was supposed to start Tuesday's rained-out game vs. Xavier, could be used as a starter or reliever.
Utes vs. youth
Utah (6-6) has won four straight series vs. Arizona, including three with Johnson as the Wildcats' coach. His teams are 1-8 against the Utes. Utah is 34-47 against the rest of the Pac-12 over that span.
"I've been here for four years," Labaut said. "For some reason, every year it's a dogfight with them. But every year is a new team."
That was Johnson's point when reminded of his record vs. the Utes. Arizona has turned over more than half its roster, so most of the current Wildcats weren't part of any of those losses.
"I haven't really thought a whole lot about it," Johnson said. "We played them in April of last year. None of that will have anything to do with what happens."
Inside pitch
Cannon entered Thursday tied for the Division I lead with 11 doubles. He's on pace to break the school record of 30 shared by Dave Stegman and JJ Matijevic. Cannon's .439 average ranks third in the Pac-12.
Junior center fielder Matt Fraizer ranks third in the league with 22 RBIs. He trails Arizona State's Hunter Bishop and Lyle Lin, who have 25 apiece.
Arizona ranks second in the Pac-12 with 20 stolen bases. The Wildcats have been successful on 76.9 percent of their attempts. They had only 32 steals last season. "We have a more athletic team," Johnson said.
UCLA, Oregon State and Stanford rank in the top six in every major poll. Unbeaten ASU is No. 19 in the USA Today Coaches Poll and No. 25 in the D1Baseball.com Top 25. Unranked Oregon is No. 1 in RPI.
Arizona will host Sam Houston State on Monday, May 13, to make up for the rainout, Johnson said. The Wildcats faced the Bearkats in the NCAA Tournament in 2016 and 2017.