Five days removed from a 16-point loss at Utah, the Arizona women's basketball team had something to prove.
And Aari McDonald had points to score.
The Wildcats star guard poured in 36 points Friday night, and the Wildcats beat No. 24 Cal 60-55 in McKale Center. The victory gives the UA a chance to start another winning streak; it's 11-game mark was snapped with last Sunday's loss to the Utes.
Coach Adia Barnes said she gave the team a couple really hard practices earlier this week to prepare for California.
"I purposely was trying to kick their butts and make it competitive and defensive because I thought that we didn't respond" against the Utes, Barnes said. "I thought we were very soft in Utah."
The upset win improved the Wildcats to 3-1 in the Pac-12 and 13-2 overall. This was their second win over a ranked team this season. Both losses so far this season came from teams that had lost their top player, which resulted in a rally that knocked down Arizona.
"I like the way we've responded after two tough losses," Barnes said. "And I think we've done a really good job. That's two ranked teams in the first couple weeks of Pac-12 play that we've beaten on our home court."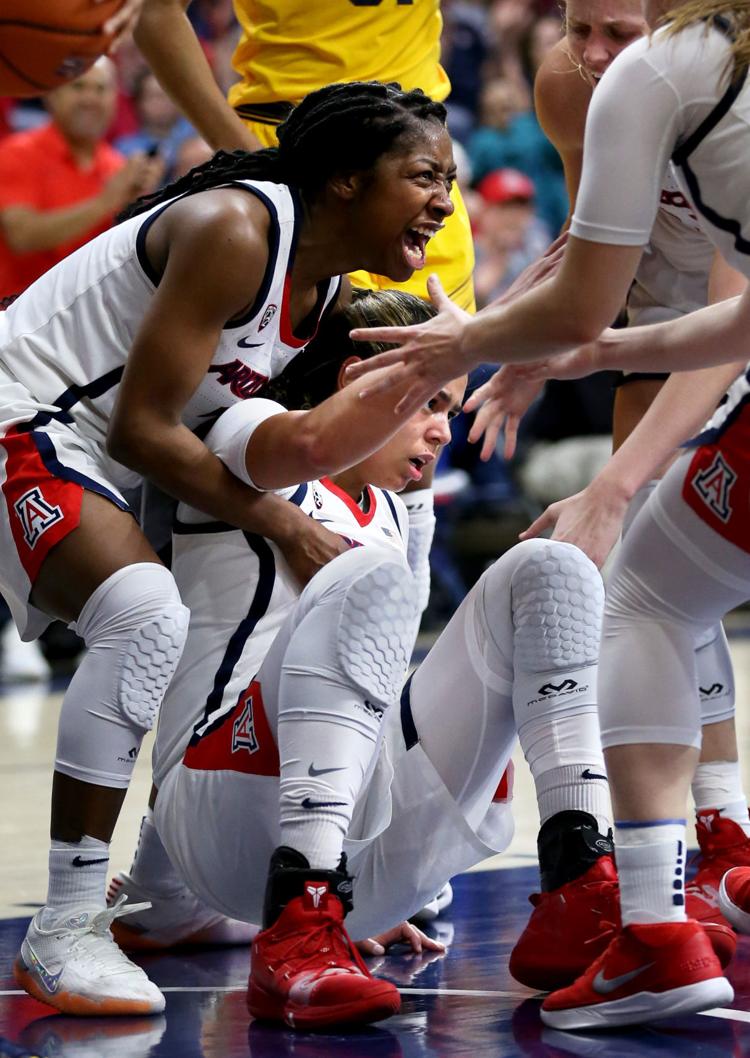 The game started heavily contested, with three lead changes within the first six minutes. The Wildcats regained the lead in part because of McDonald, who was 2-2 from 3-point range and 1-1 from the field.
Arizona broke away in the second quarter, using 10-point run to lead by as many as 14 points. The teams entered halftime with the Wildcats up 33-22.
After halftime, it took more than four minutes before anyone was able to score. But a three-pointer by McDonald finally fell through to start the scoring back up.
Due to 17 percent shooting from Arizona, the Golden Bears managed to cut the lead to two toward the end of the third quarter. McDonald, as she has all year, gave the Wildcats a lift. Her fourth 3-pointer gave Arizona a 41-36 lead.
The Golden Bears stayed close. Their chance to take the lead was thwarted due to a shot-clock violation.
Cal trailed by one halfway through the fourth quarter, but a jumper by McDonald kept them back. After the Golden Bears scored again, Dominque McBryde knocked down an all-too-important lay-up.
Although the Wildcats were outrebounded 42-30 and were killed in the paint, they managed to stop California's top player, Kristine Anigwe, when they needed to.
"(McBryde) did a good job on Anigwe," McDonald said. "She's a good player, she still got hers, but Dominique definitely made it difficult."
They also accomplished their other goals: holding Cal to less than 40 percent shooting and less than 30 percent from 3-point range, and to keep the Golden Bears under 60 points.
"Our players have fought," Barnes said. "Our payers have shown grit and character and passion. They've done everything I've asked. Looking in their eyes, they were determined and knew we could win I didn't see that look in Utah, but I saw that look against ASU."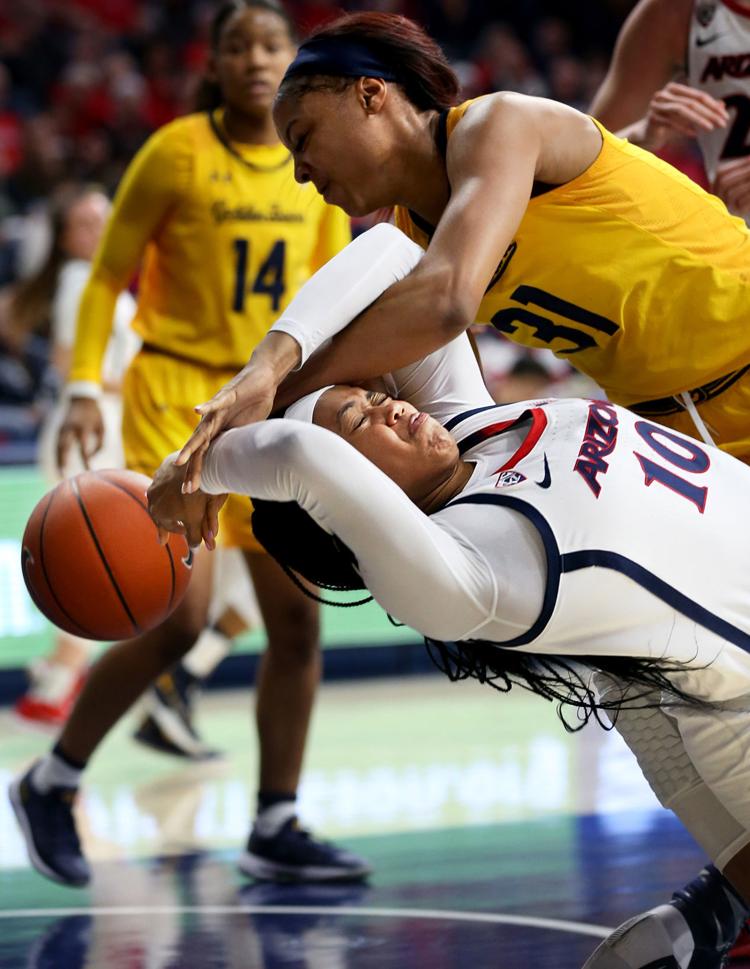 This was the third straight game McDonald scored at least 30 points. The point guard was 11 of 17, including a career-high five three-pointers. She also added five rebounds and four steals.
"I mean, it's good to score 30 points, but I'm not doing it alone," McDonald said. "I have the help of my teammates and my coaches. They help me get my buckets. Scoring doesn't really mean nothing. If we need it, I'll do it, but I'm mostly focused on defense."
The win against Arizona State brought the Wildcats attention, but Barnes said Friday's win proves it's hard to play the Wildcats at home. And Arizona shouldn't be a team to be overlooked.
"In the past, Arizona's been a team you want to play twice and that you know you're going to beat," Barnes said. "And that's why I'm here. I'm here to bring this program to where it used to be. Is it going to take time? Yes. It's a process. But I'm not here to place 10th, 11th, 12th. I'm not here to not have us in the conversation. I'm not here to say 'oh, you beat a ranked opponent.' I'm here to bring us there and that's what I'm intending to do."