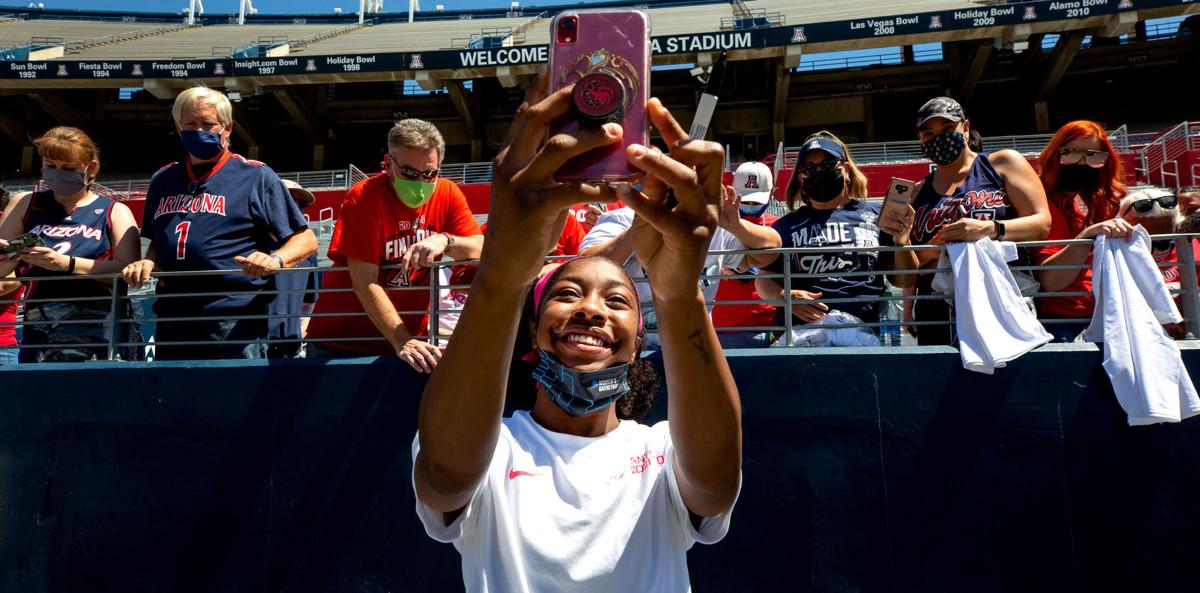 Thursday will be an unusual day for Aari McDonald.
Her regular routine — basketball, school and the gym — will be disrupted. Her future will hang in the balance. She'll be back on ESPN.
Arizona's star guard will be watching Thursday's WNBA Draft from her parents' home in Fresno, California.
The draft starts at 4 p.m., and McDonald should come off the board shortly thereafter. ESPN's latest mock draft has her going fifth overall to the Dallas Wings, with teammate Trinity Baptiste projected to head to the Seattle Storm in the second round.
Both picks, should they happen, would make UA history. The Wildcats have never had a first-round pick in the WNBA Draft. Just eight players in program history have been picked at all — and none since 2013, when Davellyn Whyte went to San Antonio Silver Stars in the second round.
It's been 19 years since two Wildcats were taken in the same draft: LaKeisha Taylor and Liz Pickney both went in the fourth round of the 2002 draft.
Yet McDonald says she hasn't had too much time to think about the draft, or her place in Arizona history. Her focus is on school.
"People don't realize I'm still a student," McDonald said. "That bubble really messed me up. I'm just trying to adjust again."
Basketball and school are the two reasons McDonald came back to Arizona last April, turning down the pros.
McDonald said at the time that she wanted to bring the UA program back to national prominence and make a deep run in the NCAA Tournament. She did just that as a senior, leading the Wildcats to their first-ever Final Four and a spot in the national title game.
McDonald willed her team to each of its six tournament wins. She averaged 24.8 points, 6.1 rebounds, 2.5 steals and 2.3 assists per game while shooting 51 for 108 (47.2%) from the field and 22 for 46 (42.55%) from 3-point range. Many experts called it the best performance of any player during the three-week run.
McDonald also wanted to earn an advanced degree. She is on track to get her master's in applied behavioral analysis sometime this summer.
"Despite everything I've accomplished as a player, I think getting my master's degree is better than any accomplishment that I have," McDonald said. "Nobody can take that away from me. I worked extremely hard, so I'm really excited about that."
McDonald's work ethic is reflected on the court. She took roughly 500 extra shots every day as a senior, and as recently as Tuesday night was in McKale Center working with coach Adia Barnes and assistant Salvo Coppa.
WNBA coaches have noticed, and complimented her about her work ethic in conversations leading up to Thursday's draft.
"Everyone said that I can be a value a valuable player on their team," McDonald said. "I can have an instant impact. They (have) all been telling me that everything I've done that has gotten me this far, just keep doing that when I get to the league. Don't change who I am as a player."
McDonald's mom, Andrea, will host a draft party for family, a few former coaches and good friends. She's also in charge of setting up ESPN's equipment for the virtual draft. The McDonalds had a call with ESPN Monday to go thru how to set everything up.
That's when it started hitting McDonald that soon she will be a professional player — one with new responsibilities. On one hand, she'll be a pro; on the other, she likely won't have to carry the load like she did in college.
"You'll see a different Aari," McDonald said. "Any way I can contribute, I'll do it."
McDonald also took a little time this week to reflect on her senior season and how she was able to fine-tune her game once she decided to return for one more year.
"This was worth it," she said. "Despite not winning the championship, it was worth it to get there and just to grow. I have grown as a person and a leader. … I've grown as a complete player. There's still work to be done, and there's still more room to grow. I'm just excited that I really came back."
McDonald isn't the only Wildcat who will have a draft day party. Baptiste will be watching closely from her family's home in Tampa, Florida.
Baptiste, a forward, spent one season with the Wildcats after transferring from Virginia Tech. She and McDonald talked Saturday, before Baptiste embarked on the long drive back to Florida.
McDonald had a message for Baptiste, who she called "by far one of my favorite teammates."
Baptiste is "a very genuine person works hard. She approaches the game and prepares herself for game and practice like I haven't seen anyone do before," McDonald said. "I was telling her when she goes to training camp: Do the same thing you were doing here. Be that same person, that same player."
It all starts with tenacity to get in position and muscle down low. Baptiste occasionally surprises opponents with her mid-range jumper and 3-point shot. She shot 44% from the field this season and 35% from beyond the arc.
Baptiste also increased her stock during the NCAA Tournament, averaging 9.5 points and 7.3 rebounds per game.
McDonald said she understands the significance of Thursday's draft, for both the program and herself.
"This is a great program — for me to do that, it's crazy," she said. "It lets people know – upcoming players that are coming to Arizona or deciding to come to Arizona — that you can do anything here. Just believe in yourself, believe in your teammates, believe in your coaches. I set the bar pretty high, but I want the younger ones in the program, people coming in, to out-do me."