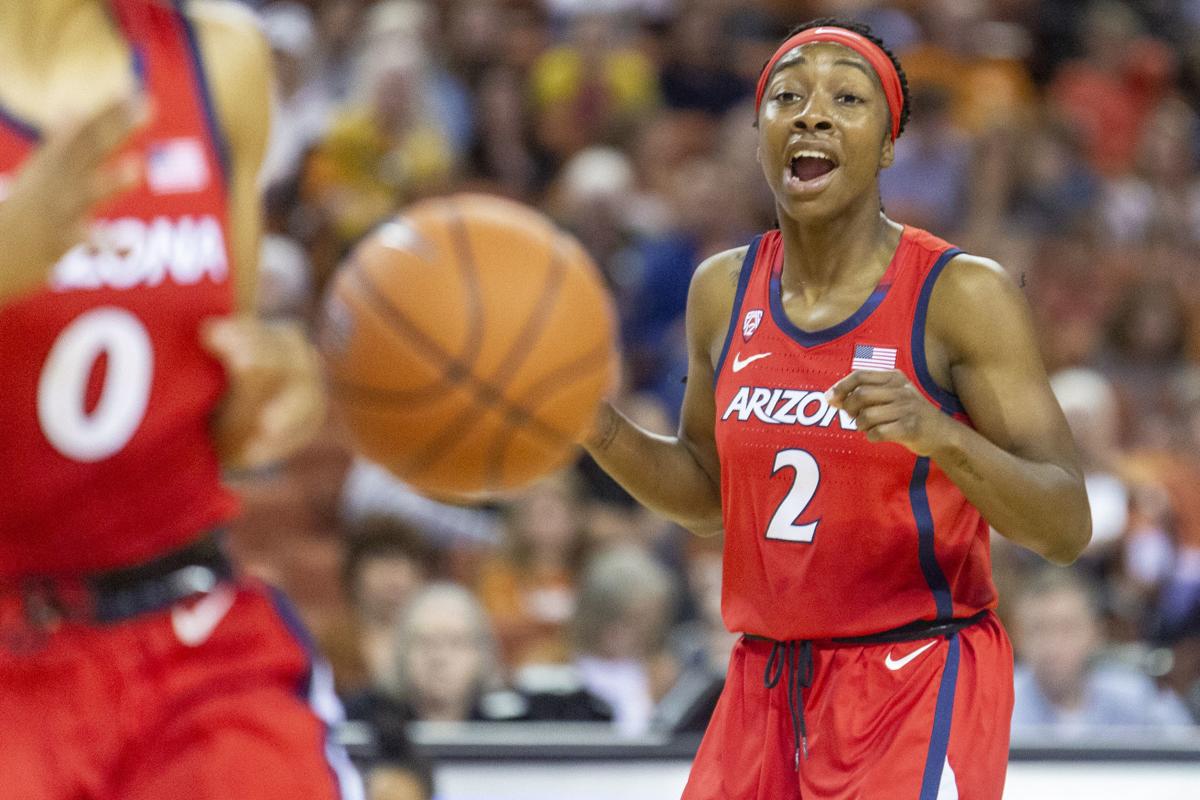 UA coach Adia Barnes said Aari McDonald would be better.
We listened — and wondered how that could possibly be true.
After all, McDonald was coming off one of the most dominant seasons in Arizona basketball history. She set the UA's single-season scoring mark for men and women.
Heck, she did things that got her mentioned with some of the greatest women's basketball players of all time — Maya Moore, Kelsey Plum and Chiney and Nneka Ogwumike.
Over her last two games, McDonald showed everyone. She was efficient in last week's win over Chicago State, scoring 24 points in 20 minutes. Then Sunday, she dropped a program-record 44 points in a win at Texas.
"In warmups, I kept telling my team, 'I'm in my bag. I feel ... different.' And then after the first three shots was like, OK, I'm feeling it," McDonald said.
McDonald hit 14 of 18 shots from the field and all 14 of her free throws, and the Wildcats crushed the Longhorns 83-58.
For her efforts, she was named player of the week by ESPNW, the Pac-12 and USBWA.
"No one could guard Aari," Barnes said. "She proved when it counted … how she's going to step up and perform, that she is one of the best guards in the country."
McDonald's 44 points broke the record of 39 that she shared with Davellyn White. It is also the most scored by a player in a Power 5 conference this season.
McDonald is averaging 25.3 points per game, most among Pac-12 players and the sixth best nationally.
McDonald and the Wildcats (4-0) return home Wednesday for a game against Prairie View A&M (1-3). The game will tip off at 11 a.m. as part of Kids Day.
McDonald wasn't the only UA player recognized this week. On Tuesday, Arizona was named Team of the Week and earned a No. 24 spot in the USA Today coaches poll, marking the first time they've been ranked during the season in 15 years.
Defense has been key to Arizona's hot start. The Wildcats limited the Longhorns to 39% shooting and forced 21 turnovers. The defense turned it up a notch to shut down Texas.
Barnes said the Wildcats "stuck to the game plan and they did it with pride."
"I was happy that they didn't get rattled when we were packing the paint and we gave up a couple of 3s," she said. "They stuck with it, and they believed in what we're doing and how we were prepared. I think that said a lot about our maturity."
Rim shots
• Arizona missed making AP's Top 25 this week. They finished with enough votes for the 27th spot.
"I think we are an oversight," Barnes said. "I think that's awesome, because we're an oversight that's going to come and punch some people in the mouth."
"I feel like people don't really count us in, but it's fine," she said. "That does give us motivation. … We're not worried about that. We're just going to keep playing our game and people at some point are going to put respect on our name."
• Last weekend was a good one for Arizona's women's sports teams. The Wildcats' soccer team won its first-round NCAA Tournament game, and the volleyball program swept its two Pac-12 opponents for the first time this season.
"It's pretty fantastic that women's basketball went to Texas and beat them like a drum," volleyball coach Dave Rubio said. "That was exciting."