Aari McDonald is getting better on her reads every day.
The most recent one is slowing down to realize it's time to focus only on her professional playing career.
That's why the Atlanta Dream's starting point guard has decided not to return to the Arizona program as its director of recruiting operations for the 2023-24 season.
Instead, she's going to play professionally overseas during her WNBA offseason.
The UA program announced Wednesday afternoon that it hired Ryan Thorne, who served as the Wildcats' graphic designer and photographer for the last four years as an undergraduate, to take on her previous staff role.
One person who understood this decision — and even pushed for it — is McDonald's former coach, Adia Barnes.
"I'm excited for her," Barnes said. "This is what I wanted Aari to do ever since she graduated — to play in the WNBA and overseas. I was sad when Aari left overseas (in 2021) because I know she could be amazing in Europe, make a ton of money and just have a great career — work, play and get better in the offseason.
"Even when Aari decided to come here with me I made her wait a few extra weeks so she for sure knew that she didn't want to play overseas, because I thought playing overseas was the best thing for her."
When the opportunity came back around in April, Barnes and McDonald had long conversations about it. In the end, McDonald realized it was the best thing for her playing career.
Barnes told her former player, who helped put Arizona back on the map and led the Wildcats to a WNIT Championship and a spot in the 2021 NCAA championship game, that she "needs to go play."
"I said, 'I'm always going to be here. I'm not going anywhere. You can go play for two, three, four years, and I'm always here, you can come back after,'" Barnes said. "The door is open for her. I encouraged her and want her to play because I want her to make the most money she can in the prime of her career. I'm going to be at Arizona whether she stops next year or stops in 10 years."
McDonald has a number of offers to play for top teams in Europe and hasn't decided which one she will take at the moment, Barnes said.
Last fall, McDonald joined Barnes' staff to start her education for the next phase of her life — coaching. She shadowed Barnes all season to learn about everything that goes into leading a program.
McDonald also spent hours training for her third WNBA season while in Tucson. Most days, she put in two or even three workout sessions that included being up at 5 a.m. for a class at F45, lifting and on-court drills. The Dream sent a development coach, Dale McNeil, to Tucson to work on specific parts of her game. McNeil was in Tucson at least twice a month during the last half of the Wildcats' season.
Barnes and UA assistant coach Salvo Coppa also helped McDonald with her offseason development. Only two games into the season, Barnes has seen a jump in McDonald's performance, especially in her 3-point shooting.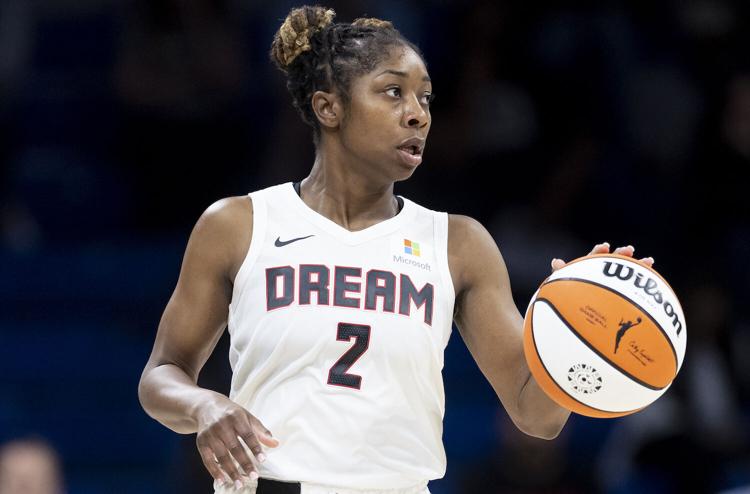 She started the first two games of the WNBA season at point guard, with veteran Danielle Robinson out with an injury. On Tuesday night, McDonald hit the go-ahead 3-pointer and had a key defensive rebound as the Dream came from 19 points down to defeat the Minnesota Lynx 83-77. She dished six assists, which tied her career high.
Barnes is also seeing the intangibles McDonald gained by observing up close what goes into coaching.
"I think seeing what the coach's perspective is, what coaches go through and effective ways to communicate, she learned a lot with me here," Barnes said. "I knew it would translate to her as a player and later on as a coach."
McDonald isn't the only former player Barnes is advising to play as long as they can. She's also been talking to Sam Thomas, who was waived by the Phoenix Mercury last week, and Trinity Baptiste, who is playing in Mexico this summer.
"I'm still here; I'll still help them," Barnes said. "These are players I love, and I'm going to help them. Like Trinity. I always say to her, 'When you are done give me a call.'
"If you can play for 10 more years, why not? It's your time to go play, travel the world. I've lived all over the world. It changed my life."
Barnes played professionally overseas and in the WNBA for 13 years. She won the 2004 WNBA championship with the Seattle Storm.
The program also officially announced the hiring of assistant coach Anthony Turner, director of operations Lauren Flaum and video coordinator Kyle Hutson — all of which Barnes had shared with The Star earlier this month.
Rim shots
Arizona's Helena Pueyo is on Spain's FIBA 3x3 U23 Nations League roster, which is competing in Bratislava, Slovakia, June 6-8. Last summer, Pueyo took home a gold medal in FIBA's 3x3 U23 Mediterranean Games in Algeria. She is still in the mix to make Spain's roster for FIBA Women's EuroBasket which will be played in Israel and Slovenia from June 15-25. The Wildcats' team captain last season is returning for her fifth year in the fall.
Ex-Wildcat Jade Loville has signed with the St. Louis Surge. The Surge is one of four teams in the Global Women's Basketball Association (GWBA). Loville was selected at No. 33 by the Seattle Storm in the WNBA Draft and waived before the season started.