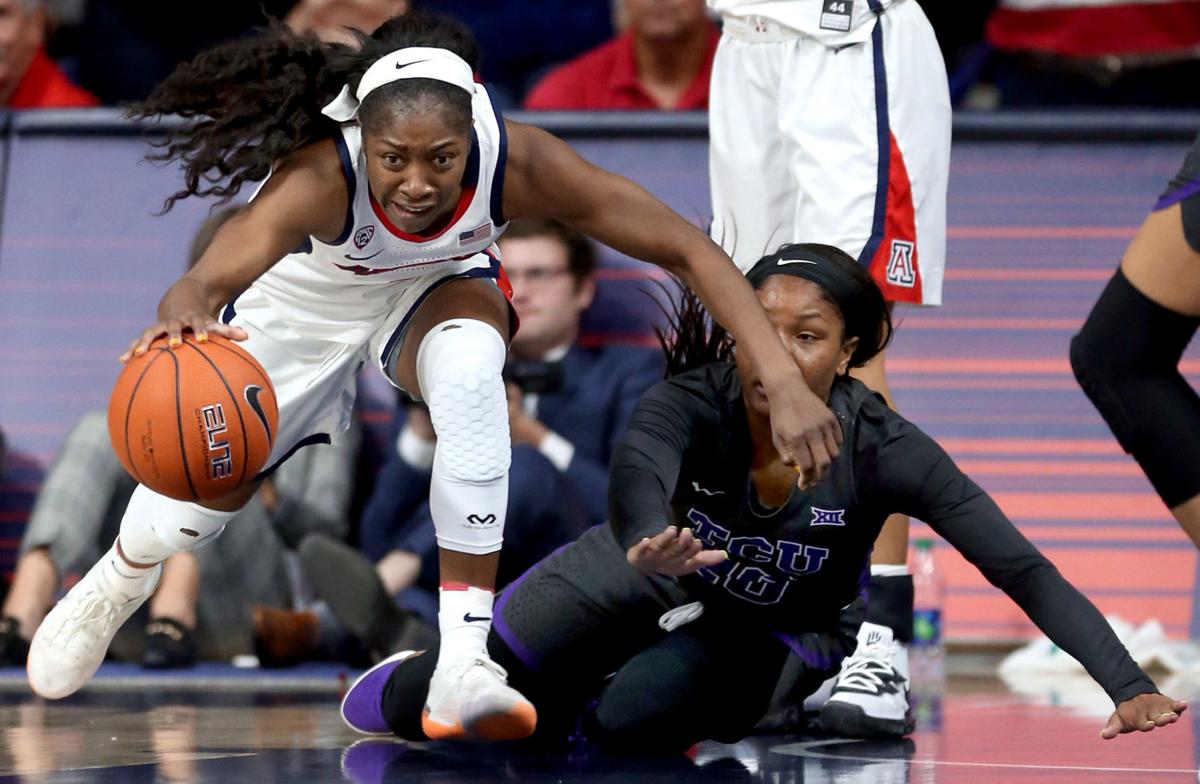 Aari McDonald shook her head when she heard her time for a baseline-to-baseline sprint. Four seconds.
It was an off day for McDonald. Even her coach, Adia Barnes, knows she is faster than that: "She doesn't go all out in sprints," Barnes said.
Athletes like McDonald race up and down the court every game, every quarter — heck, every possession. We know she's fast; but what does it mean?
This summer, McDonald — the best player on the Wildcats' WNIT championship women's basketball team — is trying to find out.
The lightning-quick guard has worked on controlling her speed, figuring out when to wait a half-second to engage a teammate and when to throttle down and sprint at full speed. The ability to stop and start, to slip screens and slide laterally, can all be taught.
McDonald's speed, however, is a gift.
It's a main reason why she developed into one of America's top basketball players a year ago, averaging 24.1 points, 2.6 steals and 6.5 rebounds per game while scoring more points in a season — 890 — than any basketball player, man or woman, in UA history.
Longtime UA track and field coach Fred Harvey says that McDonald's speed stands out, even in a world of talented athletes.
Consider: McDonald's teammates can make it from one baseline to the opposite free-throw line in four seconds, and they're Division I scholarship athletes nearing their athletic peaks.
McDonald can go all the way from baseline to baseline — 94 feet — in that amount of time. She can grab a defensive rebound, run the length of the court and score a basket in the amount of time it takes most people to tie one shoe.
The 5-foot-7-inch McDonald does everything fast, Harvey says.
"She's creating a lot more force in a shorter amount of time than most human beings can do," said Harvey, who watches McDonald and other UA athletes with a coach's eye for form.
"If you have a slapping contest, she can slap you a lot faster than you can slap her. And when hitting the ground, she can hit the ground a lot faster than the normal human being can hit the ground. And when you have that, it propels your body.
"The easiest way to put it in perspective: She could run the entire court faster than you — a normal human being — can run to the half-court line. Anyone who has walked on a court can really get a sense for that."
McDonald has a hard time explaining her speed. She was born with it, after all, and with the exception of a few years running track, has never seen herself as a sprinter. Even now, she says "I feel like I'm not that fast."
"To me, it's normal. I've always been a speedy person," she said.
Harvey says McDonald's speed is "a gift that not many people have," especially when you factor in the different things that basketball players do on the court and the ways they must adjust their bodies. He says McDonald's "kinesthetic awareness" is similar to that of a great high-jumper who can manipulate his or her body midair.
"She has this innate ability and understanding that 'this is what is happening on the court. This is where that ball is more than likely going to go,'" Harvey said. "And she has that ability to shift and go into that.
"We used to play a game when I was a little kid, way back in the late '60s, early '70s, when they first started to build shopping malls. And we called it mall sprinting. We'd get in the mall and take off sprinting and the objective was you can't hit anyone, but you need to know where the hole is actually going to open up Our really good running backs on our football team were able to do that. They knew because of the pattern of how things were happening, that this is going to happen. … And Aari really has that innate ability.
"Going back to her speed on the court, basketball is purely acceleration. There is no top end; even if you take off from one side of the court to another, you never reach top acceleration. You never reach top speed. Really, what you see more in her is she's far more explosive and kinetically she is able to respond quicker and get frequency going."
McDonald has never done anything special to enhance her speed. This offseason, however, she's worked on controlling it. It began with a review of last year's game tapes.
"I saw that I could slow down here and give myself a half a second or say, give my teammate a pass. I could've done that a half a second slower," she said. McDonald has learned "when to go fast and when to go slow. That's my thinking right now —knowing when to do things at a certain pace."
It's not just how McDonald gets from one end of the court to the other or her pacing. There are layers to McDonald's speed: She knows when to put on the brakes and smoothly shift into her lateral movement.
"She's able to transfer energy in the right direction without excessive stepping. We talk about that first step: If you're sliding your hips in the direction you want to go, you'll be a lot faster than someone who twists and then steps," Harvey said.
At the same time, McDonald can steal, pass the ball to her teammates and score.
"Her way of maneuvering around people is instinctual — you can't teach that. It separates her," Barnes said.
"I think her best quality is her competitiveness and fight on the court. She sacrifices her body and then it's her ability to find a way to score. She turns and doesn't get her shots blocked a lot. She's finessing and finishing well for her size. She is small. She can weave through people and it's all just instincts."
Despite McDonald's blazing speed, Harvey believes she'd excel at a different event in track.
"She'd definitely jump," the longtime track coach said. "I … don't know what she can do after 30 meters. You know for sure how quickly she can move, how she transitions — she can convert energy very, very well. Those are jumpers I believe Aari thinks she can jump.
"A biomechanist a number of years ago estimated that if Michael Jordan decided to triple jump, he would be the next world record holder and be the first person to jump over 60 feet. And he estimated that based on Jordan's ability to convert energy, how he transitions on the floor … when he takes off from the top of the key all you have to do is draw a line through his hip — where his hip is at the peak of his dunk — that tells you exactly how far he can jump.
"A person trying to dunk from the top of the key — from the free throw line — that is as pure a long jump as you are ever going to get."
"For me to say that the 100 would be Aari's thing would be a little misleading," he said.
"I have no idea what she can do after really 25 meters, because she's never really sprinting from one endline to the next (in games). She's never truly going and just continuing to go. Maybe halfcourt? So looking at 15 or 20 meters, we know what her acceleration pattern would be. But after that we don't know if she can maintain that speed.
"But I betcha she can jump."