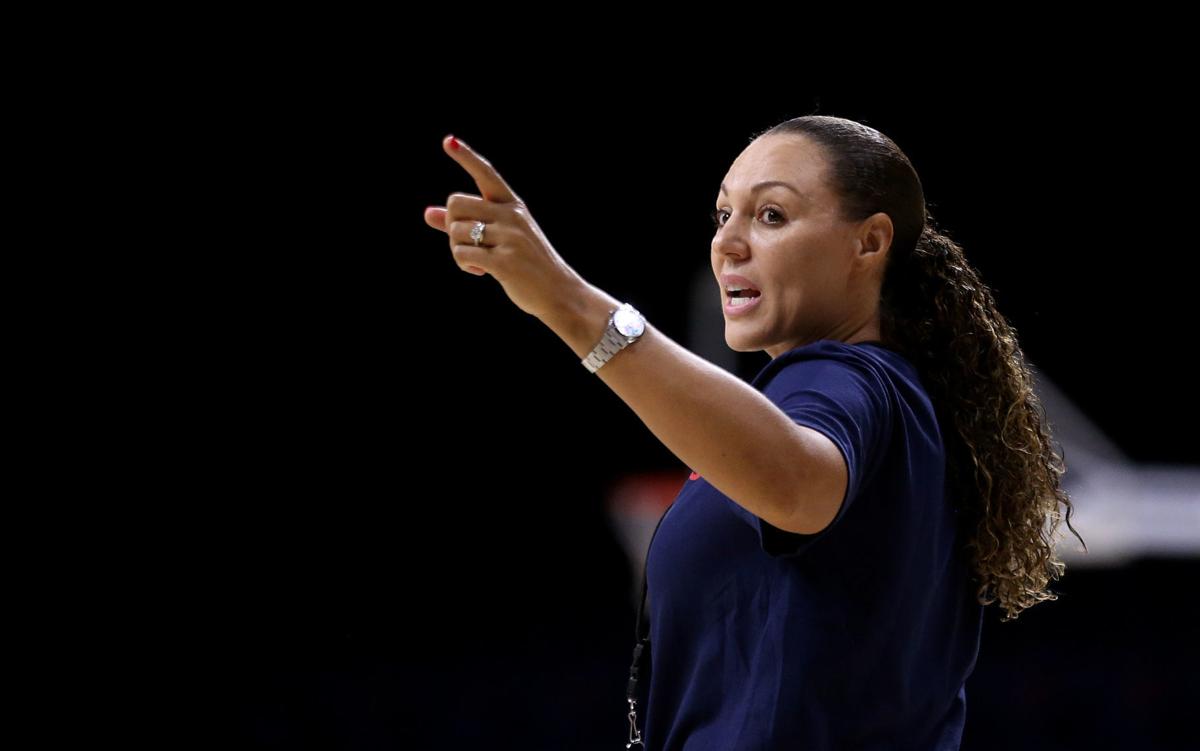 Loyola Marymount gave Arizona a hard time, but April Phillips knew it would.
Arizona's assistant coach and recruiting coordinator spent the last three seasons with the Lions and was responsible for Loyola Marymount's two best recruiting classes in 2017 and 2018.
But Aari McDonald also gave the Lions a hard time at McKale Center on Tuesday night. The redshirt sophomore transfer from Washington scored a career-high 39 points in the heartbreaking 66-64 loss to Loyola Marymount. The next-best Wildcats scorer was Cate Reese with eight points.
In only her second game in an Arizona uniform, McDonald was the first Wildcats player to score at least 30 points in a game since LaBrittney Jones finished with 30 against Oregon on Jan. 25, 2015.
McDonald said she noticed the team was playing with low energy and had the sense of urgency to step up in the second quarter.
"I took it upon myself to get my teammates together, just try to talk, just try to be a leader out there," McDonald said.
But there was little chance the Wildcats would win when McDonald was scoring more than half of the team's points. At least that's what Arizona coach Adia Barnes said.
"We need to have three, four, five people in the double digits and we have the personnel to," Barnes said. "But all the other starters were 8 for 31 … we can't shoot the ball like that."
The Lions forced three turnovers from the Wildcats early in the first quarter. Arizona also struggled to find the basket until Bryce Nixon came off the bench and scored a 3-pointer from the left wing to gave the Wildcats their first — and last — lead of the night at 5-4.
But Loyola Marymount regained the lead shortly after and closed out the first quarter on a 7-0 run to lead 20-9.
McDonald got the offense started again in the second quarter, and the Wildcats went on a 7-0 run of their own, but it wasn't enough to get out of the early deficit.
Loyola Marymount's Andee Velasco scored a 3-pointer at the buzzer to lead 36-24 at the half.
"I thought they were really aggressive," Barnes said. "I felt that they were very physical with us … we could not finish a post shot."
Loyola Marymount continued to build its lead to 53-42 entering the fourth quarter.
The Lions led by as many as 13 in the fourth, but a pair of free throws by McDonald cut the deficit to three with a minute left in the game.
Loyola Marymount tried milking its next possession, but a traveling violation gave Arizona the ball with 34.9 seconds left in the game.
Chelsey Gipson had a chance to extend the Lions' lead with 17.7 seconds remaining, but she missed both of her free throws and handed possession to Arizona.
Dominique McBryde scored on a layup to cut Arizona's deficit to 63-62 with 13.2 seconds left.
After a blur of fouls, the Wildcats had possession with 1.1 seconds, but their last effort on an attempt by Reese didn't fall.
Barnes said a win against Loyola Marymount would have been important to help gain momentum before the Wildcats' first roadtrip with a young team. Now they'll hope to bounce back.
"We have to have amnesia and forget about it," Barnes said. "We're going to look at film (Tuesday night) and get better, but we leave (Wednesday) at 6 a.m."
Be the first to know
Get local news delivered to your inbox!