Added pressure for Arizona Wildcats, Sun Devils as rivals meet at crossroads
Both Arizona and Arizona State meet in Tempe with a rare opportunity to improve their ranking. Star reporter Bruce Pascoe tells you what else is on the line Thursday.
5 reasons Arizona, ASU meet with high stakes in Tempe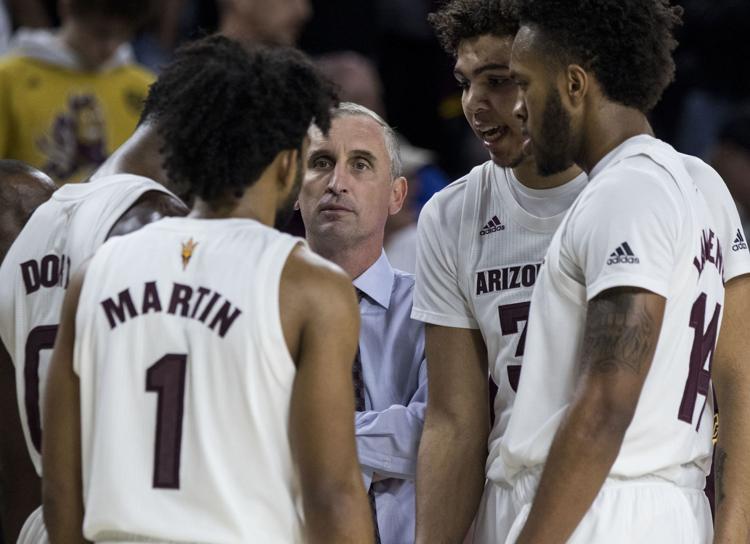 While taking questions for nearly a half-hour this week in advance of a trip to ASU, Arizona coach Sean Miller wasn't once asked about the in-state "rivalry."
Maybe that's because Thursday's game has much more meaning than that.
For both sides, really.
For Arizona, Thursday's game is about stopping the bleeding from two straight blowout losses in Los Angeles, finding a way to build confidence against what has been a blizzard of opposing zone defenses and keeping its increasingly faint postseason hopes alive.
For ASU, it's a chance to beat Arizona for the first time in the Bobby Hurley era, at precisely the time when the Wildcats are down and may be without post anchor Chase Jeter again because of a sore back. It might also be about proving that its early season success can be sustainable.
Miller said he couldn't speak to whether there might be an extra sense of urgency or desperation on either side Thursday, but the facts suggest there will be.
Here's why:
1. Arizona basketball history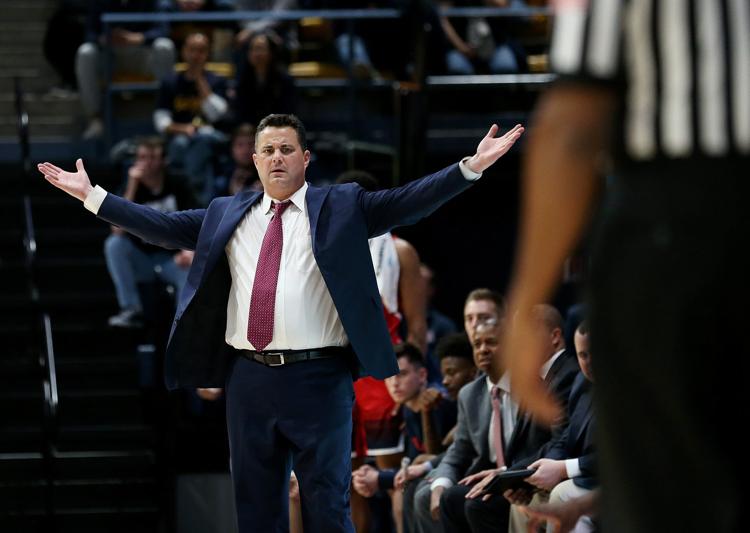 The Wildcats have lost three games in a row only three times in the Miller era, and only eight times in the previous 34 seasons (since Lute Olson's second season at Arizona in 1984-85).
With the two losses in Los Angeles, plus a Feb. 7 home game with first-place Washington, the Wildcats are in danger of losing four straight for the first time since 2008-09, too.
They just don't lose like this very often. The pressure that causes is something Miller alluded to when asked how last weekend's losses affected him personally.
"From Day 1, (upon being hired) 10 years ago, it's taken a toll on me," Miller said. The expectations are "just to win every game. It's not OK to lose. It isn't. That's all part of it. I don't think everybody expects to go 40-0 every season, but when you lose, you want to learn from it, bounce back and be better because it happened.
"Losing is not fun for anybody, and I'm no exception."
2. ASU hasn't proven success is sustainable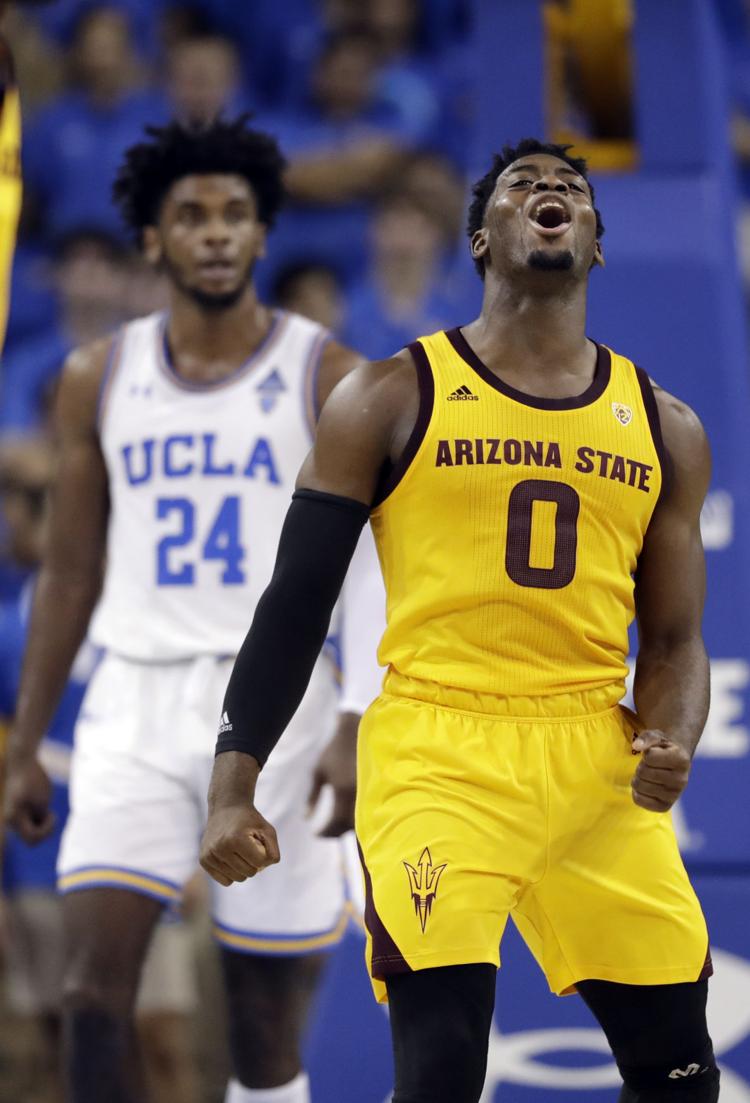 The Sun Devils bolted out of the gate in Hurley's first season of 2015-16 season and in 2017-18, but crashed hard both times.
In 2015-16, ASU went 10-3 in nonconference play then lost eight of its first 10 Pac-12 games and finished 15-17 after a first-round Pac-12 Tournament loss.
Last season, ASU started 12-0, beating Xavier and Kansas en route to a No. 3 ranking, then lost at McKale Center in its Pac-12 opener and tumbled to an 8-10 conference record.
This season, ASU showed signs of a similar drop off, beating Mississippi State and Kansas during its 9-2 start but then losing to Princeton and Utah at home.
After losing at USC on Saturday, the Sun Devils are at 5-3 in conference play, appearing like they could go either way.
"Just the kind of nonconference that we had and the level of wins that we've had, this is a step back," Hurley said after the Princeton loss, according to SB Nation. "But if we're going to play like this then your résumé doesn't really mean a whole lot."
3. Arizona needs to find its zone, not get stopped by one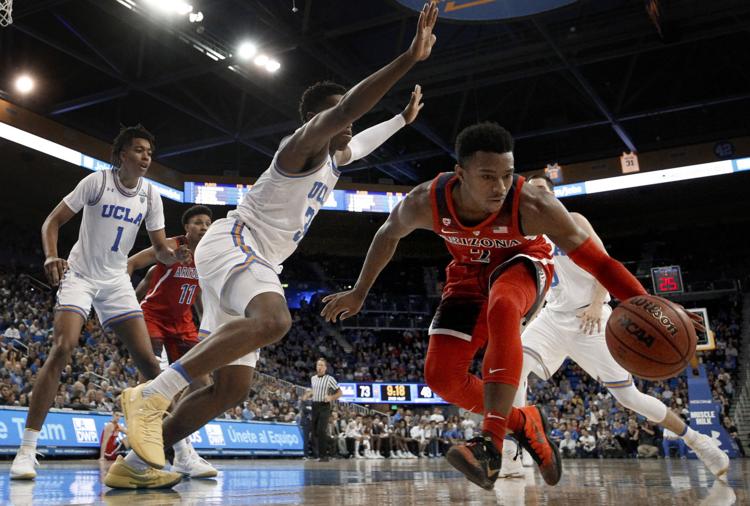 When USC beat Arizona 80-57 last Thursday, the Trojans played a zone defense for the entire 40 minutes.
"I've never done that before in my career," Trojans coach Andy Enfield said, "but it was working."
UCLA also zoned heavily two days later, and won 90-69. Over the two games, UA shot a collective 30.4 percent from the field.
But at the same time, Miller says the Wildcats were actually moving the ball well and getting decent opportunities against the zones but just couldn't hit shots.
"Sometimes there's things offensively that you do and feel good about it which is hard to believe because the numbers don't mean any sense," Miller said. "But I think in both cases, USC and UCLA, the ball moved, we dribble penetrated, we created good opportunities, whether they were in the middle, at the rim, from the 3-point line.
"There were times when we beat the zone down the court, getting fouled, being able to get in the bonus. There were a number of really good possessions. That's one thing I really feel good about."
But until that effort results in more points scored, a lot more zone is likely on the way, starting Thursday.
The Sun Devils have used a zone defense on and off recently, while using it heavily against Mississippi State and Colorado earlier this season.
4. Hurley's hurdle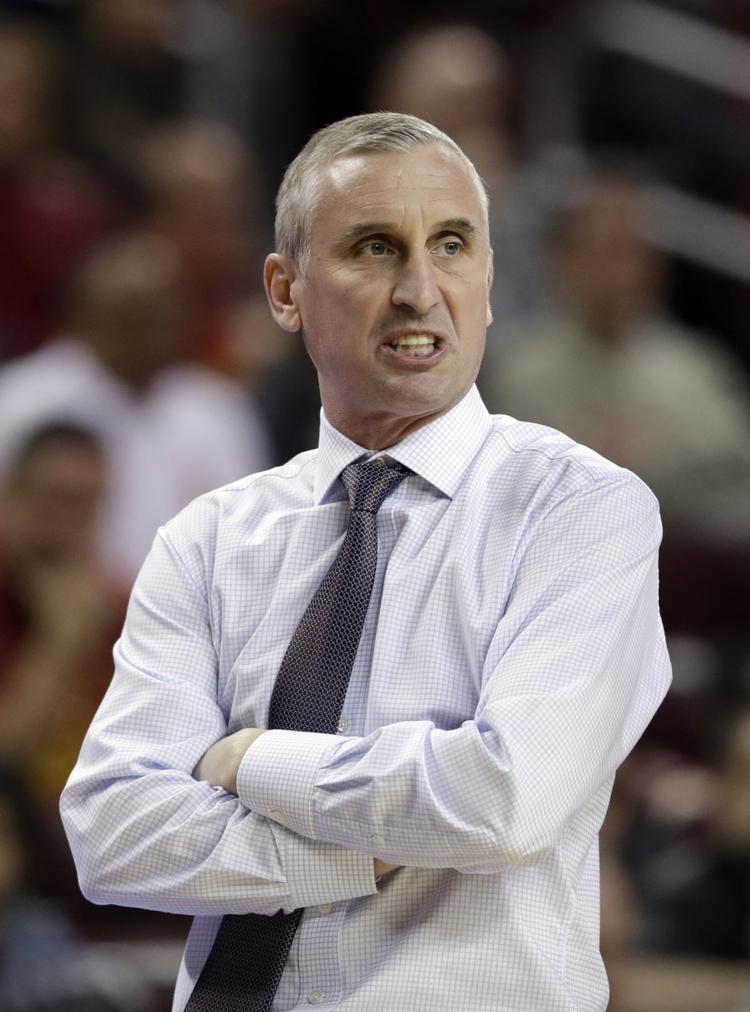 While the Wildcats lost three of the  final four games they played against ASU in Tempe during the Herb Sendek era, the Sun Devils have lost twice to Arizona at home under Hurley by an average of 10 points.
Overall, ASU is 0-6 against UA since Hurley was hired, and there's little doubt that finally beating the Wildcats would be one more sign that the Sun Devils are moving up under their fourth-year coach.
Naturally, though, both coaches spoke of respect for each other this week, and Hurley didn't make a whole lot out of any perceived margin between them.
"They are still an elite program," Hurley said Tuesday. "They are having a very good season considering what Sean lost with guys going to the NBA and graduating. I do not try to get caught up in if I am getting closer to being as good as someone else. I just try to focus on what we are doing here."
5. Résumé-building opportunities are rare in Pac-12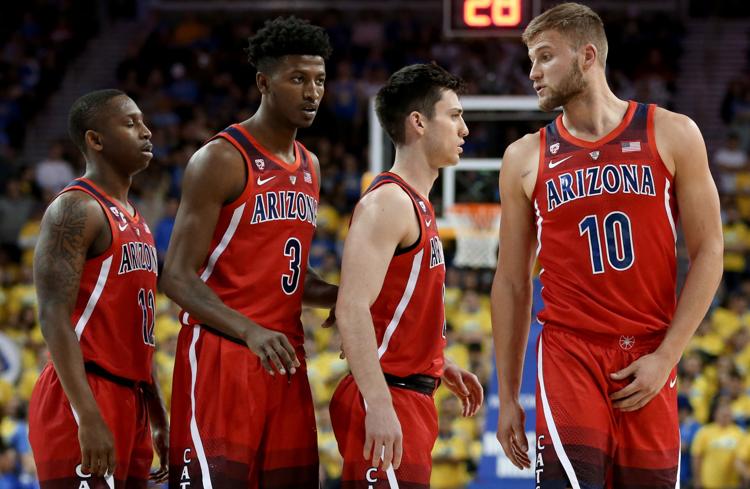 Because the Pac-12 has collectively played so poorly, Arizona doesn't have much chance to build its postseason résumé the rest of the way.
As of the current NET rankings, Thursday's game at ASU (ranked No. 64) and a March 2 game at Oregon (65) are the Wildcats' only two top-tier "Quadrant 1" opportunities remaining in the regular season, though its home game with Washington (31) and Feb. 28 game at OSU (77) might qualify if those teams finish strongly.
Quadrant 1 games are defined as home games against teams ranked 1-30 in the NET, neutral games against teams 1-50 and road games against 1-75. As of now, UA has only one Quadrant 1 win, its Nov. 19 win over Iowa State (15).
Then again, Miller wasn't talking about UA's résumé this week. He was already saying the Wildcats have to aim toward playing well in the Pac-12 Tournament, when a championship would clinch the conference's automatic NCAA Tournament bid.
"What we have to do is focus on being the best team we can be and then head into our conference tournament very similar to that of the low-major, mid-major leagues," Miller said. "Hopefully that will be the place (to be) playing our best basketball, being as prepared as we can, as confident as we can, and making those three or four days a magical run."