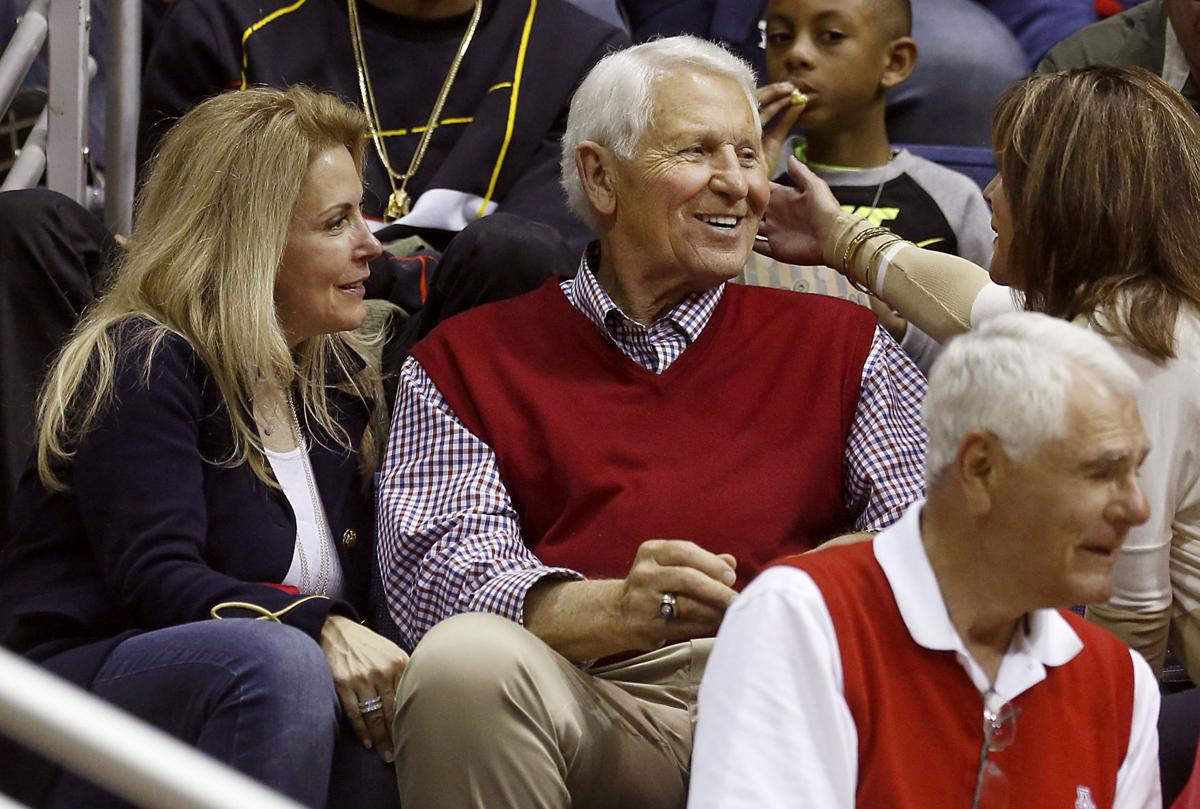 When Adia Barnes returned to Arizona as coach in 2016, she dug into what made Lute Olson such a good coach.
"He had a presence. He was confident and approachable … genuine. He had warmth. You wanted to talk to him," she said of Olson, who died Aug. 27 at age 85. "It was the way he carried himself. Some people have presence but aren't approachable. Lute was."
Barnes said Olson and former UA football coach Dick Tomey, "two great men I respected and could learn from," reached out to her when she was hired. She said Olson, a hall of famer and 1997 national champion, was "a huge supporter of mine."
"Numerous times when a story was written about me and they compared me to him … even though I am not like Lute … he would text me; it was nice," she said. "He and (wife) Kelly were so supportive. This past year, if I had a big win, they would text me to congratulate me and tell me they were sorry they weren't there.
"I have so much respect for all the things he's done in Tucson, the community and basketball. He built a powerhouse and people love him. I aspire to do that."
Joan Bonvicini watched first-hand as Olson built the UA into one of the nation's top men's basketball programs. Bonvicini coached the women's team for 17 years during Olson's tenure at Arizona. She said the silver-haired coach "had an aura about him."
"He was someone you respected and looked up to," Bonvicini said. "He was an outstanding teacher and got the most out of the talent he had. He was great and will be sorely missed here in Tucson. Lute was a leader and definitely the flagship of the athletic department, Tucson and even the state of Arizona. He was very successful and brought national recognition to that program and the university and all sports.
"He was a really great coach, but his No. 1 priority was his family. He was devoted to them. His best accomplishment was his family and how he balanced it all."
Bonvicini recalled a trip to Australia in the late 1990s when her team and Olson's were able to briefly cross paths. The UA women were done with their exhibition tour and the men had one game left, in Cairns. Bonvicini sat behind Olson's bench to witness how the coach worked. Bonvicini watched as Olson benched a player — she didn't say who — and then disciplined him further because he talked back to the coaching staff.
"Lute was going to do the right thing, even though we were in this beautiful place and not in a game at McKale," she said. "It's about doing the right thing and respect. I was impressed. He did not lack for a teaching moment. From that point on, he was on a different level."
Be the first to know
Get local news delivered to your inbox!