Sean Miller will enter the 2019-20 fiscal year working off a three-year contract for the first time in his UA tenure.
The Arizona Board of Regents is scheduled to vote on extended and more lucrative contracts for ASU men's basketball coach Bobby Hurley and UA women basketball coach Adia Barnes during its meeting Thursday in Flagstaff, but Miller's contract is not on the agenda. Regent Jay Heiler said last week that no discussion of extending Miller's contract has come before the board.
Since he was hired in April 2009, Miller — the UA men's basketball coach — has normally received regular extensions that kept his contract length to five years, a term that can help assure recruits of a coach's long-term presence.
However, Miller has not received an extension since the federal investigation into college basketball was announced in September 2017. The investigation compromised Miller's 2018 recruiting class, but he has rebounded to assemble the No. 3-ranked class for 2019.
The regents have normally voted to extend Miller's contracts during April or June meetings, though his 2015 extension was not completed until that September. In 2011, Miller received an extension through 2016. Miller received one-year extensions each offseason between 2012-15. Miller then agreed to his current contract in February 2017, which carries him through the 2021-22 season.
Also on Thursday, the regents are scheduled to hold another closed-door session of "legal advice and discussion regarding University of Arizona men's basketball." The topic has been regularly a part of the private executive session since the federal investigation became public.
Former UA assistant Book Richardson was sentenced last week to three months in prison and two years' probation after pleading guilty to one count of federal funds bribery. In a victim impact statement sent to U.S. District Court, UA said it was bracing for potentially substantial NCAA sanctions as a result of Richardson's actions. If the NCAA finds rules were broken, Miller could face discipline under NCAA Bylaw 11.1.1.1, which states head coaches are responsible for the actions of their direct and indirect reports unless they can rebut the presumption of responsibility.
Miller is scheduled to earn $2.4 million plus about $400,000 from Nike and IMG and in incentive bonuses next season, and $2.5 million plus the $400,000 and bonuses in both 2020-21 and 2021-22.
Once Miller has less than three years remaining on his contract, he no longer must pay a buyout should he decide to leave Arizona voluntarily. Should the UA opt to fire him without cause, it will owe him 50 percent of his remaining base salary — which is $3.4 million as of July 1. It is not known what UA would owe Miller if opted to fire him for cause because of unclear language in his contract.
Hurley will earn $2.2 million plus bonuses at ASU next season, with annual salary escalators taking him to $2.7 million in 2023-24. Hurley must pay a buyout of $1 million if he leaves ASU in 2019-20; his buyout drops to $500,000 if Ray Anderson is no longer athletic director at the time Hurley opts to depart.
Hurley's buyout decreases each season, as does that of Barnes. Under a new deal that pays her $400,000 annually plus retention, performance and academic bonuses, Barnes would have to pay $1 million if she leaves UA before June 30, 2020. Barnes' buyout drops to $500,000 if she leaves during the 2020-21 school year, $200,000 in 2021-22 and just $50,000 in 2022-23. The school will pay Barnes 60 percent of her remaining contracted salary if she is terminated without cause, and only her salary to date if she's fired for cause.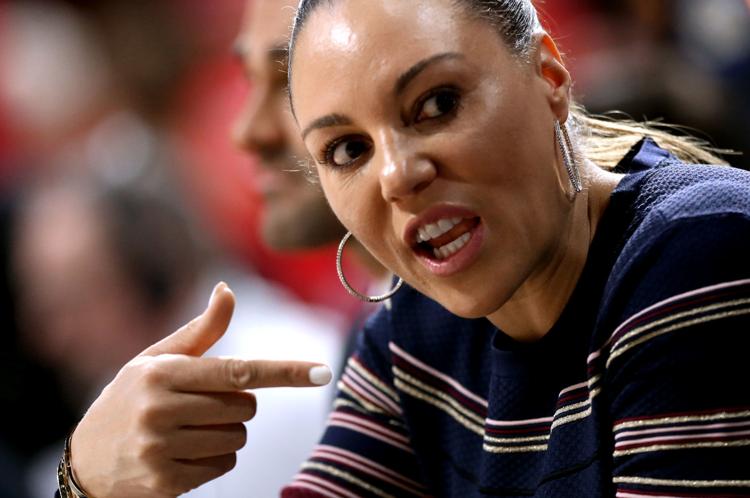 For sticking around until July 1, 2020, Barnes will receive a $25,000 retention bonus — effectively bumping her 2020-21 pay to $425,000. She will receive $25,000 escalators in retention bonuses each of the following three seasons, up to a total of $500,000 in salary and retention bonuses during the 2023-24 season.
Barnes, a WNIT champion as both a UA player (1996) and coach (2019), can receive up to $285,000 each year in performance and academic bonuses. Her initial UA contract, which is scheduled to expire at the end of the 2020-21 season, pays $235,000 annually.