Two games into the 2018-19 season, Arizona women's basketball coach Adia Barnes has learned a lot about her team.
In the season opener, a 71-46 victory over Idaho State, the Wildcats received consistency from Sam Thomas and the lockdown defense Barnes expected from Tee Tee Starks. Cate Reese's debut performance surprised the Wildcats' coach: The freshman forward collected the first double-double of her career, scoring 21 points and grabbing 10 rebounds.
"I didn't know Cate would put up those numbers," Barnes said. "I didn't know if she would be so dominant so fast. Usually it takes a while. This has been a good surprise. Right off the bat she is ready and hungry. That's what I love. She's awesome and she wants to be good."
Three players scored in double figures against Idaho State — Reese, Thomas and Aari McDonald. Barnes expects that and more every night.
UA's sluggish performance in its game against LMU on Tuesday night was, well, unexpected.
The team showed no energy, McDonald said, and got down early. The Wildcats rallied late, but lost 66-64.
McDonald carried her team, tying a program record with 39 points and willing the Wildcats to nearly overcome a 13-point fourth-quarter deficit.
Game 3 of the Wildcats' season will give Barnes a better idea of what she has. Arizona plays Seattle University on Friday night in Honolulu at the Bank of Hawaii Classic.
The Star talked to Barnes about the state of the team, how she designed the Wildcats' scheme, and what they are going to do in Hawaii.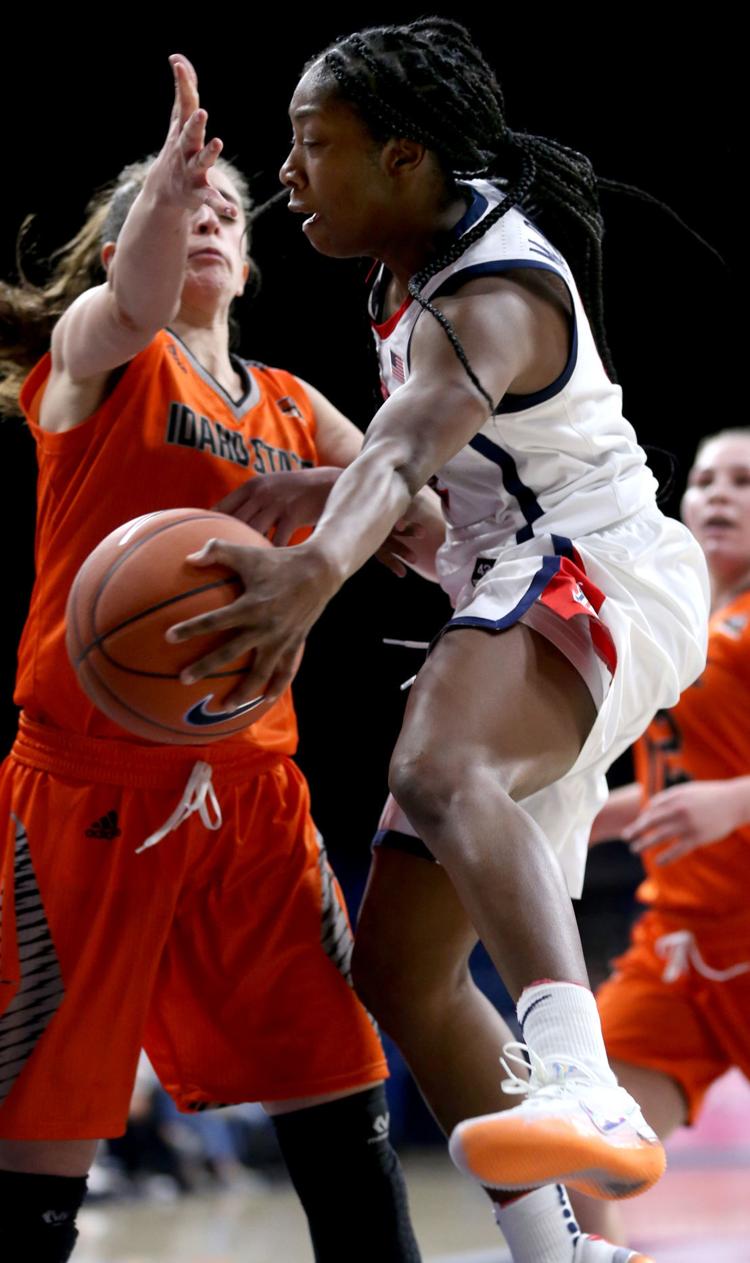 Is the team where you thought they'd be after playing a few games?
A: "It is what I expected. I thought we'd be more ahead in grasping plays. The freshmen have struggled a bit, but this is a whole new scheme. We are ahead defensively now and doing solid defensive things. I am happy with that."
Are the freshmen where you expected?
A: "It does take freshmen a time. In college, we run more stuff and they are balancing everything on their own for the first time. There are huge life adjustments, so it takes time. It's a different world and they are getting used to things. By the time conference games come around, the freshmen are more poised and know what to expect. Also, non-conference (play) is different than Pac-12. So I am doing what I can to prepare them."
How are you preparing them?
A: "All of this prepares them. This weekend, in Hawaii, playing a couple of games Friday and Sunday; this prepares them for quick turnarounds and simulates Pac-12 games. And being on the road for the first time prepares them. It's a business trip.
"It's just experience that prepares you. It's my job in practice to simulate pressure situations. And it's a chance to play with things: If I want to try different combinations like Dominique (McBryde) and Cate (Reese) playing together, or Cate and Semaj (Smith), or even playing Bryce (Nixon) at the one (point guard) position. It all prepares them for games and gives them confidence."
Your team is playing more fast-paced this season, and you've said you changed the defense to take advantage of McDonald's quickness. Will the style of play keep evolving, or will this be considered Wildcats ball?
A: "I know how I want to play. But for me, my philosophy is not to have a set scheme that every player has to fit into. Now we have more post players, so we have more plays for the posts. I think us being more aggressive with Aari, Tee Tee and Cate makes sense. Not taking advantage of this wouldn't. It's a fun style to play.
"When I thought of a way to manufacture points this year, creating offense with defense is a great way to do this. And we can do that with players like Aari. So it was a no brainer to be more aggressive."
Is it a little early to know what your identity is this year?
A: "I think we are still trying to find out. I think we can be a good defensive team. I am curious to see how they respond to these first games. Are we going to get better every game? This is what I am working on."
What activities do you have planned in Hawaii?
A: "I am excited about this trip. Most of these kids have never been to Hawaii. We're going to Pearl Harbor, going to a luau, and doing some fun beach activities like paddleboarding. Then we have games to play."