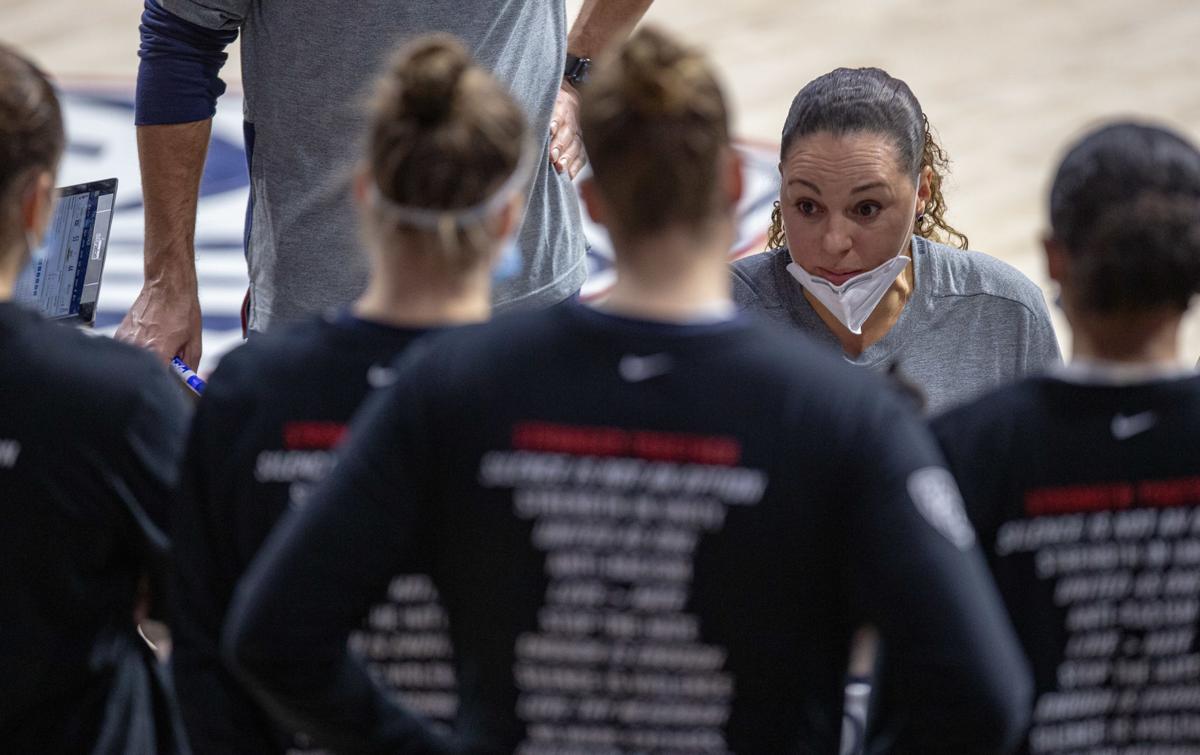 Adia Barnes hadn't looked at her phone in hours.
She went straight from Monday's practice to the NCAA Tournament selection watch party, dinner and celebration with her team to a staff meeting to a news conference.
However, she knew that once she grabbed her phone later in the evening, she would see hundreds of texts, DMs and missed calls — all from people who have crossed her path as a basketball player and a coach.
Many of those messages came from Arizona fans, the people who accepted Barnes from the day she was hired nearly five years ago. Barnes and her team have a deep connection with their fans, which is why the UA's coach and her players have said they miss seeing them packing McKale Center and filling Brother John's Beer, Bourbon and BBQ to the brim for Barnes' weekly radio show.
Arizona has felt the love this season, just in different ways. Fans honk their car horns when they see the Wildcats walking, stop them when they are at the grocery store or getting takeout and tweet and DM players and coaches.
Barnes addressed Arizona's fans directly Monday night.
"Tucson, I am devastated that you cannot go on this journey with us," she began. "But don't give up on us; watch us in the tournament; come down to San Antonio — it's not too far. Cheer us on; help us win some games. And then we're going to come back crazier than ever next year in McKale."
Despite Arizona's successes — the third-seeded Wildcats will play 14th-seeded Stony Brook in Monday's NCAA Tournament opener — Barnes admitted that it's been "a hard year," in part because fans were unable to come to games.
"But you loved this the whole year unconditionally, through wins and losses all this year and supported us," she added, speaking to fans. "We won a lot of games and we started our success because of the fans here — a tremendous amount of support."
It's why Barnes said her team will "play our hearts out and play hard for you guys … and for Arizona."
"What's on the front of the jerseys," she added, "is more important than what's on the back."
Savor it
A year ago, the NCAA Tournament was canceled for the first time in its history because of COVID-19. Selection Monday was not held; the Wildcats did not hear their name called as one of 64 teams in the field.
Barnes reminded her players of that fact during Monday's selection show watch party.
"I don't want us to take anything for granted because things can change tomorrow," she said. "Savor the moment, be excited. You don't know what tomorrow brings."
Barnes' message to her team all season has been to play like it's your last game. That attitude should help Wildcats as they enter a win-or-go-home tournament.
"We're fortunate — I think we missed four or five games (because of positive COVID-19 tests), and that was hard. But we put ourselves in a situation to be successful," Barnes said.
Others weren't so fortunate. Many teams missed more than five games, while some — like Duke — walked away from their seasons. Unusual things are still happening: UConn coach Geno Auriemma tested positive for the virus on Sunday, and hopes to rejoin his team — if they win — for the Sweet 16.
Focus the same
Barnes said the Wildcats "need to focus on us — and a couple of things" as they prepare for the tournament. As always, the majority of the Wildcats' attention will be spent making sure they stay sharp.
As for scouting the opponent?
"I think you just look more at tendencies," Barnes said. "If a team likes to back-cut a lot, you're working on back-cuts; if they'd like to shoot the 3, you're working on defending the 3.
"You just want to narrow their focus and have them focus on just the little things we want to accomplish. But it's more about us. It's more about what do we need to do to be successful. I think keeping it simple is better. And focusing on what we need to do."
Barnes knows the Wildcats play their best offensively when they have multiple players scoring in double figures. Starters Aari McDonald, Cate Reese, Sam Thomas, Bendu Yeaney and Trinity Baptiste and key reserves Helena Pueyo, Lauren Ware and Shaina Pellington must embrace their roles. The Wildcats worked on finishing stronger and building confidence since their Pac-12 Tournament semifinal loss to UCLA.
By Monday, Barnes said her team had improved.
"My expectation is everybody steps up a little bit more in March — that's what we have to do. You know, we need a little bit more from Cate. We need a little bit more from Trinity, need a little bit more from Helena, Sam, Shaina, Bendu, Lauren. And once we do that, everything else falls into place. I think they're all ready and they're all hungry. You can see in their eyes. They're excited. They are just ready to play.
"I wish we didn't have to wait a week — we're ready."
Bleeding red and blue
Barnes is now one of 11 coaches to both play for and coach the same program in the NCAA Tournament.
As a player, Barnes led the 1998 Wildcats to a No. 3 seed. As a coach, she's leading the third-seeded Wildcats into their first tournament in 16 years.
Barnes said it's "awesome to have been there as a player and now to do it as a coach."
"I think a lot of people don't have success with their alma mater. It's not easy," she said. "It's rewarding to do it because our hard work is paying off. The vision is there and the players that came to Arizona, they all saw the vision. There was no evidence — we didn't have any proof. Now, it's easier to recruit because we were No. 10 (in the polls); we were (as high as) No. 6. Before, it was like, 'We hope we are one day; come join us and we might be.' Now it's there. I'm happy. I'm happy to be here at Arizona; I'm happy to be the head coach here. I'm proud — (and) more proud because my heart is here. This was where everything started for me. Obviously, it means more — it just does. I bleed red and blue. There's no better feeling than to do it where it all started for me as a 17-year-old."