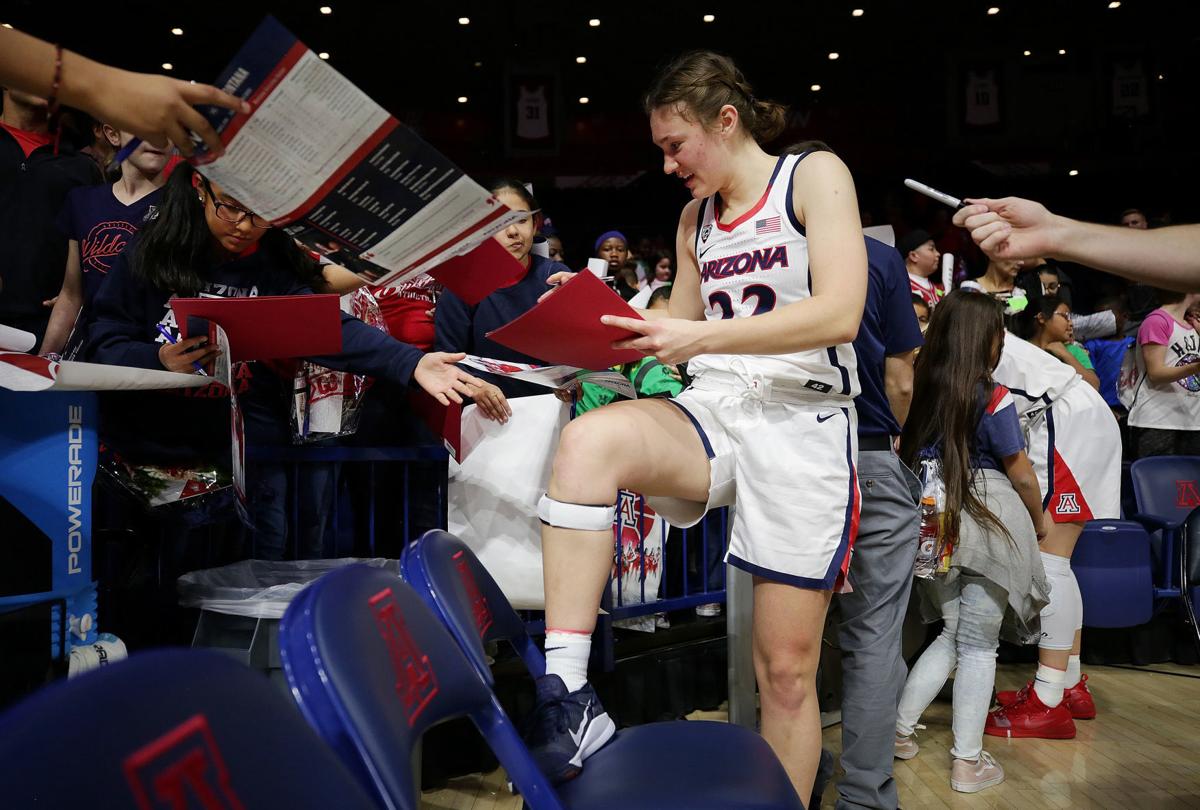 Adia Barnes was hired three years ago to return the Wildcats to their winning ways.
A few days into her new job, she attended her first CATSYs. Barnes' new team wasn't mentioned at all during the athletic department's annual awards show, which is modeled after The ESPY Awards.
"After that," she said, "I was determined."
It wasn't long before the Wildcats were volunteering in the community and focusing even harder on academics. As Barnes looked to rebuild the roster, she targeted the kinds of players who could one day win a CATSY for athletic or academic success.
On Monday night, Barnes' Wildcats stole the show.
For the third straight year, Barnes' program won the Community Cup for the hours they spent giving back. The team logged more than 3,500 hours in the community, 223 more than last year.
Cate Reese was named the UA's female freshman athlete of the year, and Aari McDonald shared female sophomore of the year honors with diver Delaney Schnell. Sam Thomas, Eugenie Simonet-Keller and Lindsey Malecha were honored as academic champions, and Simonet-Keller added a Wildcat Way award for distinction.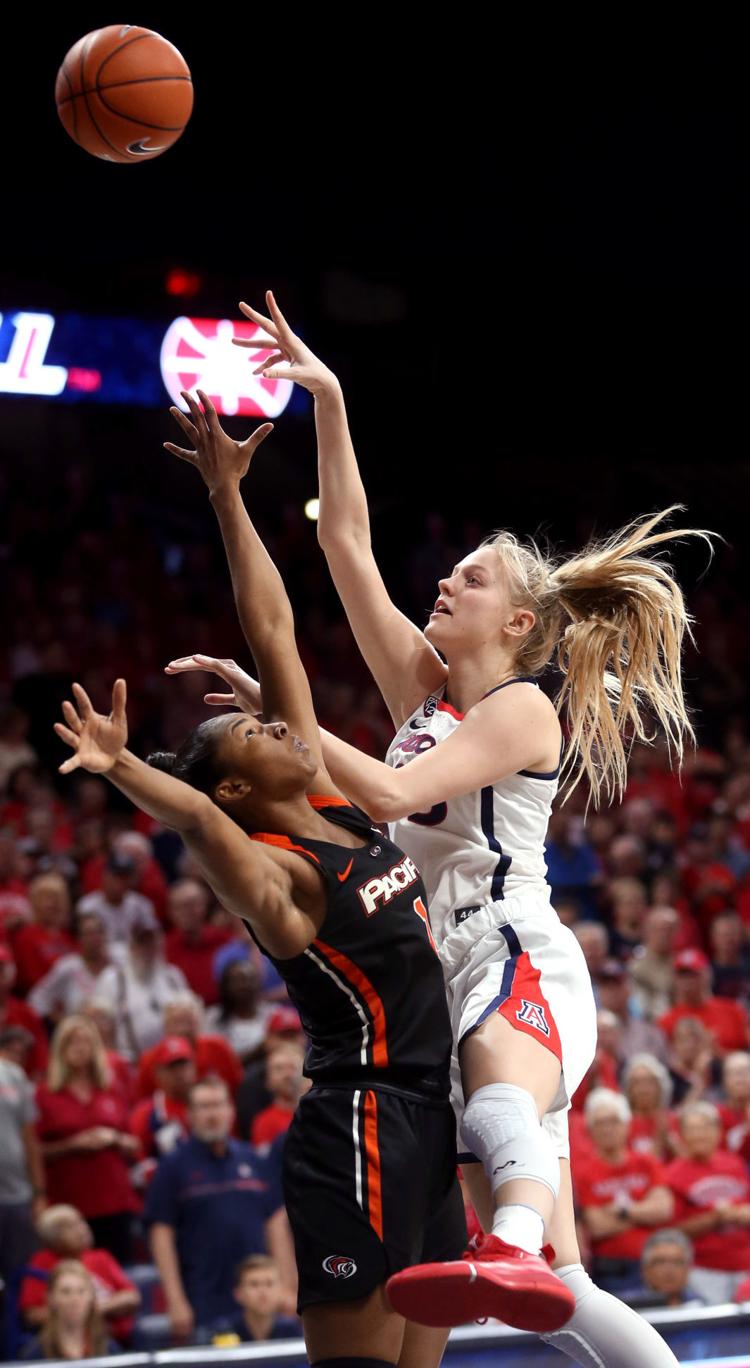 There was a lot more for Malecha, who carries a 4.0 GPA as a biology major and will start applying to medical school this summer. She was recognized as the salutatorian of the senior class and took home two awards from the honors college.
Barnes said she was proud of Malecha, who joined the program as a walk-on before earning a scholarship.
"She is a great example of what kind of player and person I want in my program," Barnes said. "I am so happy I had her here for two years and wish I had her longer. All the things we talk about a player being made for, it is who Lindsey is. I always know what I'm getting from her every day. She is consistent. She never changes. She is one of the few I have who is always appreciative; she always texts and thanks me. I just love her. I wish I had more players like her.
"Even when she was stressed — and she had a tough workload — to maintain a 4.0 as a student-athlete is remarkable. I am happy for her that she was recognized, and I am happy how she represented the program. I am proud of that.
"I loved that she talked about her past (in her speech). You can reach your goals in different ways and overcome adversity. She is a great example of that. I am blessed that we crossed paths and that I was able to help her reach her goals."
Not enough time
The Wildcats played the WNIT championship game on April 6, the latest they have ever played a game.
They missed out on a few things — notably, the mandatory two-week break that typically comes in March. The Wildcats took the last two weeks off, and are spending this week in training. After that, practice is shut down for finals. The coaches can't work with the players until May 13.
Barnes said the Wildcats have been working out on their own. Winning will do that.
"They have that hunger now that we won the WNIT championship," she said. "Now they want it more."
Barnes still has plenty going on — and much of it is fun. Last week, she threw out the first pitch at a UA softball game and was given a commendation from the Tucson City Council. The Cats' coach has had to turn down or push back a few offers, including dropping the puck at a Tucson Roadrunners game and throwing out the first pitch at a baseball game.
Barnes must also replace two assistant coaches — Morgan Valley left to become head coach at Hartford, and April Phillips departed to join the Cal staff — and recruit for the Class of 2020 and transfers.
"There are a lot of great things," said Barnes. "A lot of people want to be part of this program. Part of it is winning, and it's also that the program is on an upward trend. Who wouldn't want to be part of this?
"We have five starters returning, a great class coming in, the culture is in a good place. It's great! The kind of program you want to be with. I've had like 100 applicants for the coaching positions, and I'm almost done with the process. More transfers want to come here. These are all good problems to have. I am excited about the future — the future is great."
Rim shots
McDonald will try out for the United States' 2019 Pan American Games team in a few weeks. If she makes the team, which is comprised entirely of college players who have eligibility remaining, McDonald would travel to Lima, Peru, in August.
McDonald tried out for USA Basketball's U19 World Cup team before transferring to Arizona and just missed the cut.
The Wildcats signed Spanish wing Helena Pueyo on Thursday. Pueyo, who verbally committed in late February, is the fifth member of the UA's 2019 signing class.
Be the first to know
Get local news delivered to your inbox!