The Arizona Wildcats will play Saturday for the WNIT championship. And if that game is as much of an event as Wednesday's game was, it might just be the sporting event of the year in Tucson.
Arizona hung tough behind its signature relentless defense to defeat TCU 59-53 Wednesday night at McKale Center in front of the largest crowd — 10,135 fans — to ever watch a UA home game.
The Wildcats will host Northwestern on Saturday for the title. UA coach Adia Barnes is hoping for 12,000 fans or more.
"We're there. It's special," Barnes said. "They won't be satisfied with anything but winning. And, if you look in their eyes — even when we were getting down and I was getting a little nervous, like we weren't rebounding — they are looking like … they never had that look of defeat. It's different. It's a different confidence.
"I think earlier in the season, in nonconference, we didn't know how to win. We were learning how to win. Now we like winning. I like it. And they are like 'we're going to find a way to get this done.' They are just pumped. They are excited. At shootarounds they are ready to play. They are hungry. I like to see that. They are gritty. They want to play now."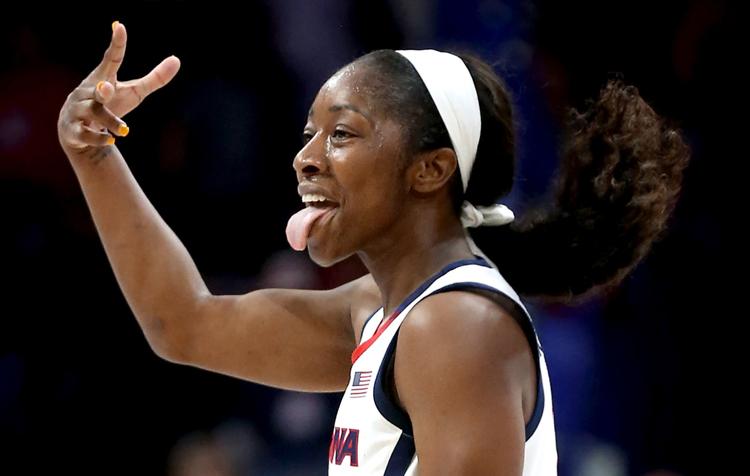 UA has now won 23 games this season, its highest win total in 15 years. Arizona last played for a WNIT title in 1996, when Barnes — then the team's best player — led the way.
The Wildcats opened the season with an 11-game winning streak. As they won, Barnes said her players had to learn how to win, gain confidence and play together.
They did on Wednesday. UA's relentless defense stymied the Horned Frogs at every turn. From collapsing in the paint to not giving them space to make moves. Sam Thomas blocked four shots at key times. Thomas added nine points, six rebounds and one steal.
Teammate Dominique McBryde called Thomas' effort "unreal, to be honest."
"She is only 5-10 or 5-11 and she has the longest wingspan I've ever seen," McBryde said. "She is just really good at knowing when shots go up and being really smart to block and not foul. She's been doing this all season long, since her freshman year. It's huge for us. She makes a huge difference on defense and we couldn't do what we're doing now without her."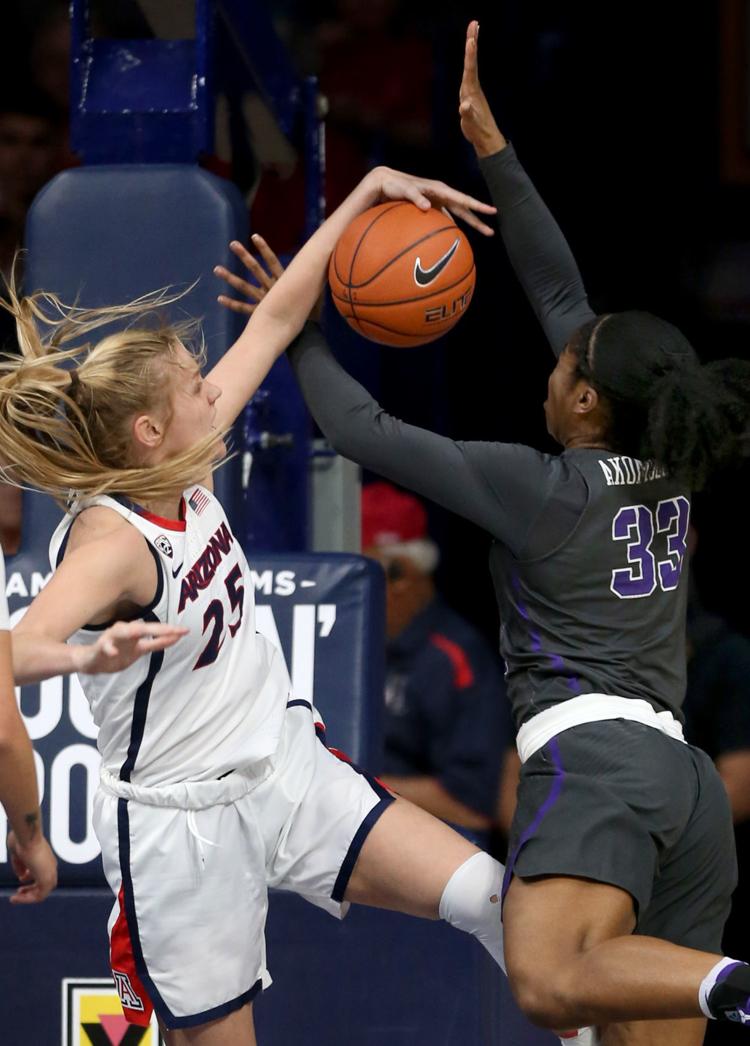 UA held TCU to 26.9 percent shooting from the field.
And despite Arizona being out-rebounded 50-33, Aari McDonald said it was Thomas' blocks, McBryde's stops and the consistent lockdown defense from Tee Tee Starks that made all the difference against a tough, physical team.
"So each of those moments or plays added up and got us the win," said McDonald, who led all Wildcats scorers with 19 points. She added four assists, four steals and nine rebounds.
McBryde scored 13 points, and was the only other Wildcat in double figures. She added three steals. Cate Reese went 4 for 7 from the field for nine points.
When the game got a little chippy in the fourth quarter and TCU pulled close, McBryde was sent to the free throw line and sealed the win. She was perfect, going 6 for 6.
Rim shot
Barnes said the WNIT run has been meaningful for both the program and community. "I've seen that more lately. I see little girls talking about it. I think that's huge," she said. "We are mentors and we do a lot of stuff in the community and we take value in that. We hold it to a high standard. To see little girls excited, saying 'This is like men's basketball' or 'we're just as important.' Or see little boys in the stands. That just speaks volumes to this community and what women's basketball is doing."