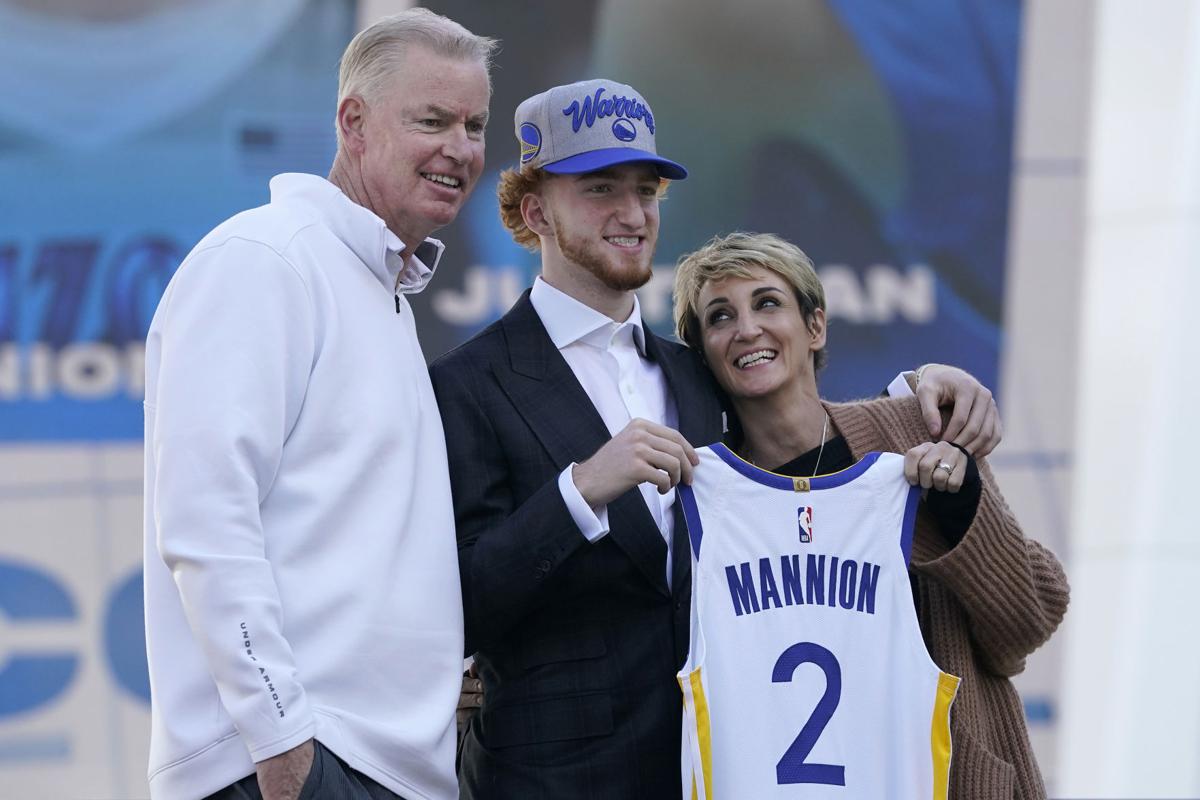 The disappointment had hours to sink into Nico Mannion's head.
The Phoenix guard had entered his lone season at Arizona in 2019 as a projected lottery pick, but kept sitting as the first round of Wednesday's NBA Draft went on, watching former Wildcat teammates Josh Green (18th to Dallas) and Zeke Nnaji (22nd to Denver) both land slightly higher than expected.
Mannion kept slipping. Out of the first round. Past the early second round. And well into the middle of the second before Golden State took him No. 48 overall, about 40 full spots below his projection as of summer 2019.
The fall hurt. But the landing did not.
It was the Warriors, after all.
That meant Mannion could start his pro career playing alongside star guard Steph Curry, whose Under Armour camp he had once attended along with fellow Golden State draftee James Wiseman. And it meant he'd be coached by none other than Steve Kerr, whose UA jersey hangs on the wall inside McKale Center.
"Bear Down!," Kerr posted Wednesday night, quote-tweeting the Warriors' tweet about Mannion's selection.
The selection also meant Mannion would be suiting up for the same franchise that picked his father, Pace, No. 43 overall in 1983. That began Pace Mannion's long career in the NBA and in Italy, where he met Nico's mom, an Italian pro volleyball player named Gaia.
Less than 24 hours later, it all came together: Mannion was sitting at an introductory news conference Thursday afternoon outside of San Francisco's Chase Center, joined by a socially distanced Wiseman and Warriors general manager Bob Myers.
Mannion talked about Curry and jokes were made about the Wildcat connection with Kerr, while Pace and Gaia joined Nico on the stage afterward for jersey-holding photos.
Smiles were everywhere, overriding the exhaustion within.
"The past 24 hours have been super emotional I'd say," Mannion said. "I don't think it's really set in what's really happened yet. Everything's happened so fast but it's starting to settle in finally and it's a great feeling."
Finally. After a long eight-month predraft process that, for Mannion, was probably even more frustrating.
While Mannion was Arizona's second-leading scorer last season and impressed at times with his athleticism, creativity and decision-making, he shot only 34.9% in Pac-12 play — and just 30.9% from 3-point range. He didn't have a chance to correct that image with in-person workouts during an offseason restricted by COVID-19.
"This eight months, for everyone in the draft, was a long period of time to go through the draft process," Mannion said. "And with ups and downs with the virus, not being able to scrimmage and play games, I think it was a rough time for everybody. I think that kind of built up over time and kind of just brought a lot of emotions out last night."
During a brief Zoom interview on Wednesday night, Mannion clearly was still in the thick of that emotional fog.
It was bad, it was good and it was draining.
"It's not where I wanted to go numberwise, but at the end of the day I think the fit in Golden State is perfect for me," Mannion said shortly after being drafted. "I think everything happens for a reason, so at the end of the day this is the perfect situation for me.
"I'm ecstatic. I'm still at a loss for words. I've been with my family for the past 30, 40 minutes since I got picked, and I just keep crying, tears, and it's a surreal feeling."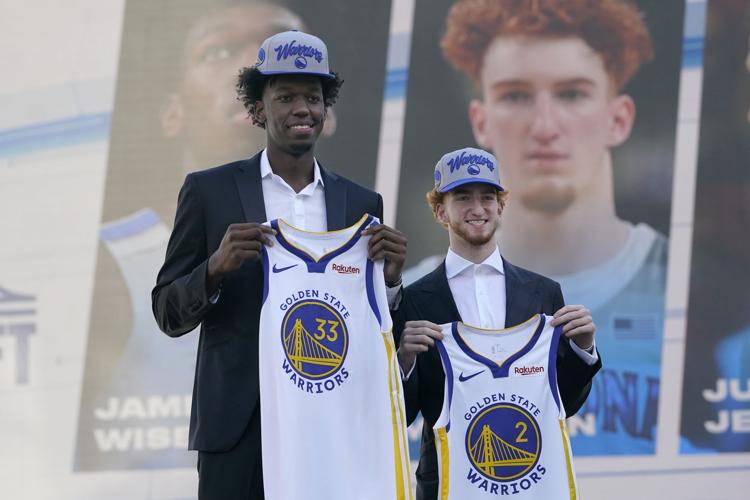 If Mannion didn't expect to be there deep into the second round, neither did Myers.
"We had him higher than 48 for sure," Myers said Wednesday, and then expressed excitement Thursday over incorporating both Mannion and Wiseman, the No. 2 player taken overall, into the Warriors organization.
"They're coming to go to work and we're going to need 'em," Myers said. "I'm excited to watch them grow and embrace them in our family, in our culture. I think we're lucky to have them and they're lucky to have us."
Mannion expressed plenty of excitement about playing for the Warriors, even throwing out some thankfulness in Italian during Thursday's in-person presser.
Green and Nnaji did the same over their new homes.
Nnaji said he was excited to learn from Nuggets center Nikola Jokic, while Green was looking forward to starting his NBA career alongside Luka Doncic and Kristaps Porzingis.
"It's awesome," Green said. "I think being in a situation like that, it's a lot of international players, so it's awesome. Watching them play, super unselfish. They've got superstars in Porzingis and Luka. So just being in that environment and continuing to grow every day, it's awesome."
They fit him, and Dallas coach Rick Carlisle said Green fits the Mavs, too.
"What we needed first for our rosters were wing defenders who can shoot, score and hopefully make plays," Carlisle said of Green in a statement. "We feel he's a ready-made 3&D guy."
Even though Green and Nnaji didn't have to sit at home nearly as long on Wednesday — and even though the virtual nature of this year's draft deprived them of the electric atmosphere of the draft stage — both ultimately may have found it just as emotional.
Maybe even more so. They were at home, with loved ones nearby, watching their lives change forever.
"Being with my family, it's awesome. It's something I dreamed of during my whole entire life," Green said.
"For it to really happen is amazing. Obviously, it would have been cool to be in person, but this will never happen again."
Nnaji called his selection "an incredible moment" and said he was extremely blessed.
"I know there's so many people that want to be in this position, but for me to be here, me and my family, we're incredibly thankful," Nnaji said. "It feels great because I've been working to get to the NBA for so long, but I know this is just the beginning."