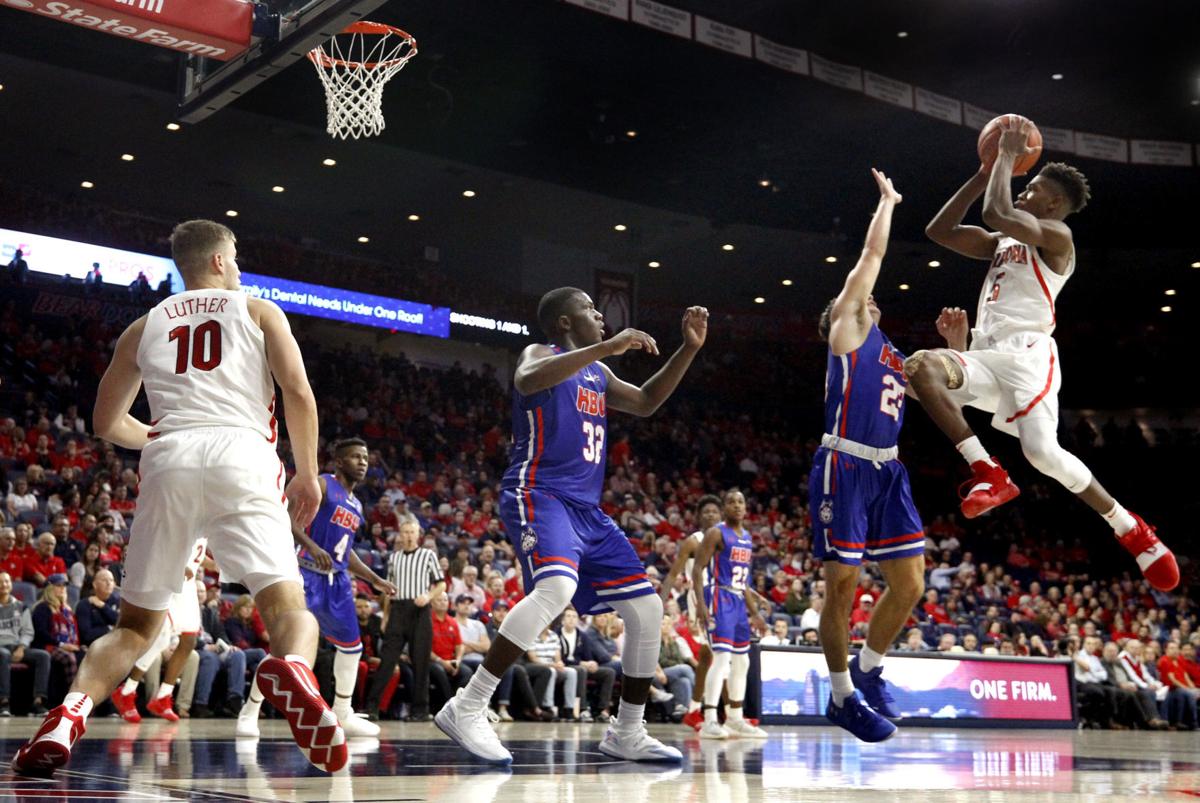 A broken rim on McKale Center's south basket delayed Arizona's regular-season debut for about 15 minutes Wednesday night.
Then the Wildcats delayed it themselves for another hour or so.
Well, they were out there on the floor early during a 90-60 win over Houston Baptist before 13,749 fans at McKale Center. But they hardly looked like they did in two previous exhibition wins during the first half, making only 37.5 percent of their shots, turning the ball over 11 times and struggling to outrebound their low-major opponent.
Not only did Houston Baptist finish last season with the sixth-worst RPI in Division I, but the Huskies were playing without standout center Josh Ibarra. They shot just 23.5 percent in the first half, missed 9 of 10 3-pointers and half of their 14 free throws … and still trailed Arizona by only nine points at halftime.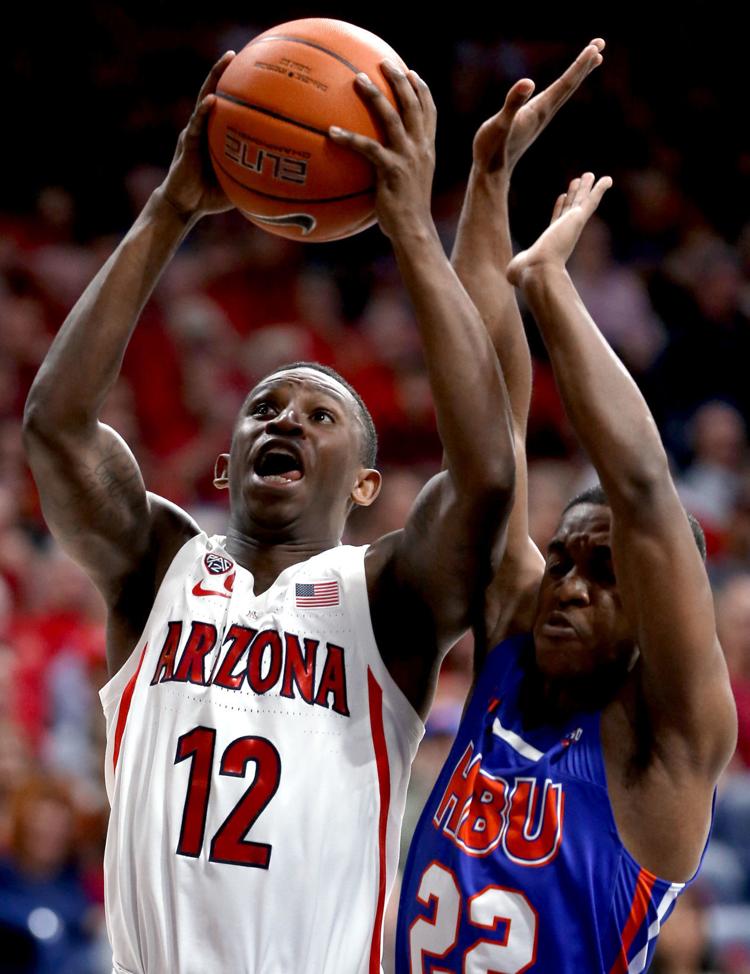 The halftime score was 33-24 and it was safe to say nobody was happy about that.
"I just felt we were a little bit nervous and they came out to play," said Brandon Randolph, who led UA with a career-high 25 points on 8-for-12 shooting. "Gotta give credit to them."
That's nice of Randolph and all, but UA coach Sean Miller also attributed the early start to a UA team that is still very much in exhibition mode, not yet at all ready for the Maui Invitational that they'll be playing in less than two weeks from now.
"We didn't have a great deal of confidence and that's kind of who we are right now," Miller said. "We're a group of guys who are playing together for the first time and I think our hope is if we continue to work and practice and go through experiences, we will improve."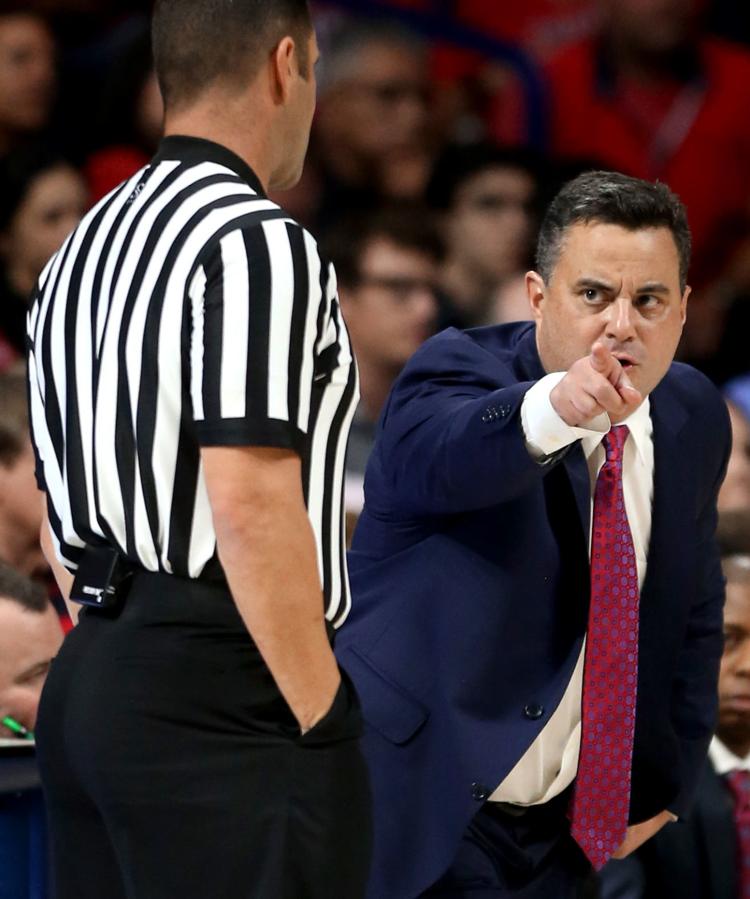 The Wildcats shot 49.1 percent overall after a 57.6-percent effort in the second half, but suffered individual struggles such as a 2-for-11 effort from Brandon Williams, and 1-for-5 games from Dylan Smith and Alex Barcello, who are expected to be two of UA's best shooters.
But Randolph continued the efficient play he showed through two exhibition games, shooting 8-for-12 from the field, and Chase Jeter scored 11 points on 4-for-5 shooting inside in his UA debut following a 2017 transfer from Duke.
Having already suffered a back injury at Duke in 2016-17, Jeter was hurt for UA's exhibition game with Western New Mexico and Miller says he's still working his way back.
"Chase had some good moments but the best is yet to come for him," Miller said. "He was really playing his best for a two and a half week period. … We're all anxious to have him experience a good level of health."
While UA is glaringly lacking the sort of 7-foot offensive presences they had last season in Deandre Ayton and Dusan Ristic, Miller said Jeter has plenty to offer.
"Chase is a really bright kid, maybe the best student we've had," Miller said. "He's very cerebral, really thinks things through. Not many big guys draw charges. … He's very, very mobile."
The Wildcats outrebounded Houston Baptist 50-39 overall, but allowed the Huskies to collect 18 offensive rebounds.
The Huskies, of course, did create a lot of opportunity to collect those offensive rebounds by hitting just 31.9 percent from the field, including a 5-for-22 mark from 3-point range.
But that didn't bring Miller much consolation.
"We got manhandled on the glass," he said.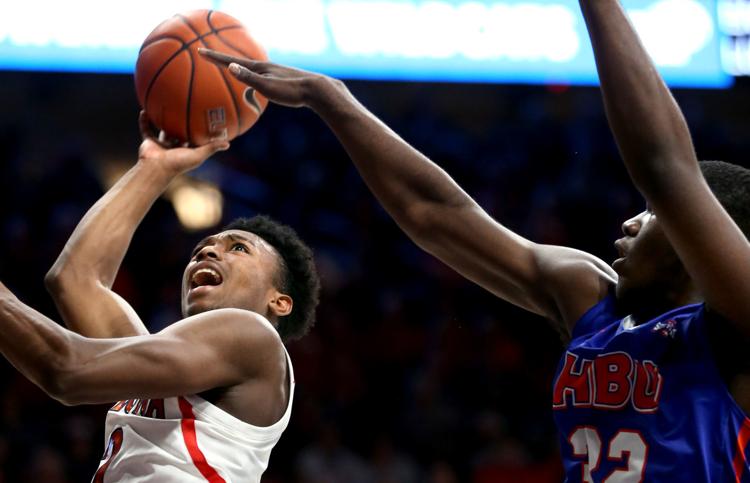 After their sluggish first half, the Wildcats began gradually pulling ahead of their low-major opponent in the second half. They took a 22-point lead, 59-37, after one inspired play from Smith, who stole the ball from Houston Baptist's Ian DuBose, leading to a 3-pointer from Barcello.
"We got the nerves out and were attacking in the second half," Barcello said.
The Wildcats built their lead to 74-41 on an 8-0 run, and Miller inserted freshman guard Devonaire Doutrive, who was the last scholarship player on the UA bench and did not play in UA's exhibition win over Chaminade on Sunday.
Miller said Doutrive was disappointed he didn't get in the Chaminade game but has had a great attitude.
In the first half, Randolph had 10 points to lead Arizona to a 33-24 halftime lead despite a rough shooting effort by both teams.
While Arizona shot its 37.5 percent from the field, Houston Baptist hit just 23.5 percent of its field goals, including just 1 of 10 from 3-point range while also hitting just 7 of 14 free throws. The Wildcats, however, added 11 turnovers to keep them from taking a double-digit lead into halftime.
Arizona jumped to a 7-0 lead over the poor-shooting Huskies, who went scoreless for the first 3:21 of the game.
The Huskies then missed 9 of 10 shots after a layup that cut it to 7-2. By the third media timeout, with just under eight minutes left, they had made just 3 of 18 shots.
Arizona made only 5 of 15 to that point but the Wildcats were outrebounding Houston Baptist 18-11 overall, even with forward Ira Lee sitting out his one-game suspension after a DUI arrest in August.
Without Lee, Miller turned to former walk-on forward Jake DesJardins in the first half for backup help in the post.
Be the first to know
Get local news delivered to your inbox!