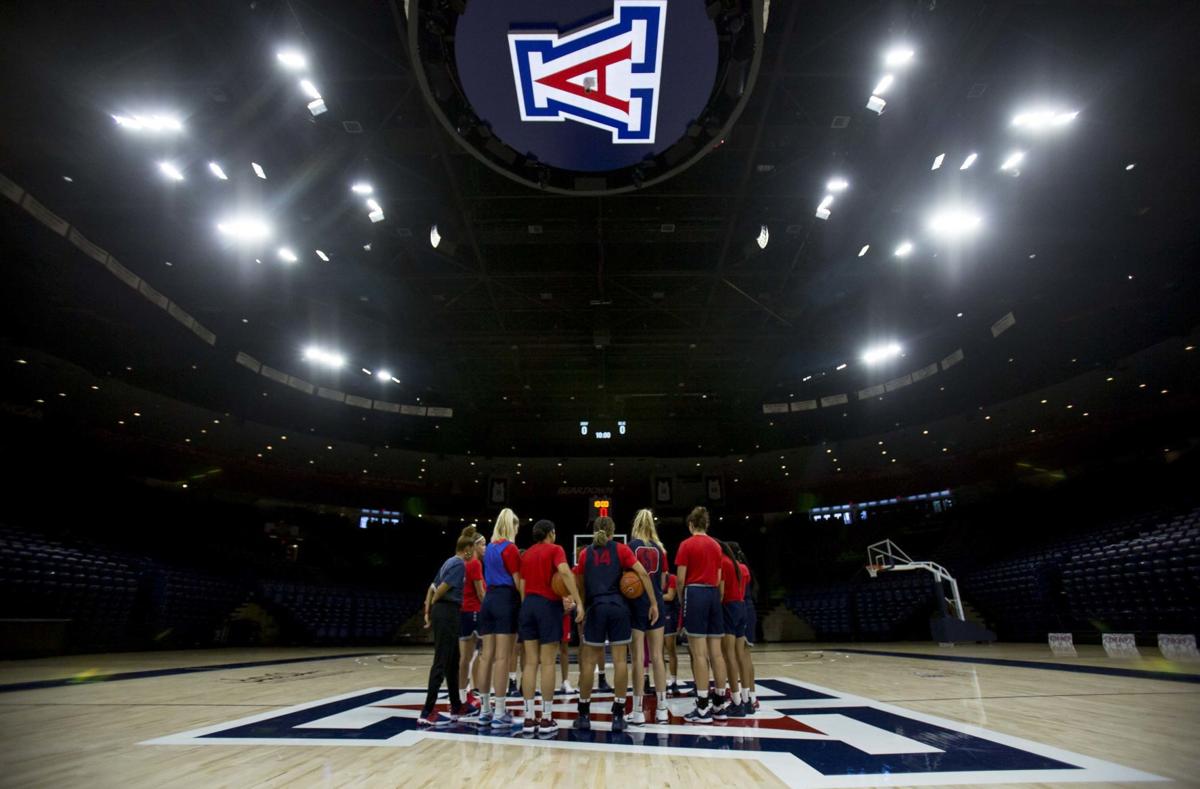 A year ago, the Arizona Wildcats welcomed a highly-ranked freshman class and set their sights on improving.
No one could have predicted how much better they would be. The Wildcats put together an 11-game winning streak, beat two ranked teams in Arizona State and Cal, won 24 games and ended up hanging a WNIT championship banner.
This year, there are more new players — and an expectation that Arizona will take yet another step forward.
"Not too many teams last year ended on a confident note," Barnes said. "But (we're) not really talking about it, because honestly if we were to go to another WNIT this year, that's a disappointment."
Here's a primer on what to expect.
Aari-ball
It all starts with Aari McDonald. The Wildcats' star guard is coming off one of the most dominant seasons of any Wildcat in program history. She averaged 24.1 points per game, the third-highest total in the country; she was the only player among the top three who wasn't a senior.
McDonald's game is going to look a little different this season. She spent the offseason improving her 3-point shot and her court vision. She may not score 890 points again this season, but McDonald could be even more unguardable as she starts reading defenses better.
"Having the vision helps me so much. Honestly, it's all about reading the game," McDonald said. "On defense just by looking at my opponent's eyes or hips or just where they are going, I can definitely tell where their next move is going to be. Once I know what someone is going to do my speed is just like 'OK, I'm going to beat them there.' Reading the game helps me a lot."
Most improved
Semaj Smith's offseason was spent improving her awareness on the court. She's running the floor better, is more competitive and aggressive, and is finishing around the rim. She's stronger and in better shape, too.
The 6-foot-6-inch Smith could be a force in her second season with the Wildcats.
"I believe in her. She has to believe in herself more and put the work in," Barnes said.
Barnes says Smith is "someone we need."
"We aren't going to be as successful if Semaj isn't great. So the better Semaj is, the better we'll be," Barnes said. "I believe in her. She just maturing — her whole demeanor, everything is changing. We expect a lot from her. She's 6-6 and you can't teach 6-6 and I just want her to continue to get better and put the work in. She's capable of doing a lot."
The big number
This year's UA roster has 15 players, 14 of whom are eligible to play right away. (Shaina Pellington must sit out due to NCAA transfer rules). That's a big deal: Just 11 players saw the floor last year, and 10 the year before.
The Wildcats must now squeeze in from sideline to sideline when they run sprints in practice.
"We can be a lot more aggressive because we have a lot more bodies," said Barnes. "You'll see improvement in productivity … Aari is not going to have to play 38, 39, 40 minutes. If you shave a couple of minutes off each player, they are more fresh and they are more productive. They have more legs to shoot the ball more efficiently, more legs and energy for defense. We don't have to conserve anything. So, we'll be better in that sense —just having more depth."
The bigger number
The Wildcats have sold about 3,300 season tickets. Add walk-up crowds, and Arizona could average 4,700 fans — or more — this season.
Reese is ready
Cate Reese was named Pac-12 freshman of the week three times last season, and finished the season on the conference's all-freshman team. She led all conference freshmen in scoring (11.8 points per game) and rebounds (6.7 per game).
Reese spent her offseason working on her midrange shooting, and spent time in the weight room getting stronger.
Barnes believes Reese will be better in all aspects of her game.
"I think you'll see a more confident and stronger Cate. She knows what to expect and I think she's just going to be better," Barnes said.
Who steps up?
Watching the development of players from year to year, game to game — and even practice to practice — is fun, especially when a program is rebuilding.
Arizona's freshmen are the wild cards. Keep an eye on Sevval Gul in the post and Helena Pueyo and Mara Mote at the guard spots.
Graduate transfer Amari Carter, who played at Penn State the last three years, could also provide a spark. As a sophomore, she led the Big Ten Conference with 2.63 steals per game.