1988 Final Four: The Arizona Wildcats season that made Tucson a basketball town
Hair so thick and full, eyes so wide and bright, on the threshold of manhood and tasked with the herculean responsibility of forging an entire town's fortunes.
Looking back at the makeup of the group 30 years later, perhaps everything — their flawless Pac-10 season, their March run — should have been expected.
A Hall of Fame coach. One of the greatest comeback stories in NBA history. More than 50 combined NBA seasons. Ten NBA championships. Grammy winners and Gold Glove winners, coaches and teachers, lawyers and radio personalities.
The 1987-88 Arizona men's basketball team would become one of the best in state history, arguably the greatest team in the school's history and easily the most memorable group to ever wear cardinal and navy.
The Wildcats started the season as world beaters, taking down mighty Michigan and mightier Syracuse. They throttled their head coach's former school, and headed into conference play ranked No. 1 in the country. They thrashed through the Pac-10 Tournament like a chain saw through a dandelion field, and dominated the NCAA Tournament's early rounds so thoroughly that they became national championship contenders.
The Wildcats advanced to the first Final Four in school history and not a step further, their dreams dashed and their season ended in Kansas City by an Oklahoma team led by three future NBA Draft first-round picks.
It was a loss so devastating that three decades later, that potential hall-of-fame coach — Steve Kerr, no slouch as a player in his own right — would call it the biggest regret of his career.
But this was no failure. This was no disappointment.
This was Arizona's first Final Four, and here it is, 30 years later, remembered by the people who were in it.
---
To Arizona fans, the 1987-88 season felt like the culmination of years of hard work for Lute Olson and his team. The venerable head coach, 53 years old and vital, was about to enter his fifth year in Tucson. The Wildcats had been in the NCAA Tournament three straight years at that point — no small feat for a team that had gone twice since 1951 — but now that wasn't enough.
Expectations were sky-high. Olson had already reached the Final Four once while at Iowa, and now, everyone in red and blue was one of his guys. The roster molded in Olson's image, Arizona entered the 1987-88 campaign with tremendous veteran leadership, plenty of NBA talent and a No. 17 national ranking.
STEVE KERR, UA guard: "We were a juggernaut, even if we didn't know at the time. We had two McDonald's All-Americans with Sean Elliott and Craig McMillan. Sean became college player of the year the following year and was the best player that year in my mind, and five players from that team went to the NBA. We were definitely a juggernaut, but it maybe wasn't the blueprint you'd see from a Kentucky these days. We weren't all blue chip, but we were a bunch of guys who turned out to be pretty good."
HARVEY MASON JR., UA guard: "I've thought a lot about this. Our success was due to Coach's talent of finding the right people to do the right job. He'd recruit the right kind of players who could fit into his system. When we hosted a recruit on Monday, we'd vote if we wanted him on the team. Usually everyone is dying for every recruit, and the recruit is deciding on the school. But we were unique. As a team, we'd decide if the kid fit in."
BRUCE FRASER, UA graduate assistant: "We didn't have a bunch of five-star guys. Most of them were overachievers. Aside from Sean. Sean was just — he was just one of those kids in your backyard who you're lucky to get, and there wasn't nearly the exposure back then. But we were a bunch of guys who all the pieces fit. That's where Lute was really good. He took guys who fit the system, the culture, and what he needed. Kerr has adopted that as well. He's always saying, 'the pieces have to fit.'"
MATT MUEHLEBACH, UA guard: "The pieces of the puzzle just fit. The talent on that team was incredible. But there have been other talented teams at Arizona. Our secret sauce was the chemistry."
MASON: "When you say 'super team,' we were not a super team. We were put together with a master plan, and it was a team that evolved from year to year. On the court, the chemistry was just so good. Our rotation was good, we had great subs. We had great energy among the entire team. More than anything, the machinery got more finely tuned."
KERR: "The chemistry that existed on that team was as good as I've felt anywhere, and I've been on some great teams. That team was special in terms of the relationships within the group, the joy that existed playing every day together. Just how much fun we had. A lot of those guys remain my best friends to this day."
---
Arizona was led by junior forward Sean Elliott, the homegrown talent who would go on to become a two-time NBA All-Star and an NBA champion. Then there was Kerr, a senior guard who has since become a seven-time NBA champion as a player and coach. Add to the mix two talented bigs in senior center Tom Tolbert and junior forward Anthony Cook and McMillan, perhaps the most coveted recruit of them all. That's just the starting lineup. Arizona's backups likely could've started for most of the Pac-10: Junior guard Kenny Lofton, who would become a Major League Baseball superstar; sophomore guard Jud Buechler, yet another NBA longtimer; Mason, who would become a famous music producer; Muehlebach, who would go on to average double-figures his final two seasons in Tucson; and senior forward Joe Turner, a coveted prep player who became a fan favorite.
The Wildcats, full of talent and experience, would learn a thing or two about themselves right off the bat. Up first: The Great Alaskan Shootout, one of the premier college basketball tournaments in the land. Battles with No. 9 Michigan and No. 1 Syracuse in the frozen tundra. The year before, Arizona had been bullied by a bigger Georgetown team in an early-December loss that dropped the team to 2-3. The Wildcats would go on to finish just 18-12, and the team found out the hard way just how far they had to come.
MASON: "After that Georgetown game, in the locker room, Coach said if we're ever going to be a great team, we have to beat that team that just beat us. Coach said that and left, and we said, 'Man, we have to get a lot better.' They were physical, fast, mature. They were like grown men. I remember after the game, one of the guy's girlfriends came over with their baby, and (the player) had a mustache and tattoos, and I was thinking, 'These are grown men out there.'
"I don't know if we had self-doubt, but we were concerned what was expected from us. We felt like young men. But that's what Coach did. That's the reason we went to the Final Four. His expectations were higher than our own. You work hard, think you're doing things the right way, and then you meet a coach who says you can be better. That Georgetown game was the touchstone moment. We realized how much better we had to get."
---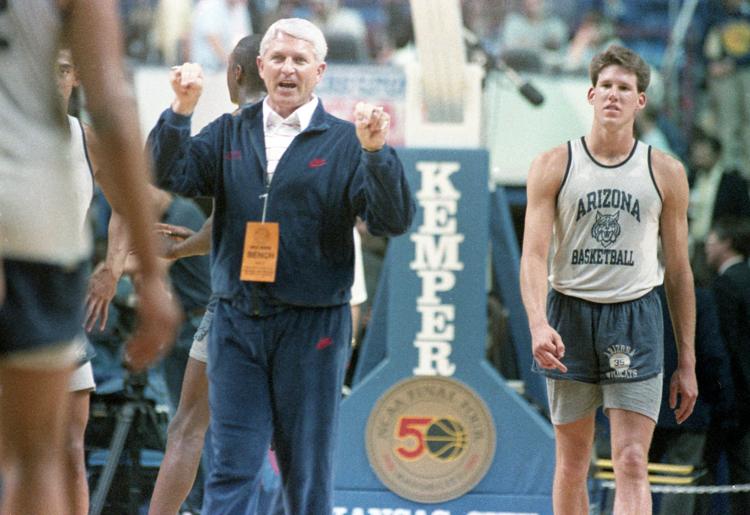 In the span of one weekend, it was clear just how much better they'd gotten. The Wildcats beat Duquesne by 55 points to open the season, then beat a Glen Rice- and Gary Grant-led Michigan team ranked No. 9 in the country by 15, 79-64, before facing top-ranked Syracuse. Arizona barely broke a sweat, winning 80-69 against future NBA players Rony Seikaly, Sherman Douglas and Derrick Coleman.
In one week, the Wildcats jumped from No. 17 in the polls to No. 9.
FRASER: "That's what made us really feel like we could beat anybody. We played Michigan, and they were loaded, and then we played Syracuse, which was loaded, too. Both ranked in the top-10, and we beat both of those teams. Those two games were monumental for our confidence.
KERR: "That season, if I had to point to one moment where we all galvanized, was Alaska. We beat Michigan, beat Syracuse, two top-10 teams. That's when we realized, 'Ah man, we're gonna kick some ass.'"
MASON: "The Alaska Shootout showed us a lot. When we beat Syracuse, we thought to ourselves, 'We might be there.' But there was no swagger in '88. Swagger wasn't a thing yet.
"Syracuse had swagger that year. They had swagger before there was swagger. They wore fur coats, jewelry. I remember at the Great Alaskan Shootout, we had a four-team dinner. We were standing out there in sweatsuits, which were made out of velour, freezing, and the Syracuse bus lets off, and every one of them was dressed head-to-toe, custom boots, fur hats. We were like, 'Wow, look at those guys.' But we beat them. That was the swagger we talked about. You've got to remember, our leaders were Steve Kerr, Sean Elliott. Think about that swagger."
MUEHLEBACH: "We played really well in that tournament. We smoked a really good Michigan team, handled a very good Syracuse team. From there, it was just like it was on. It became kind of a snowball effect."
---
And speaking of snowballs...
Three decades later, what the players most recall, what brings back the fondest memories and elicits immediate laughter, is the bonding that took place in the Great North. With an hour to kill before a game and nowhere to be, the Wildcats took to the streets for a snowball fight.
MASON: "The snowball fight we had in Anchorage, Alaska, I remember that the most. We realized Kenny was that good at baseball that day. It was 11 of us against him. We went out in the snow and Kenny grew up in the snow, and he was crushing all of us from across the street. We were like, 'Dang, that guy's got a really good arm!"
MUEHLEBACH: "I remember exactly what he's talking about with the snowball fight. We had so many inside jokes and had so much fun in the bus those days. A lot of it was about goofing around on the bus. We did a lot of that."
---
Arizona moved to 6-0 with three more wins over Long Beach State, Pepperdine and Northern Arizona, setting up a major showdown with Olson's former team, Iowa.
Iowa entered the matchup ranked third, while Arizona had moved up to No. 4. They met on a Saturday night at Carver-Hawkeye Arena, and the Wildcats went home with a seven-point win. The following week, after beating Iowa, the Wildcats were up to No. 2.
And one week after that, after moving to 9-0 on the season, Arizona was ranked No. 1 for the first time in its history. The New York Times featured the Wildcats on its Christmas Day sports front. "There are a lot of skeptics out there," Elliott told the Times. "People are waiting for us to get beat. But every time we go out and play, we make a statement."
Tucson had officially become College Basketball Central.
KERR: "We went from what was a pretty good story to one of the best teams in the country."
MASON: "We'd steadily been getting better and better. Between coach's credibility, mixed with the lack of other big-time events in town, that combined to make it a really great energy in Tucson."
MUEHLEBACH: "The city knew something was about to happen. One of my first memories from that year was coming out in the Red-Blue Game. They'd ended the year terribly the year before, had a ton of games they could've won, and they lost every one of them. It was like nothing could go right. But when we ran out for the Red-Blue game, there was a standing ovation, and a lot of it was for Steve. Like, he's back. You could feel that connection when he ran out. From that second on, it felt like something good was about to happen."
MASON: "When you talk about being an athlete in the '80s, there was an innocence, a purity to what we were doing. We were doing it for the love of basketball, and for each other. When we came to U of A, that was like a destination for all of us. We were all thrilled to be there. At no point was it a steppingstone to another level. You were there because that's where you wanted to be. Being a basketball player in the '80s in Tucson was a little different. Tucson as a town was different. They were just so excited to have something in the community. Now, they're used to having great basketball teams. Then, there was just a purity to it."
MUEHLEBACH: "It was just Wildcat fever everywhere you went. We had people coming in making us pies and cookies. Back then, it wasn't like it is now. You didn't have social media, wall-to-wall sports coverage. Slowly it was becoming a national story."
---
With McKale Center rocking, the Wildcats rolled through the remainder of the regular season, with just two speed bumps: a two-point loss to New Mexico at The Pit on Jan. 2 and an eight-point loss at Stanford on Feb. 4 that cost them a No. 1 ranking. But there were wins over top-15 teams Duke and Illinois, and the Pac-10 slate was mostly blemish-free. Arizona won its conference tournament games by 24, 14 and 16 points.
By the time the NCAA Tournament came around, Arizona was an absolute force. Still, Olson was not about to let these Cats coast.
MASON: "I think we felt threatened every game at tipoff. That's what Coach prepared us for. We did not like losing. At that point, we'd talked about going to the Final Four. We'd go as hard as we could, and you could tell by the margins. We were not taking our foot off the gas. We wanted to win. We wanted to achieve."
MUEHLEBACH: "We were just rolling people. You see the team this year, and it's a good team, and you see them struggle against Cal. We'd beat teams by 40 points like it was nothing."
MASON: "I remember getting the No. 1 seed, and I remember starting to work right away. I don't think we got too far ahead of ourselves. We'd done it before. We were just intent on winning the first game. Of course we wanted to see what our route would be. But we didn't have a lot of time to daydream about how many games we'd win. The pressure was there."
---
Heading into the tournament, Arizona was 31-2 and well-respected by coaches and the national media alike. Respected enough to earn the first No. 1 seed in program history. Their reward? A trip out West.
First, to Pauley Pavilion for the West Regional, and dates with No. 16 Cornell and No. 8 Seton Hall. The Big Red were a breeze — and Arizona would indeed win by 40, 90-50 — but the eighth-seeded Pirates were a feisty group under P.J. Carlesimo. In fact, the next year, the Pirates would make it all the way to the championship game. The Wildcats dominated from early on, leading at the half 45-25 on their way to an 84-55 victory.
Then would come the rematches of all rematches, another date with Iowa. The Hawkeyes had fallen from their lofty perch from when the two teams first met — the Hawkeyes were ranked 17th and were a No. 5-seed, having upset fourth-seeded UNLV to advance to the Sweet 16 — but led by B.J. Armstrong, this was no slouch. The Wildcats were simply overpowering: Arizona led by just four points at the half, then blitzed the Hawkeyes to win 99-79.
They were on the doorsteps of destiny, with only North Carolina standing in their way of a Final Four bid. The Tar Heels were good, led by J.R. Reid and Scott Williams, with Rick Fox and Pete Chillcutt coming off the bench. UNC had been ranked No. 1 early in the season and was coming off a solid 78-69 win over Michigan. Yet another cause for concern — or not. The Wildcats won by 18, 70-52, holding the Tar Heels to 36 percent shooting as Elliott and Tolbert combined for 45 points.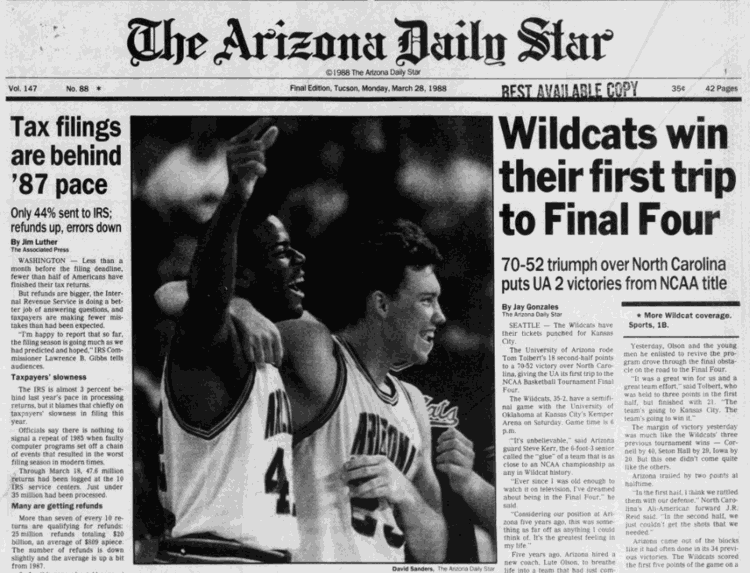 For the first time, Arizona would be playing in basketball's final weekend, and they'd barely shrugged.
KERR: "We dominated the first four games."
FRASER: "We'd learned from tournaments past. You practice in front of people, the horn goes off, there's more pressure. We'd learned from past games, and we were tournament-ready. We started rolling right away. We gained confidence as it went. I don't think we ever talked about the Final Four. It was a goal of ours, but it wasn't something that was talked about. We wanted a national championship. That was our goal, and we thought we were capable."
MUEHLEBACH: "We were like a golfer shooting 63 four games in a row."
The 1988 Final Four was played in Kansas City, Missouri. The group of four: No. 1 seeds Arizona and Oklahoma, No. 2 seed Duke and No. 6 seed Kansas. The Wildcats drew Oklahoma, led by the NBA-bound triumvirate of Stacey King, Harvey Grant and Mookie Blaylock.
---
But first, they reveled in the Final Four festivities.
MASON: "It was just awesome. It was awe-inspiring. It was pure fun. Every day was an adventure. We had pre-game practice and there was 15,000 at practice. There was media day, functions. There was so much buzz and hype. It was the thrill of a lifetime. During one of the games, I got drug-tested, and I had to pee in a cup, and I could barely go to the bathroom, I was just so excited. But once we got to the Final Four, and got through the ceremonial stuff, it was just about winning."
FRASER: "I remember our practice. ... I could see some nerves."
---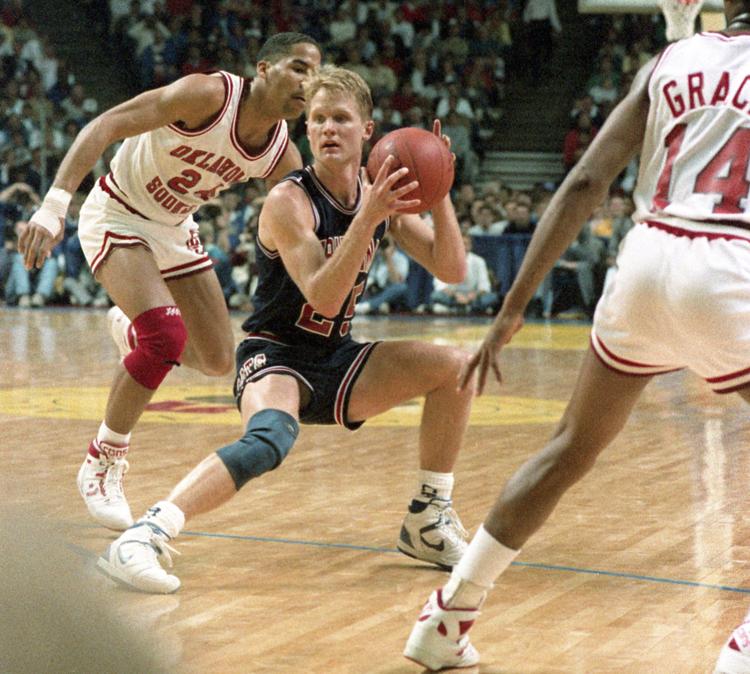 Finally, the day came. April 2, 1988.
FRASER: "We were playing in Kansas City and the gym was packed. Kerr made almost every shot in warm-ups."
MASON: "I remember that day, Steve had an unbelievable warm-up. Bruce Fraser was his rebounder, and I remember Bruce saying Steve didn't miss a shot in warm-ups."
MUEHLEBACH: "Bruce says he didn't miss a shot in shootaround — look, he didn't miss a shot ever. He was shooting 60 percent from 3."
---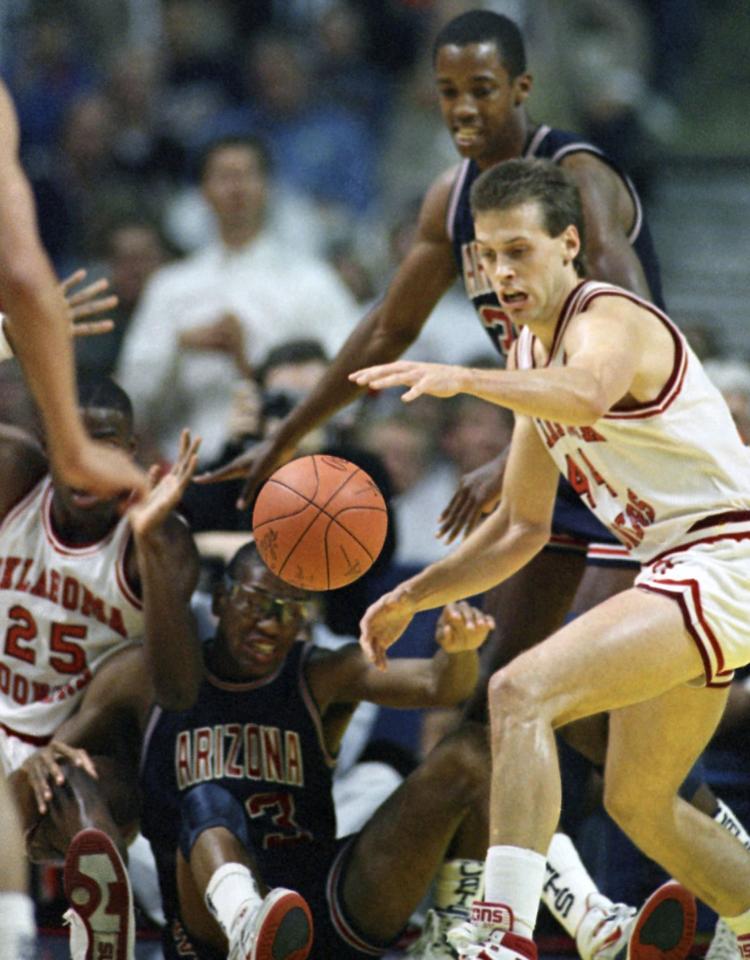 The Sooners started hot, however, and went into halftime up 39-27. Arizona, which had rarely trailed, and certainly was not used to trailing at the half, was in uncharted territory. Oklahoma's pace and pressure had given the Wildcats fits.
HARVEY GRANT, Oklahoma forward: "We wanted to press the whole game, and if anybody knows coach (Billy) Tubbs, he's going to press and press and press. We wanted to dictate the play of the game. That whole year, we never wanted our opponent to feel comfortable or get into a rhythm."
MASON: "We didn't handle the press well."
MUEHLEBACH: "You could just feel the tone of the game. It didn't feel like we played like we normally did. Some of it was Oklahoma. But I think we all felt, and most people would tell you, we were playing the best, and on paper were the best team. We got a little bit down early, and we were just kind of struggling to fight back. We just didn't play our best. I remember that feeling. We were trying to get out of it. Trying to get a spark, and we had a couple little ones, but it didn't go well for us."
GRANT: "A guy like Mookie Blaylock — we had guys on the opposing team afraid to bring the ball up. Mitch Richmond, a good friend of mine, he said players were scared to bring it up against him. I wouldn't think Steve was scared, but Mookie kind of imposed his will on him. Once he's on you, he's on you. He told us before the game, don't worry about it, I got him. If Steve would've come out and made six 3s, there's no way we wouldn't have won."
---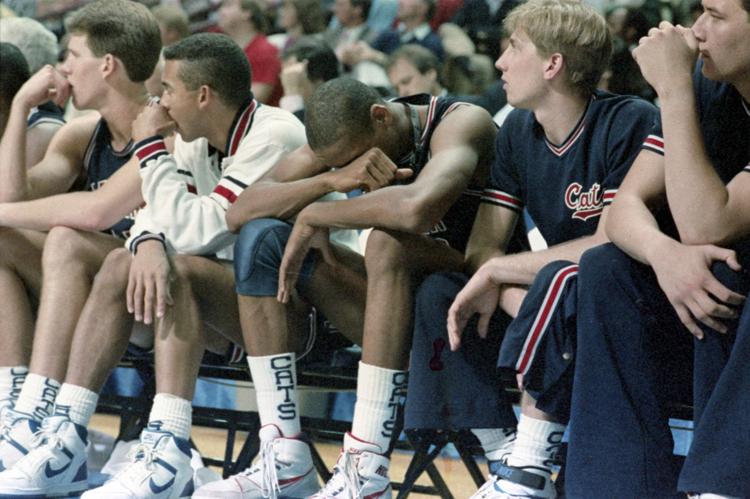 But Kerr would instead turn in one of the worst performances of his career. Arizona's best outside shooter went 2 for 13 from the field, including 2 for 12 from 3-point range, and the Wildcats got no closer than three points in the second half. Oklahoma won 86-78. The Wildcats' vaunted bench was outscored 14-6, as reserve Andre Wiley had 11 while replacing Stacey King, who was sidelined with four fouls for much of the second half. King did his damage, scoring 21 to go along with Grant's 21.
Elliott had 31 points to crown an all-tournament run, and Tolbert added 16, but Arizona had no one else above 11.
GRANT: "Sean was one of the best players in the country, and what we tried to do as a team was not let the other guys beat us. Sean was going to get his number, but if we could do that, we'd give ourselves a chance to win."
FRASER: "We just couldn't get over the hump. Elliott made some great plays, but it was one of those nights. We didn't lose because of nerves."
MASON: "The second half of the second half, I remember thinking, 'Oh, shoot, this could be the end.' I remember losing and thinking this was the worst thing in my life. I remember crying in my locker room. It wasn't just about us at that point. It was about the community, Tucson. We felt so much love from the people. We wanted to win for Coach Olson, he was so important to us. We all felt like we'd let each other down. Everybody was so excited. For it not to end the way we wanted it to, that was a hard one to swallow."
MUEHLEBACH: "It was very painful. I remember it vividly after it was over. It was a Cinderella season. I think our team fully expected to win both games in Kansas City. We weren't cocky, weren't overconfident. We'd played so well the two weeks before it. Maybe because we'd played so well — Oklahoma, who was very good, they came in as an underdog. Being the underdog, maybe it gave them a little edge."
GRANT: "We didn't feel like the underdogs."
---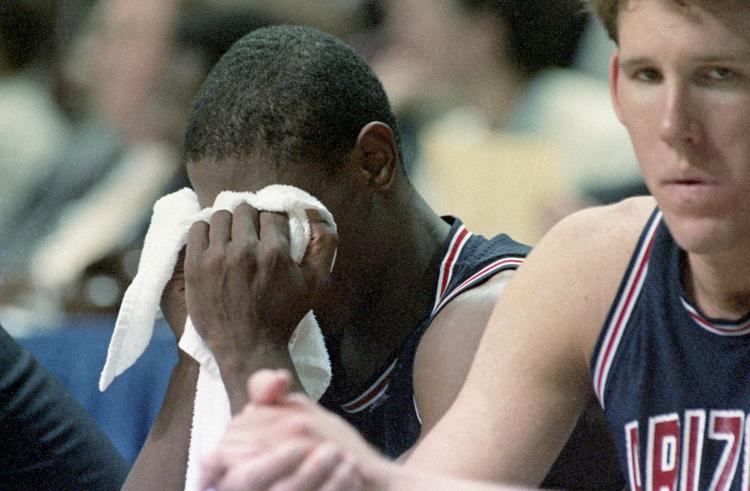 Thirty years later, you can hear the sadness in the UA legends' voices. As accomplished as they feel, as proud as they are to have given Tucson and the university something it had never had, there was a hole there. Oklahoma went on to face Kansas, which defeated Duke in the other semifinal, and the Jayhawks delivered Larry Brown his first and only national championship. It would be another nine years before Arizona would finally win Olson his only championship.
MUEHLEBACH: "Those four losses I had in the tournament are painful. Every single one of them, I felt like we could've won the whole thing. In my four years, we were a 1-seed, a 1-seed, a 2-seed and a 2-seed. The stakes are so high. When you do lose, it's crushing."
KERR: "It eats at me all the time. It is my biggest regret as a player, playing so poorly in that game."
FRASER: "He has regret about it, but it's not something he harbors on. It doesn't still cause him angst. But it was disappointing. I joke about it sometimes with him ... if you don't go 2 for 13, we win. I jab him with it. But all shooters have bad nights. It's part of being a scorer."
KERR: "If I would have made a damn shot, we would've been all right."
Editor's note: This story appears as part of the Star's NCAA Tournament guide, which is available on newsstands Thursday.