Sometimes it's tough for well-exposed college players such as Arizona's Rawle Alkins and Allonzo Trier to improve their draft stock during the annual NBA combine.
After all, NBA scouts watch the Wildcats' practices and games regularly, while Alkins even played in the combine already when he was testing the draft last spring.
But both still have plenty to prove this week in Chicago, where the combine will hold ESPN2-televised on-court portions Thursday and Friday. That's in marked contrast to their former teammate, Deandre Ayton, who won't participate in the combine because he is already a projected top-2 pick.
Trier has fallen out of the major NBA mock drafts while Alkins will return for his second NBA combine needing to answer questions about a sophomore year that was plagued by foot problems.
Both may also have to answer questions about the UA's uneven 2017-18 season, too.
ESPN's Draft Express analysts said the most important parts of the combine are the medical testing and interviews of prospects that teams do behind the scenes. ESPN analyst Jonathan Givony called the interviews "a process that is reminiscent of speed dating," where players go from hotel room to hotel room to meet with teams that have requested them.
Alkins' fate may be significantly impacted by how he fares in physical testing by league-appointed doctors, who will undoubtedly be looking into the long-term health of his right foot.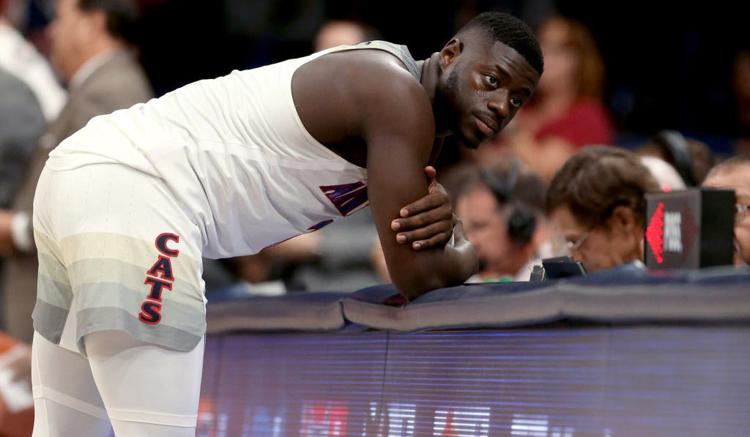 Alkins missed the first nine games of last season with a broken foot and then missed another three in January because of soreness in the same foot. He returned to play nine straight games starting on Dec. 9, then sat out the UA's Jan. 17 game at Cal and — after playing on Jan. 20 at Stanford — sat out the next two games.
That invited questions about whether he had suffered a stress reaction or refracture, but UA coach Sean Miller said he had neither and the UA called it only "minor soreness."
The NBA might be aiming to find out exactly what happened.
Givony wrote on ESPN.com that medical testing is the "most crucial" element of the combine, saying previous injuries are checked out by doctors with the help of X-rays and MRIs.
"Every year, a number of players fall unexpectedly in the draft based on the results of these medical examinations," Givony wrote.
Trier, meanwhile, may be asked about his long ordeal with positive PED tests, which kept him out 19 games as a sophomore in 2016-17 and, after he retested positive in January, another two games last season — until he took a retest in Utah and won an appeal that allowed him to play ini the UA's final six games.
Trier might be able to help himself slightly on the court, where he played with high efficiency most of last season but tailed off after his return from the appeal. Trier's agent, James Dunleavy, was unavailable for comment.
Trier had been consistently projected in the mid-second round during mock drafts throughout his UA career but has slipped off them this spring. Alkins, meanwhile, is listed anywhere from the last pick in the first round (by Sports Illustrated) to No. 53 (ESPN) and 54 (NBADraft.net). The Ringer has Alkins listed at No. 34 while Net Scouts has him at No. 35.
Rim shots
Five-star 2019 guard Cassius Stanley put Arizona in his top six, along with Oregon, UCLA, USC, Kansas and Texas.
Arizona has offered a scholarship to four-star 2019 point guard Boogie Ellis of San Diego, according to 247Sports.
Four-star 2019 center Francis Okoro announced on Twitter that he has committed to Oregon, and he told The Oregonian he might reclassify in time to join the Ducks for next season.