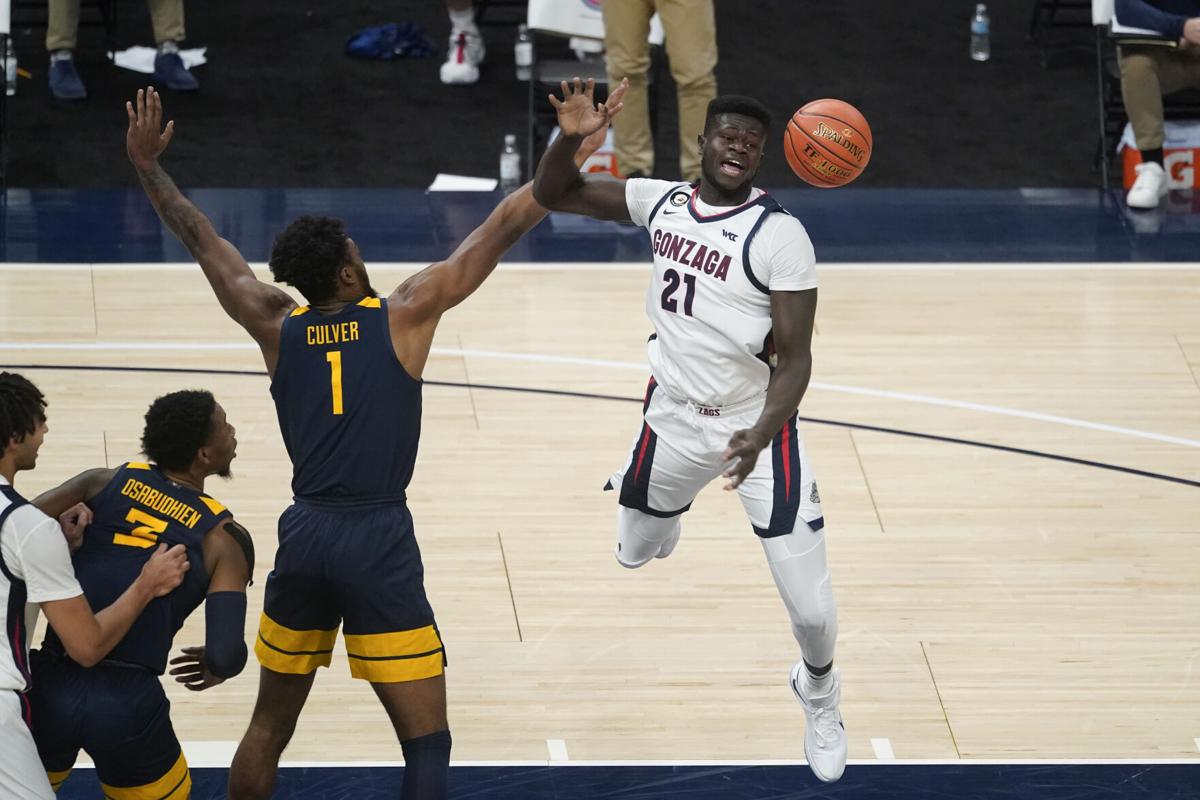 Even for five-star talents used to flattery in the basketball world, becoming an Arizona Wildcat means adjusting to the idea that anyone, at any time, might recognize and stop you anywhere around Tucson.
Won't be an issue for Oumar Ballo. That's been the story of his life already.
Carrying about 260 pounds on a 7-foot frame, in a package some have called "Baby Shaq," the Wildcats' incoming transfer from Mali via Gonzaga, Mexico and Spain spent the past two years carrying a high profile around Spokane.
Before that, Ballo was playing for a school in the Canary Islands, so good that FC Barcelona offered him a six-year contract to play professionally on the Spanish mainland.
And even before that, Ballo was nothing less than a national hero. Having led Mail to FIBA glory since he was 14, including a run to the U19 World Cup championship game two years ago, Ballo already has inspired jerseys labeled "Ballo," "Baby Ballo" and "Ballo Junior.
He's had some actual humans named after him, too.
Ballo knows you may know who he is, and he's used to it.
"Honestly, it's been great," Ballo said. "Even today, if I go back home there will be people named after me and I have to really give back to those people. They are looking at me.
"It's a lot to take as a young age, but at the same time, I just have to be myself. Those people are named after me because of me, so I don't really try to be anyone else."
The one stop where Ballo might have been least known as a basketball hero was Mexico City. But that's where Ballo may have grown the most.
Not just physically, and not just in a basketball sense. Ballo says playing for the NBA Academy Latin America during the 2018-19 school year also helped him grow as a person and student. He arrived in Mexico City, from Mali via the Canary Islands, all long before his 17th birthday.
"It was unbelievable," Ballo said. "Three different countries, with different cultures. But those people literally made me feel home. They helped me be a better person, also be a better basketball player."
Sometimes that meant not being a basketball player at all. Ballo said the NBA Academy helped him on the court, put him in leadership roles, and made him accountable academically. After he committed to Gonzaga in February 2019, Ballo said it also hired a special teacher to work with him toward eligibility.
"At the end of the year, they wouldn't even let me play basketball because they were more worried about my school than basketball," Ballo said. "That's when I knew those people were the right people, that they didn't want anything from me but the best. They put me in a situation to be here today. So I am really thankful for my journey."
With a mission of growing the game in part by developing some of the top youth prospects around the globe, the NBA Academy had found Ballo something of a no-brainer target.
At age 14, Ballo led Mali to the 2017 FIBA U16 Africa championships, averaging 14 points and 13 rebounds, then helped his country win another gold in the U18 FIBA Africa championships a year later in Bamako, Mali.
He was a well-established hero in his home country by then, having made two difficult decisions that helped get him there.
The first was tossing aside his first sports love, soccer. The son of a 6-foot-2 mother and a 6-7 father — with a 6-10 older brother who plays professionally in France — Ballo realized at a young age that he wasn't going to have much of a choice.
"I was actually a great goalie for my school, but I got so much bigger and I couldn't play that role anymore," Ballo said. "When I was 11, I played them both, and at 12 I was too tall to be a goalie. I tried to play a little outside defender and played basketball at the same time. But at 13, I just stopped playing soccer and focused on basketball."
That's when Ballo decided to leave home.
Ballo's promise in basketball drew an invitation to the Canterbury International Basketball Academy in Las Palmas, a British school in the Spanish-speaking Canary Islands.
Students needed English at school, and Spanish around town. Ballo, 13, spoke Bambara and French.
"It was hard," Ballo said. "I left my family, came to a different country. I didn't speak English or Spanish, so I couldn't talk to people. My first three months were really, really hard."
Fortunately, Ballo said, one of the Canterbury teachers who spoke some French worked on his English and helped "make life a little bit easier for me."
The transition was easier on the court. Ballo made his name both in FIBA events for Mali and in Spanish events for Canterbury. He was the MVP of the Spanish U16 championships in 2017, helping Canterbury finish third, and the MVP in the Spanish Junior Championships in 2018 while averaging 15.1 points and 10.8 rebounds.
"It was great," Ballo said of Canterbury. "It really helped me a lot."
He played so well that Ballo had to make another tough decision at age 16: Take Barcelona's offer and forgo further schooling, or try to reach the U.S. college route via the NBA Academy.
"It was a big decision for me, because Barcelona wanted me so bad," Ballo said. "But also, I wanted to get my education. It was a hard decision."
By then, Ballo had picked up enough Spanish that Greg Collucci, who leads the NBA Academy's elite coaching and player pathways initiatives, said it made sense to send him to its Latin America program in Mexico City. That also put Ballo closer to the U.S. college radar as he wanted to be while giving him a chance to finish up high school academically.
Upon arrival, Ballo was assigned a room across from a fellow French speaker named Bennedict Mathurin, a Montreal native with Haitian roots. The two ate breakfast together and often ventured around the neighborhood for other meals, NBA Academy coach Walter Roese said.
"They're very good friends," Roese said.
Ballo had a lot to work through in Mexico. He needed three months early in the season to recover from ankle surgery. He played between January and April 2019, then sat out the end of the season to focus on academics.
But wherever he looked, there was support. From Mathurin, from his other teammates, his coaches and staffers.
"That's one of the best things about the Academy: We're here to help just players develop," Roese said. "We're not about winning or losses. So we could take time, the correct way to make him as the best he can be for the next level whatever he chooses, whether it's college or professional."
On the court, Ballo also faced challenges. Roese said Ballo "skill-wise was always very talented," but his size didn't allow that skill to translate easily against more difficult competition.
"Huge as he is, he has everything — he has the strength, he has the muscle, but he had to lose weight," Roese said. "Some players, especially big guys, in college have a little more difficult time because the speed of the game is so fast. He's not going to have time to catch the ball, and take his time and dribble three or four times. That was a problem. We spent a lot of time on that."
Soccer helped. Roese and Ballo found the footwork and coordination learned from years of playing the sport translated well to the court.
"Catching the ball, diving on the floor as a goalie really helped me to be able to catch well and also my footwork," Ballo said. "Soccer really helped me to be a better basketball player."
By the time Ballo showed up at the February 2019 Basketball Without Borders event in Charlotte, his name was already as familiar to college recruiters as to kids in Mali. Except one of them had an edge: Gonzaga assistant coach Tommy Lloyd had long established a relationship with Ballo, following him around for years at FIBA events and in Spain.
Ballo had listed Gonzaga, Baylor and Arizona as his three finalists. He said he liked the way Arizona used its big men, and that weather in Tucson was comparable to his homeland. But, just after Basketball Without Borders, Ballo chose Gonzaga.
Five months later, the international basketball community learned again what kind of player the Zags had picked up. After visa issues in France kept him away from two early games in the FIBA U19 World Cup at Greece, Ballo showed up and led Mali all the way to the championship game.
There, Mali's opponent was no surprise. USA Basketball fielded a team of future NBA talent, including Cade Cunningham, Tyrese Haliburton, Jalen Green and even Jalen Suggs, Ballo's future teammate at Gonzaga.
Team USA won 93-79, but Ballo scored 15 points on 7-for-15 shooting, grabbed seven rebounds and blocked three shots. He was named to the five-player World Cup all-star team along with Mali teammate Siriman Kanoute, USA's Haliburton and Reggie Perry, plus another future Gonzaga teammate, Joel Ayayi of France.
Ballo was still just 17, yet looked ready for college. He had reclassified from 2020 to 2019, though the NCAA still ruled he wasn't ready academically and forced him to redshirt at Gonzaga in 2019-20.
As it turned out, that was a blessing, too.
Ballo instead spent the season practicing against big guys such as Killian Tillie, Filip Petrusev and Drew Timme, figuring how to get his shot off more efficiently against even better, even quicker competition.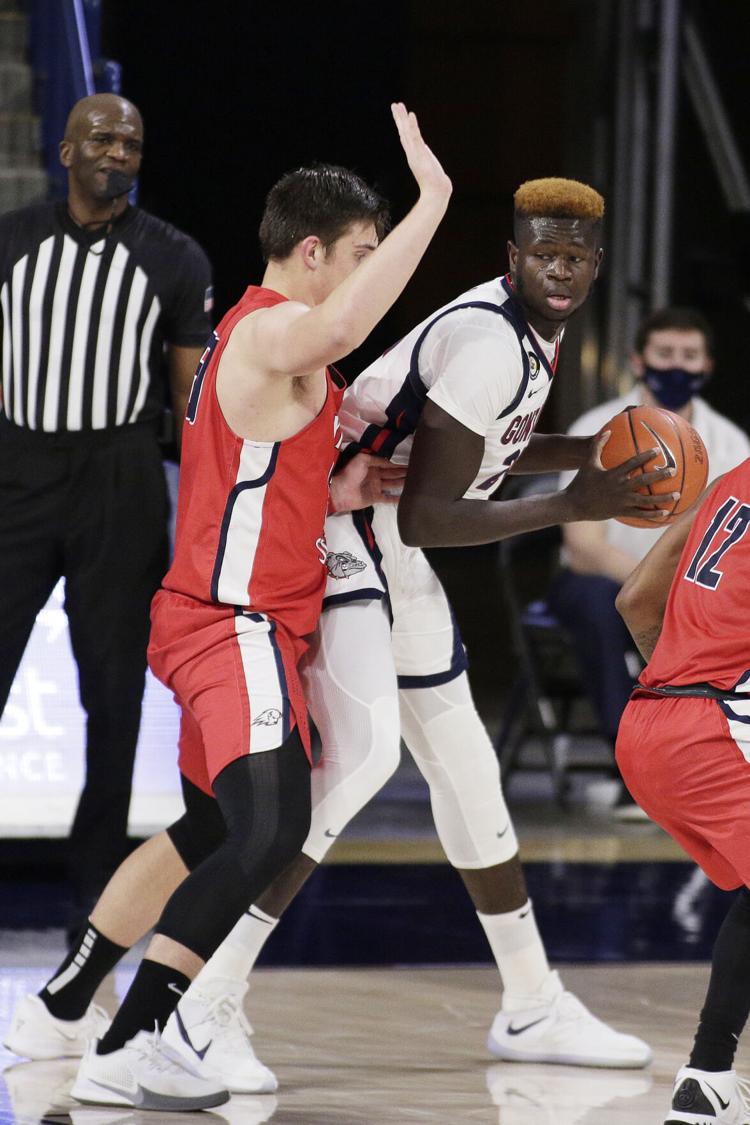 Ballo said he spent his first year in Spokane learning the plays and "getting my body right in the weight room," while trying to play to his strengths off the bench last season.
Especially considering Gonzaga's furious tempo, it was dizzying, beyond even what Ballo saw in Mexico City.
"It's a lot of work," Ballo said. "If you watch our games here, we have such a pace, a fast break, that it's hard for big men to keep up. I've just gotta make sure to be the best shape as I can in order to keep up in the game.
Last season, Ballo's potential showed up in spurts. He averaged 2.5 points and 1.5 rebounds over 6.2 minutes a game, and might have struggled to carve out more time next season, especially after Gonzaga added the nation's No. 1 overall player, center Chet Holmgren, to a strong returning inside group.
At the same time, the guy who had followed him all over the world just happened to become Arizona's new head coach on April 14.
Also, those conversations between Ballo and Mathurin never did stop. Ballo said they still talk nearly every day, and they also met up in Spokane over New Year's weekend, when the Wildcats were preparing for a game at Washington State.
It all came together quickly while Lloyd was being courted for the Arizona job. Ballo entered the transfer portal on April 11, saying he knew where he was probably headed. Lloyd's hiring was made official on April 14 and Ballo committed to the Wildcats on April 19.
Ballo said it was tough to leave Gonzaga. But staying there while Lloyd left probably would have been, too.
"He's the one who brought me here," Ballo said. "He's the one who know me since I was 15. He used to travel to Spain to see me and stuff like that. So I have a really good relationship with him."
Ballo appears a complementary fit at center next season with another French-speaking friend, rising junior Christian Koloko of Cameroon, while power forwards Azuolas Tubelis and Jordan Brown bring offensive skills to the post.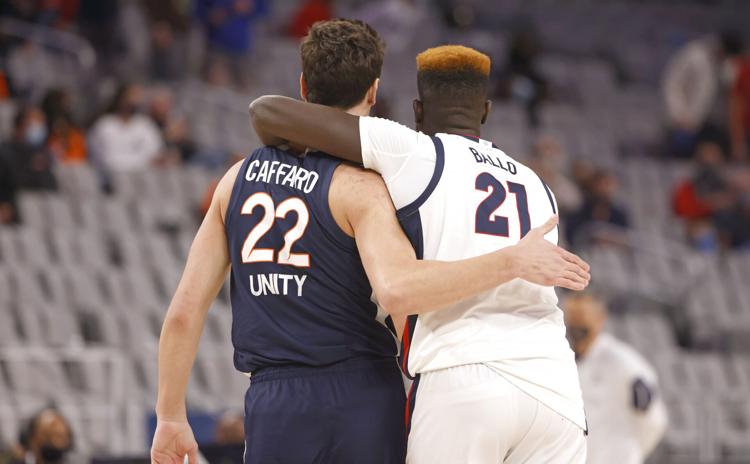 "He can utilize his size. I mean, that Baby Shaq is quite a compliment," Collucci says. "If you can play like Shaq, that's great. But the idea is to continue to develop the skills around the rim, really get himself in great physical condition. That's the big key for him. Coach Lloyd will know better than anybody exactly where he is.
"There are times when Omar is really physically dominant around the rim. He can get rebounds, he can finish. He's a tough matchup if he's really feeling good and his body is responding well."
Ballo said he isn't taking anything for granted at Arizona, saying the future is hard to predict, but that he agreed with the plan Lloyd set out for him.
"I'll be fine, because Tommy's been (at Gonzaga) for 20 years, and he learned so much from coach (Mark) Few plus his own knowledge," Ballo said. "I think he's gonna do great."
The next step begins in a month, when Ballo will move to Tucson. In July, he'll join his Mali teammates for the U19 World Cup in Latvia.
Then, chances are, not long after he returns to Tucson in late summer, Oumar Ballo will be a well-known figure here, too.
Contact sports reporter Bruce Pascoe at 573-4146 or bpascoe@tucson.com. On Twitter @brucepascoe