Sean Miller and two Arizona Wildcats began speaking Thursday about a season that could end in the Final Four, earlier in the postseason or maybe just somewhere in NCAA purgatory.
If allegations against Arizona in the FBI's college basketball investigation are quickly proven and translated into NCAA violations, the Wildcats could lose at least one player to ineligibility this season. They might face any number of sanctions, in the future or retroactively.
Or maybe it isn't so quick. Maybe the NCAA, now with a truckload of FBI material having been dumped in its offices courtesy of a widespread federal investigation involving multiple schools, doesn't translate anything into potential sanctions until 2018-19 or beyond.
UA athletic director Dave Heeke said Thursday that the school "proactively" contacted the NCAA after UA assistant coach Book Richardson was arrested on federal bribery and fraud charges on Sept. 26.
"They're, as well, surprised and looking for direction themselves," Heeke said.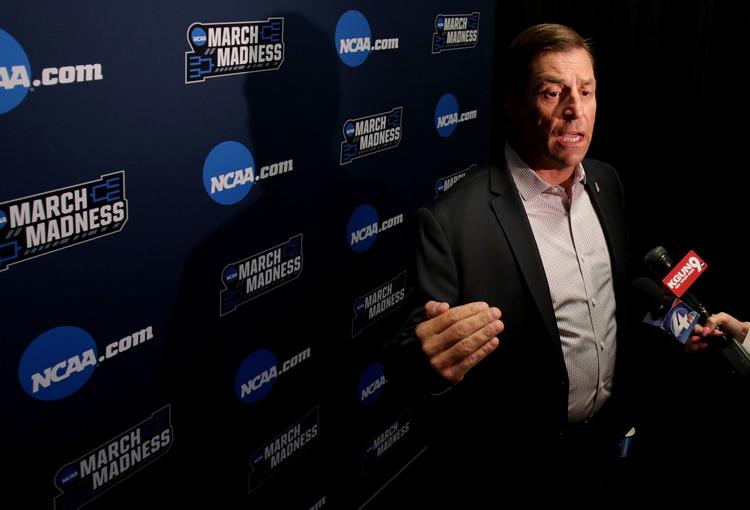 In the days since Richardson's arrest, however, Arizona has defined its own direction: firmly behind Miller, with eyes open for the investigations ahead.
"Sean has always run a program of integrity and honesty throughout his career here and we're very supportive of the program and the coaches," Heeke said.
When asked if that suggested Arizona took a preliminary look and determined Miller didn't do anything wrong, Heeke responded by repeating himself.
"Again, Sean always runs a program of high integrity and honesty, and we're always supportive of that," Heeke said.
Still, Heeke said he doesn't know how it all might play out.
"There's a whole lot of unanswered questions," Heeke said, later adding: "We're in the midst of a very unique situation, a federal investigation. … This is a process we've got to go through but how long or short it'll be, I don't think anyone knows.
"It's a very serious issue, no question."
Heeke said he didn't know if NCAA issues could affect the Wildcats this season and, when asked if any findings could lead to self-sanctions, said he didn't think it was appropriate to speculate or discuss hypothetical situations.
Miller offered little insight during an earlier press conference for which the UA said only "basketball-related" questions would be answered. The coach did not answer a question about whether he expected any possible sanctions or ineligible players this season.
"I'm excited about our season, our team," Miller responded. "I read my statement here a second ago. For us, it's about coaching our team. It's about these guys competing, practicing hard every day and looking forward to the challenge ahead."
The statement Miller read Thursday was similar to the written one he issued Tuesday, when he said he was "devastated" to learn about Richardson's arrest and promised to keep promoting an atmosphere of compliance.
Miller, who also declined to answer a question about allegations that multiple UA coaches were associating with the agents alleged to have bribed Richardson, could face NCAA discipline under NCAA Bylaw 11.1.1.1 if UA-related allegations in the federal complaint are proven true.
That bylaw says the head coach must promote an atmosphere of compliance and is "presumed to be responsible for the actions of all institutional staff members who report, directly or indirectly, to the head coach."
On Thursday, Miller said he fully supported investigations into the allegations, and "as that investigation proceeds, I'll continue to work hard and enforce a culture of compliance in our organization, just like I have for the last eight years."
Miller added that "I'll also continue to work hard at the University of Arizona to bring us the most successful basketball season we can have this year."
Miller spoke enthusiastically about his mix of talented freshmen and experienced veterans, noting also how 7-footer Deandre Ayton posted an eye-opening maximum vertical leap of 43.5 inches.
In addition, Miller said wings such as Brandon Randolph and Emmanuel Akot will have "a different role" in replacing the injured Rawle Alkins over the first month or two of the season. Alkins broke his foot last week, and is not expected back until at least Thanksgiving.
"This is a fun, exciting time of year as a college basketball fan," Miller said. "Clearly, we're building our identity as a team."
Maybe that dark cloud of uncertainty hanging over McKale Center gets incorporated into that identity, too.
"It's a tough situation, a little bit of adversity," guard Allonzo Trier said. "But it's gonna help us get stronger, maybe bring us closer together."
Rim shots
Miller said he wasn't sure if the UA would still sign two or three recruits during the November signing period, or if he might have to wait until the spring to get most of his players.
Arizona has received verbal commitments from guards Jahvon Quinerly and Brandon Williams and forward Shareef O'Neal, but Quinerly was named in the federal complaint when a sports agent referred to him as having taken $15,000 from an agent through Richardson.
In addition, several analysts on 24/7's Crystal Ball are now predicting O'Neal will choose Kentucky.
Austin Carroll, Arizona's assistant director of basketball operations, is now on the floor during practices, with Richardson having been suspended with pay. Miller said he wasn't sure yet if he would look to add another staffer this season.