Arizona basketball: On Jackson-Cartwright's injury, the unknowns, and some levity
Here's the rundown from Arizona's visit to Pac-12 media day on Thursday, as Sean Miller, Allonzo Trier and Dusan Ristic stepped into the spotlight.
Thigh bruise forces Jackson-Cartwright to miss practice time, Pac-12 media day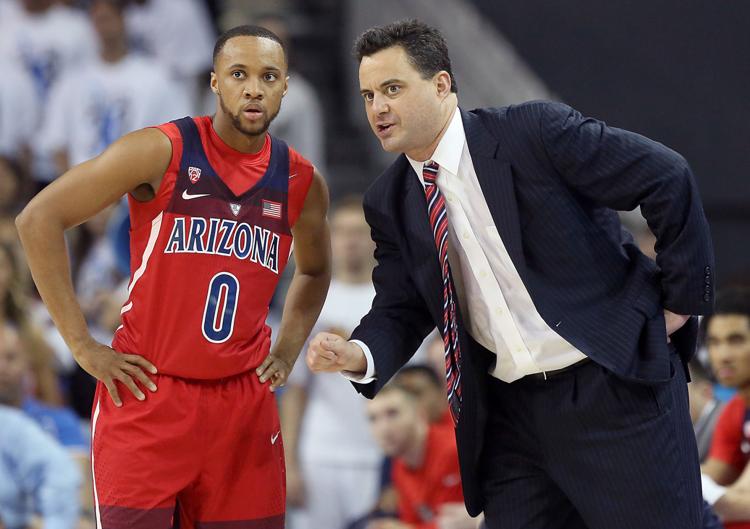 By Bruce Pascoe / Arizona Daily Star
SAN FRANCISCO — For the second year in a row, Arizona was forced to scratch a planned appearance at Pac-12 media day.
But while Allonzo Trier didn't show up last year in the wake of a positive PED test that eventually cost him half a season, Parker Jackson-Cartwright missed this year's event only because of what UA coach Sean Miller said was a thigh bruise.
Jackson-Cartwright missed two practices with the injury, Miller said, but has since returned.
"We worried about it at the beginning because he got hit fairly hard," Miller said. "He might have been on the schedule to come here, but that's a big reason why he didn't, so he could take care of that."
Miller said Jackson-Cartwright has since become a "full-go" in practice, while also noting that even forward Rawle Alkins has remained upbeat two weeks after suffering a broken foot that is expected to keep him out at least until Thanksgiving.
"Rawle's spirits are actually great considering that it happened," Miller said. "We certainly look forward to him returning at some point."
The unknowns
Pac-12 commissioner Larry Scott said he didn't know if allegations into Arizona and USC could create any issues for the current season, saying investigations remain ongoing.
Meanwhile, Miller declined to answer when asked if, in addition to Alkins being out with his injury, if there was talk of suspending any UA players while the investigations play out.
"I can't comment on that," Miller said. "I respect your job and I understand why you ask me the question, but I'm going to stand by my statement."
Comanche to G-League, mom says
The mother of former UA forward Chance Comanche created an Instagram post implying that her son has agreed to terms with the Memphis Grizzlies' G-League team.
"Ten more days until my son leaves for Memphis to begin his NBA/G-League career," Melissa McGee posted. "You continue to make me proud!!!"
Comanche declared for the NBA draft last spring after two seasons with the Wildcats but was not drafted. He averaged 6.3 points and 3.6 rebounds at UA last season.
Kent says FBI probe only a 'college basketball problem'
Washington State coach Ernie Kent said publicity the arrests of UA's Book Richardson and three other assistant coaches has given a false impression about the problems with college basketball.
"There's been four faces that are constantly blasted around the country, and it's perceived that this is a black assistant coach problem," Kent said. "That is not the case, and people need to be aware of that. This is a college basketball problem that we have the opportunity to do something about."
A former president of the National Association of Basketball Coaches, Kent said there is already a "declining number of African-Americans coaches at this level, and all of a sudden you open up something and look at the story, there they are."
Ristic, Trier bring some much-needed levity to media day
See what @ISO_ZO and @ristic_dusan were up to at today's #Pac12Hoops Media Day. pic.twitter.com/m3IVfmjQ6B

— Pac-12 Network (@Pac12Network) October 12, 2017
With Jackson-Cartwright out, center Dusan Ristic and Trier became the UA player representatives, enjoying a light moment in front of Pac-12 Network cameras.
Trier told the network "I think of Dusan as somebody like Enes Kanter. He's a foreign guy but he's also really skilled with his back to the basket and can score in a variety of ways. I think Dusan kind of emulates that."
Asked if he liked that description, Ristic said, "It's OK."
All aboard Air Force Dana
Because their flight to San Francisco was delayed more than four hours, Oregon State and Oregon purposely showed up late to the Eugene airport Tuesday night — only to find the security checkpoint closed.
Unable to get on the flight to San Francisco, Ducks coach Dana Altman secured an eight-seat private plane from a booster, and invited OSU coach Wayne Tinkle, and Beavers players Drew Eubanks and Stephen Thompson Jr. aboard for a flight on Wednesday morning.
They all got along.
At least that's what Oregon guard Payton Pritchard and Tinkle both said.
"That was fun," Tinkle said. "I called it Air Force Dana. It was really, really nice and gracious of him to include us on that. Otherwise, it would have been really tough to get down here."