When Xavier graduate Mark Lyons enrolled at Arizona in 2012, seeking a better resume-building platform for his final college season, the NCAA's grad transfer phenomenon was just starting to take off.
Just 15 players became the new breed of "one-and-dones" in 2011, when degree-holding players were first allowed to transfer regardless of intended graduate study, and just 25 including Lyons the next year.
There were 124 of them this year, and three of them will be on the floor Saturday when Arizona hosts Baylor: The Wildcats' Justin Coleman and Ryan Luther, along with Bears guard Makai Mason.
"It's kind of the state of the game," UA coach Sean Miller said. "They're certainly impacting a lot of teams."
While the 124 grad transfers still represent only 2.8 percent of all Division I players overall, their impact tends to be disproportionally bigger: The short-term nature of graduate transfers means coaches and players alike only select each other when the opportunity for that one year is rich.
The Arizona-Baylor game offers three typical examples: Coleman left Samford to take the ball on Day 1 as Arizona's point guard this season; Luther took his degree from Pitt and moved into a major frontcourt role with the Wildcats; while Mason graduated from Yale and is starting in the Bears' backcourt.
"One of the keys when you (pursue) a grad transfer is you want to have a role for them because they have only one year," Miller said of Luther and Coleman in the preseason. "In both of their cases, they do. They were both very well-thought-of in the programs that they came from."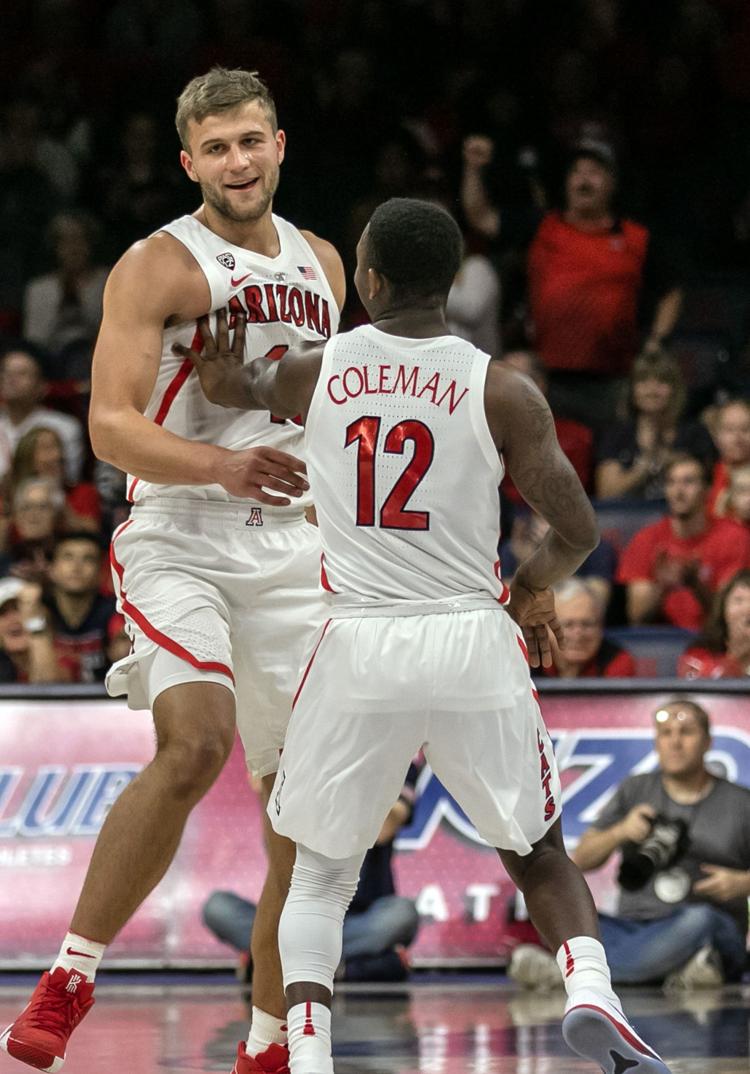 But while Miller turned to his alma mater at Pittsburgh for production up front (Luther) and to the Southern Conference honor roll for a point guard (Coleman), the Bears found Mason at a time when ... they really didn't want to.
Mason just happened to be the guy who scored 31 points, including an 11-for-11 effort at the free-throw line, to lead Yale to a 79-75 upset over Baylor in the 2016 NCAA Tournament.
"I thought Mason really controlled the game," Baylor coach Scott Drew said after that game. "We had a difficult time matching him. Didn't want to try to foul him at the end because he was 11 for 11; he's a good free-throw shooter, too. Really got to credit him and Yale for playing an outstanding game."
Neither side had any reason to believe it was an audition of sorts.
But Mason missed his junior season of 2016-17 after a foot injury suffered in a preseason scrimmage, meaning he would have a season of eligibility remaining as a graduate in 2018-19.
Since the Ivy League rules wouldn't let him use it at Yale — the conference allows players only four years to play all four seasons — Mason and his father proactively began reaching out to coaches and schools they respected to survey grad transfer possibilities for 2018, according to the Athletic.
Baylor's enthusiastic response was not a surprise.
"Our staff was like, 'Hey, he was pretty good against us!" Drew told the Athletic in August.
Actually, Drew told Blue Ribbon Yearbook over the summer that it wasn't just that tournament game that had the Bears believing in Mason.
"He didn't just have a big game against us," Drew told Blue Ribbon. "When we scouted that game, we knew he was a really good player. When he did what he did, it just verified everything. ... I think what excited us about him is what we saw against other high-major teams as well. He's somebody who can really shoot it, but he's good on pick and rolls and can create for his teammates."
Mason committed to the Bears before he played his final season at Yale a year ago, but a back injury kept him from playing all but one game.
The injury bug also threatened Mason again this fall, keeping him out for Baylor's first two games because of an ankle injury. But he has since settled in as the Bears' third leading scorer (13.2 ppg) while averaging 30.8 minutes a game.
An attempt to reach Mason for comment through Baylor was unsuccessful because of the school's finals schedule, but Mason was upbeat about his new career so far when speaking with reporters on Friday in Waco, Texas.
"It's been a great experience, just to be able to play right away, kind of learning a lot," Mason said. "Trying to integrate all the new guys we have, it's been a challenge, but at the same time it's been fun as well."
He found a fit at Baylor, and Baylor found a fit with him.
Just like Luther and Coleman have found at Arizona.
And just like that ever-growing number of grad transfers will attempt to find next spring.