Saying the Arizona Board of Regents "have no idea what the future will bring," chairman Ron Shoopman said Thursday the board will continue to aggressively monitor the facts around the Arizona men's basketball program.
New allegations about UA basketball were raised during a federal trial last month that involved three peripheral college basketball figures. The board met Thursday in a closed-door meeting for 90 minutes along with UA President Robert Robbins and athletic director Dave Heeke.
Shoopman said the meeting was part of ongoing communication with UA administrators to stay up to date on the basketball situation, and that Robbins will ultimately make any decisions, if necessary.
"We're first and foremost going to operate with the highest integrity and operate with facts, not noise," Shoopman said by telephone from Phoenix after Thursday's meeting. "We are aggressively following everything as it unfolds. But we have no idea what the future will bring.
"Most important, we are committed to run a program with the highest integrity, following not only the letter of the law but also the spirit of the law. We are doing everything possible to make sure we are fully informed and we have every confidence in President Robbins to stay informed."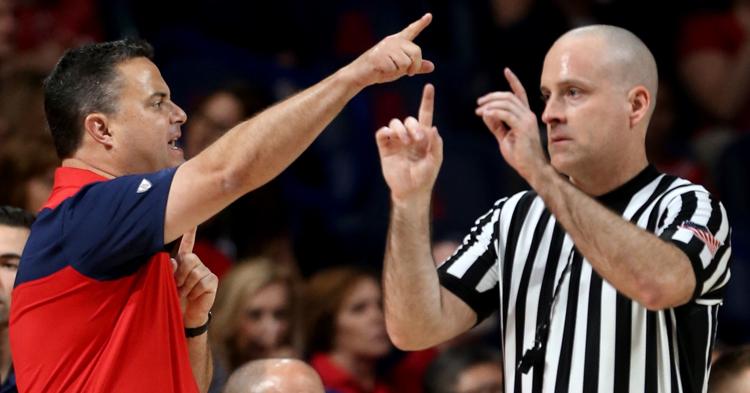 The regents held a similar closed-door meeting on March 1 after ESPN reported that UA coach Sean Miller discussed a pay-for-play scheme involving former Wildcats star Deandre Ayton.
Later that day, Miller emphatically denied the report and Robbins said "at this time we have no reason to believe coach Miller violated any NCAA rules or laws."
But several new allegations came out of last month's trial, including testimony from the father of five-star recruit Brian Bowen that aspiring agent Christian Dawkins told him that then-UA associate head coach Joe Pasternack offered $50,000 for his son to play for the Wildcats.
"The fact-finding process continues amid a challenging set of circumstances," Regent Jay Heiler said via text message Thursday. "The board received an update in light of the recently concluded trial and will continue to engage with Dr. Robbins, athletic director Heeke, and the U of A legal team as facts around these matters continue to develop."
Also during the trial, former travel-ball director T.J. Gassnola testified that he gave $15,000 to a friend of Ayton's family when Ayton was in high school for the purpose of steering Ayton to Kansas. Even though Arizona was not implicated in that allegation, if Ayton's family accepted any money, it could retroactively affect Ayton's eligibility at Arizona.
An ESPN story posted Sunday night said phones listed for Miller and Dawkins were connected for five minutes or more on 13 occasions, and that Dawkins emailed a plan to pay then-UA wing Rawle Alkins a total of $50,000 while playing for the Wildcats last season. The initial federal complaint included allegations that former UA assistant coach Book Richardson took $20,000 in bribes to help secure a commitment from five-star guard Jahvon Quinerly, and that, according to an Adidas rep, Arizona offered five-star forward Nassir Little $150,000.
Miller has not been directly implicated in any of the allegations in the federal complaint or trial, though two of his former assistant coaches have been.
Shoopman said regents have not scheduled an additional update yet, though they will add them to future agendas as needed. The next federal trial, involving ex-Auburn assistant Chuck Person, is scheduled for February. Richardson's trial is scheduled for April.
While the regents remain focused on the facts of the situation, they are also keeping an eye on outside perception. Arizona, along with Kansas and Louisville, has attracted national attention from allegations stemming from the federal investigation and trial.
Last season, the Wildcat basketball team was also taunted regularly at road games, with Ayton saying before the NBA draft that he wanted to "break the rim" during a game at Oregon because of how fans heckled him in the wake of ESPN's report.
"The regents are very intent on ensuring the excellent reputations of our three institutions stay that way," Shoopman said. "We have outstanding programs. We're very focused on the student experience and we have high expectations of how our staff behaves. So of course we're concerned."