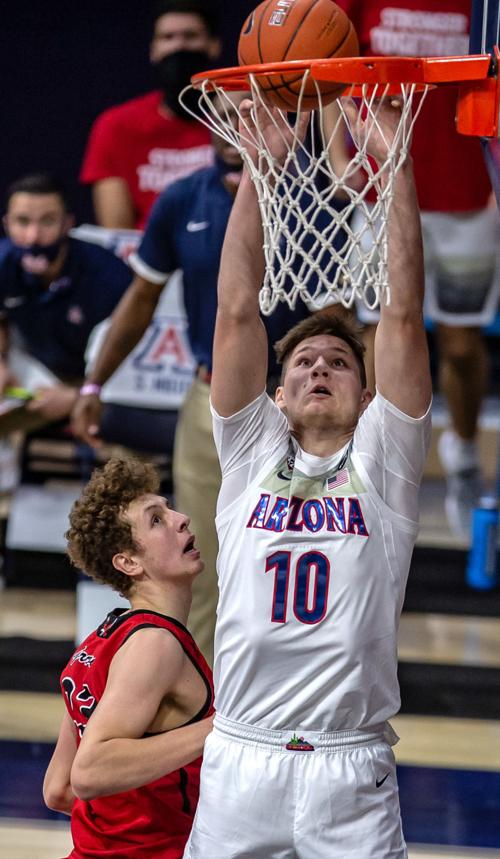 Needing a second-half comeback, the Arizona Wildcats were able to fend off upset-minded Eastern Washington 70-67 Saturday afternoon. These stats tell the story of how the Wildcats were able to win:
Trailing 56-48 with 8:42 remaining, the Wildcats went on a 19-6 run over the next seven minutes. Maybe the most impressive stretch of the run came with the game tied 62-62 with 3:34 to play. The Cats went on a 5-0 run with baskets from Terrell Brown Jr. and Azoulas Tubelis.
Sean Miller credited Arizona's improved second half performance to a stout defensive effort. Arizona forced missed shots and turn them into points on the offensive side. Eastern Washington hit just 25% of its second-half shots, while the Wildcats converted at a 34% clip.
Eastern Washington took a five-point halftime lead at halftime largely due to a string of seven consecutive made 3-pointers. The Eagles hit eight 3s in the first 20 minutes, but went just 2 for 15 from 3-point range in the second half.
Eastern Washington took advantage of UA forward Jordan Brown's off-day. Brown, who tied for Arizona's top scorer against Grambling State, got into foul trouble early in the first half and was limited to 11 minutes. Brown got called for three personal fouls in the second half and was forced out of the action with over six minutes to go in the game. He finished with just six points in 18 minutes.
Receiving mixed results from its starting lineup, Miller turned to his bench. Tubelis, Bennedict Mathurin, Terrell Brown Jr. and Ira Lee combined to score 33 points.
Tubelis led the bench players with 13 points on 5-for-12 shooting and finished as the team's second-leading scorer.
"He has this uncanny touch from about 15-17 feet," Miller said. "You know those baseline jump shots, those elbow jumpers just inside the 3-point line where sometimes you don't know if that's a good shot? That is a good shot for him."
For the second straight game, point guard James Akinjo paced the UA offense with a team-high 15 points on 6-for-16 shooting. Akinjo was particularly strong in the first half, scoring 10 points.
Freshman Dalen Terry noted that Akinjo's tough, steady mentality helped the team remain calm when they trailed.