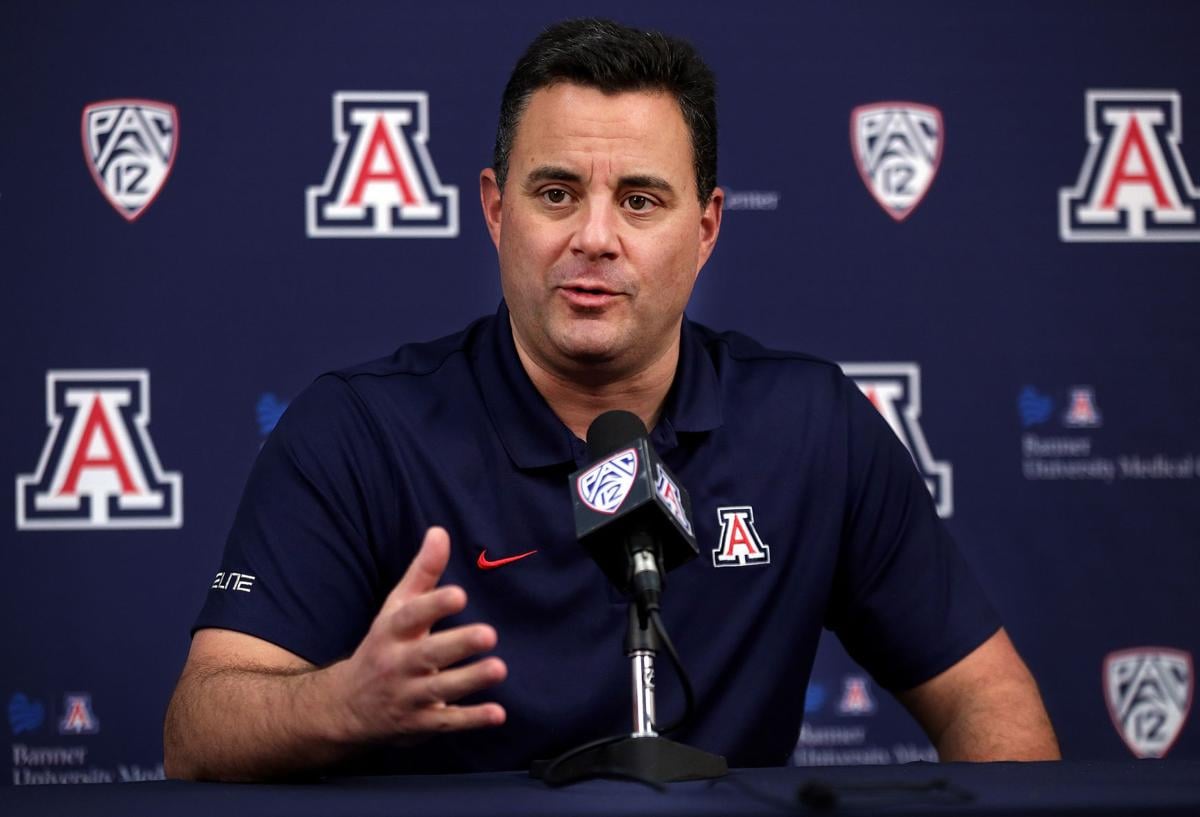 Seven days after Arizona assistant coach Book Richardson was arrested on federal bribery and fraud charges, the statements flowed in, one by one.
At 3:35 p.m. on Tuesday, UA coach Sean Miller said in a statement from UA's athletic department that he was "devastated" about the situation and that he realized he was responsible for an atmosphere of compliance.
At 4:36 p.m., UA president Robert Robbins sent a direct email to UA employees to outline the legal teams the school has hired, and to say he supported Miller "based on the facts we know at this time."
At 5:10 p.m., UA athletic director Dave Heeke issued a statement through the athletic department saying the university's move to hire multiple law firms would ensure "we are winning with integrity at all times."
At 5:21 p.m., Robbins' address was forwarded to media by the UA's main campus communications office.
It was a long stream of words that ultimately said pretty much the same thing: That UA is OK with Miller at least for the time being, that it intends to comply with the rules and investigations … and that it wants fans to remain interested in the actual basketball season.
"With basketball practice underway, I ask that you join me in supporting Sean Miller, the staff, and our student-athletes as they work toward the start of the season," Heeke said.
While issuing multiple, delayed statements might appear odd, two crisis communications experts see strategy behind it.
"It's obvious that they have consulted with somebody in crisis communications because it's right out of the playbook," said Gene Grabowski, a partner in the Washington-based communication firm kglobal who has worked with Penn State (football) and Duke (lacrosse) in recent years. "It's very smart to issue a written statement. You don't have to have it right away; you can wait to see what other schools and coaches are doing.
"Then you typically do it one of two ways: You issue it to everyone, or you give an exclusive to (a national) reporter who is going to give you a fair shake."
Grabowski said the fact the statements were issued separately probably has to do with legal strategy.
"If you're president and you want to support your coach," he said, "you want to be careful to issue separate statements so you have the option to say (later) 'in light of this news' — you have to allow yourself a graceful exit."
David E. Johnson, who has advised schools on NCAA issues as CEO of Atlanta-based Strategic Vision PR Group, said the separate statements also allows each party to show "there's no collusion."
But Johnson said he would not have advised the qualified statements of support for Miller.
"Usually you don't want to come out with that tepid endorsement," Johnson said. "The best way to go is say, 'We're dismissing the assistant coach and once our investigation is complete, we'll address it.' … You say, 'We're investigating all the facts and at this time (Miller) remains our head coach.'"
On Wednesday, UA announced it would hold a news conference for Thursday — and told media that Miller and two players would only address "basketball-related" questions.
The news conference is a likely attempt to refocus public attention on the on-court product.
Johnson said UA's statements indicated it was "worried about the season, the bottom line, as far as fans coming out and revenue coming in."
But holding a press conference at this point might be risky.
"One thing you don't want to do is offer yourself up at a news conference, where you have 15 (reporters) asking things and it gets caught on camera and you're on the defensive," Grabowski said.
UA has held press conferences while trying to pre-empt questions about off-court issues for the past two seasons. Miller and UA officials said little throughout the school's 2015-16 investigation that resulted in the suspension of guard Elliott Pitts for sexual misconduct.
And the program did not acknowledge why Allonzo Trier was sitting out the first half of last season after testing positive for a PED until just before Trier was cleared in January. The school's silence generated considerable speculation and had fans and media alike showing up early before games just to see if Trier was in uniform.
Miller repeatedly declined several early season questions about Trier. After that, a UA spokesman began to preface press conferences by saying that Trier's situation would not be addressed.
Now, UA is saying the same thing about the FBI investigation and any potential NCAA issues that may result.
"That's one way to manage it that's probably a little less finessed than it should be," Grabowski said. "I think Sean Miller and other coaches in this situation have to go to acting class. They have to be prepared by communication experts to handle the questions with grace — and that way you don't need a PR person at the press conference."
Either way, Miller is in a tough position as essentially the CEO of Arizona basketball. Not only does Grabowski say Miller can be criticized either if he knew something was going on — or even if he didn't — but he said the coach can also be penalized either way under NCAA Bylaw 11.1.1.1.
That bylaw says a head coach is "presumed to be responsible for the actions of all institutional staff members who report, directly or indirectly, to the head coach." It also states that a head coach "shall promote an atmosphere of compliance within his or her program and shall monitor the activities" of staffers who report indirectly or directly.
Miller appeared to respond to that bylaw when he stated that "I recognize my responsibility is not only to establish a culture of success on the basketball court and in the classroom, but as important, to promote and reinforce a culture of compliance."
Miller said he has done so "to the best of my ability" over his eight seasons at Arizona and would continue to do so.
Miller wasn't mentioned by name in the federal complaints issued last week except for a reference to an agent saying Miller badly wanted a player believed to be five-star Florida forward Nassir Little.
But aside from allegations that Richardson took $20,000 in bribes, there are other allegations in the complaint that could translate into "failure to monitor" NCAA violations against Miller and the program — such as an agent's allegations that he had easy access to practices and close relationships with UA coaches, and an allegation from an agent that a current UA player has already been paid.
"The lawyer's first obligation obviously is to keep his client as far away as possible from prison or other sanctions, so that means you have to deny until it's proven, and it's pretty hard to prove," Grabowski said. "The secondary role of a lawyer is to make sure in a court of public opinion, you manage this until you survive. It's a lot easier to convict in the court of public opinion than in the court of laws."
While all that is playing out, Grabowski said, another problem is the potential recruiting damage.
"Blue-chip recruits and their families are going to think twice," he said.
Some already have. Last week, the top-rated player in the class of 2018, R.J. Barrett, announced Arizona is no longer among his finalists. Five-star forward Simi Shittu has canceled a planned Nov. 3 visit to Arizona.
And on Wednesday, Little committed to North Carolina. He told ESPN that he eliminated Arizona and Miami — both schools mentioned in the federal complaints — shortly after the news surfaced last week.
A representative for Adidas was quoted in the federal complaint telling another Adidas rep that Little had been offered $150,000 to play for Arizona, though Little has denied receiving or asking for money and it was not alleged in the complaint that he actually took any.
"For me, I just didn't want to be mixed in a situation where any of the accusations seemed like it was true. Because it wasn't," Little told ESPN.
So there's already damage to Arizona's basketball program. The question is whether Arizona can keep it from getting any worse.
"When it comes to crisis communications, you never win. You can only manage the situation," Grabowski said. "A lot of these crisis situations are like knife fights. You never come out of these things unscathed. You know you're going to get hurt. The whole point is to survive.
"But if you manage it with great care and be as honest as you can be, people will forgive you."