Arizona Regents meeting Thursday 'to make sure we have facts' on Wildcats program
Star reporter Bruce Pascoe checks in with the latest on the Arizona Board of Regents' executive-session meeting Thursday, and more around the Wildcats' program including 3-point shooting and Parker Jackson-Cartwright.
Regents won't discuss Sean Miller's contract during private meeting
Developing circumstances from the recently concluded federal trial involving college basketball prompted the Arizona Board of Regents to schedule a private executive session to discuss UA basketball on Thursday, according to regent Jay Heiler.
A public notice said the meeting was called "for legal advice and discussion" regarding UA men's basketball, though regents treasurer Bill Ridenour said the wording was "boilerplate" and that any decision to act, if ever needed, would come from UA president Robert Robbins. He said UA coach Sean Miller's contract would not be discussed nor "anything like that."
"Dr. Robbins keeps much closer tabs on this situation, as well as (Arizona athletic director) Dave Heeke," Ridenour said. "What we don't want is Regents reading the paper and not getting the full information, so it's more of our due diligence as we move forward. What you read in the papers and see in these trials, a lot of it in my opinion is just speculation. So we need to make sure we have the facts."
For the latest on ABOR's meeting, click here.
A federal jury in New York found two Adidas employees and aspiring street agent Christian Dawkins guilty of defrauding universities by creating payment schemes to players. During the trial, the father of five-star recruit Brian Bowen testified that Dawkins told him that then-UA associate head coach Joe Pasternack offered $50,000 for his son to play for the Wildcats.
After the trial, ESPN reported that phones listed for Miller and Dawkins were connected for five minutes or more on 13 occasions, and that Dawkins emailed a plan to pay Rawle Alkins a total of $50,000 while playing for the Wildcats last season.
Those three allegations are new since the Regents last discussed the basketball situation in September.
The initial federal complaint from September 2017 also included allegations that former UA assistant coach Book Richardson took $20,000 in bribes to help secure a commitment from five-star guard Jahvon Quinerly, and that, according to an Adidas rep, Arizona offered five-star forward Nassir Little $150,000.
Little's family has denied receiving a payment and the federal government ruled that Little's travel-ball coach, Brad Augustine, planned to keep any payments for himself.
"The circumstances here obviously continue to develop, and as they do, the board will continue to meet and confer with the university administration in furtherance of our respective duties," Heiler said. "Everybody's paying close attention to what's known and proceeding accordingly. In light of the recent developments in federal court, we have decided to get together and discuss the matter again."
Miller said Tuesday he was aware of the meeting, calling it "regularly scheduled." It will be part of a packed schedule the Regents will have Thursday at ASU's downtown campus.
"All of the regent committees meet on that day, so we just thought it was advisable to schedule an update into the basketball program," Ridenour said. "It's just an update so we make sure we aren't surprised by anything."
Bombs away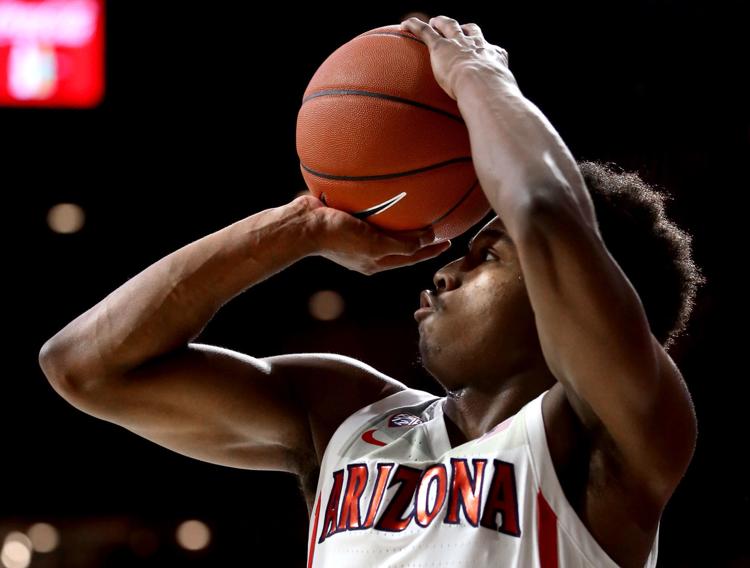 Arizona not only approached the century mark in its 95-44 exhibition win over Western New Mexico on Tuesday, but the Wildcats also took 40.6 percent of their shots from 3-point range.
Considering how much smaller Arizona's roster is this season, especially without 7-footers DeAndre Ayton and Dusan Ristic, Miller said more of the same is likely.
"That's our team this year," Miller said. "Everybody is used to watching us, I'm sure, rotate three or four true bigs in a game. That's been a strength of ours for some time. I do really believe in our frontcourt. Emmanuel Akot is not small. And he's very good with the ball. He's a clever passer. He's almost like today's version of a wing, of a forward, kind of a Draymond Green-type of player at Arizona.
"And then you have Ryan Luther, Ira Lee and Chase Jeter. Our key is that they're healthy, that we're able to keep them out of foul trouble and that we play to their strengths."
Miller said the keys also include "utilizing the 3-point shot more and we all need a little bit of good luck."
Arizona took only 32.1 percent of its shots from 3-point range last season and played with the 224th fastest adjusted tempo in Division I, according to Kenpom.com.
Raptors' G League team cuts Jackson-Cartwright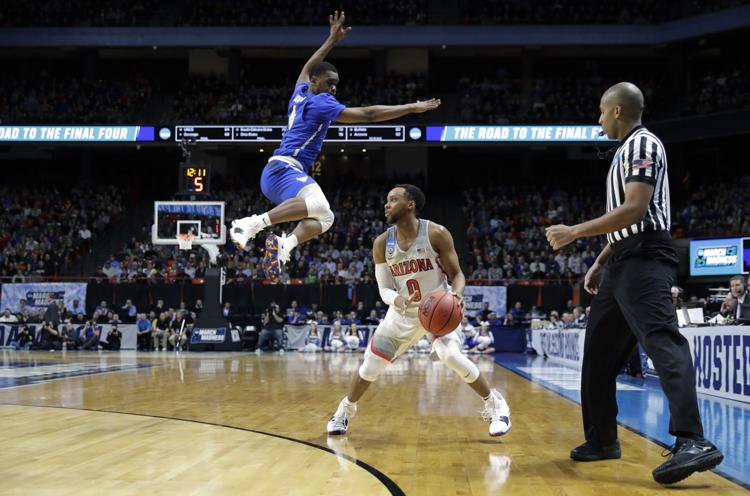 The Raptors 905 G League team waived former Arizona guard Parker Jackson-Cartwright after he spent a week in training camp while battling an ongoing injury.
Chad Sanders, general manager of the Toronto Raptors' G League club, said Jackson-Cartwright left to evaluate other options after spending five days with the Mississauga, Ontario-based club.
"He's a great kid but it just didn't work out," Sanders said. "I have nothing but great things to say about him."
Jackson-Cartwright could not be reached for comment but Miller has said he was dealing with a "unique" leg injury in the offseason.
Entering last summer, Jackson-Cartwright said he was considering overseas opportunities and was staying upbeat.
"I'm not discouraged or anything," he said. "I know everyone has their different paths and plans. I've just got to be patient."