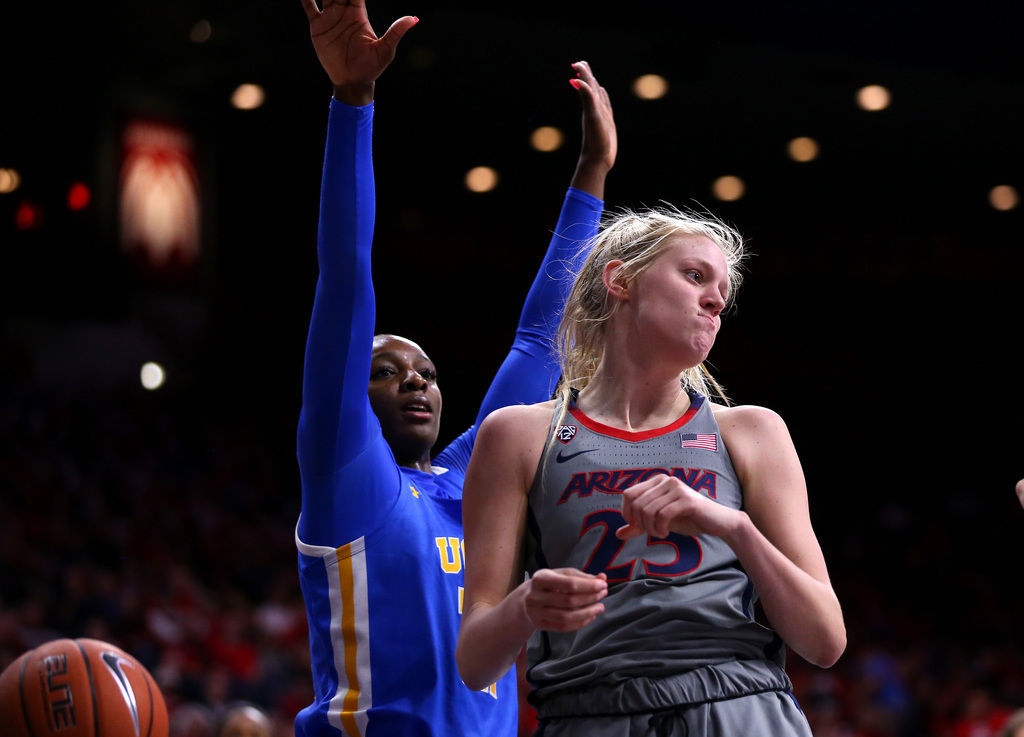 Cate Reese is understandably proud being named a finalist for the Katrina McClain Award, given annually to the best power forward in the nation.
But comfortable talking about it? No.
The most powerful player on the UA roster is quick to dish the credit to her fellow Wildcats.
"It feels great to be seen as one of the top players for my position and it just shows that my teammates find me down low," she said. "It just shows the hard work that not only I've put in, but my teammates."
The 6-foot-2-inch Reese and the 11th-ranked Wildcats will try to push their winning streak to four games when they head to Utah and Colorado this weekend. The UA (21-4, 10-4) takes on the Utes (12-13, 5-9) Friday night.
The Wildcats are 5-2 on the road this season, with their only losses coming to No. 8 UCLA in the matchup of the unbeatens in the beginning of January and two weeks ago at No. 3 Oregon.
It's a credit to star guard Aari McDonald, Sam Thomas, Dominique McBryde — and Reese. To make the McClain list as a sophomore is quite an accomplishment. There is only one other underclassman — Michigan's Naz Hillmon — in the final 10.
"It's a great accomplishment for someone so young to get this national recognition," McBryde said. "I think she's come a long way and she's gotten better and better and she continues to grow in her game — that's something you want to see from your teammates."
Among those joining Reese on the list are No. 2 Baylor's Lauren Cox, No. 3 Oregon's Ruthy Hebard and Texas' Joyner Holmes. All are seniors.
There's a reason Reese is on the list, UA coach Adia Barnes said.
"Her work ethic and her competitiveness — I think those couple of things separate her," Barnes said. "She's not the most skilled player in the world — it's not the prettiest. It's a lot like me — my game wasn't pretty, but you find a way to get the job done. And that's what Cate has. She finds a way to put her head down and score. She runs the floor and works hard.
"I think if she keeps on doing those things, she will win those awards later if she keeps on working hard and putting extra work in. I think there's a small margin between good and great. I think a lot of players nowadays don't have what it takes to be great — (but) she is someone who is more competitive than the average player."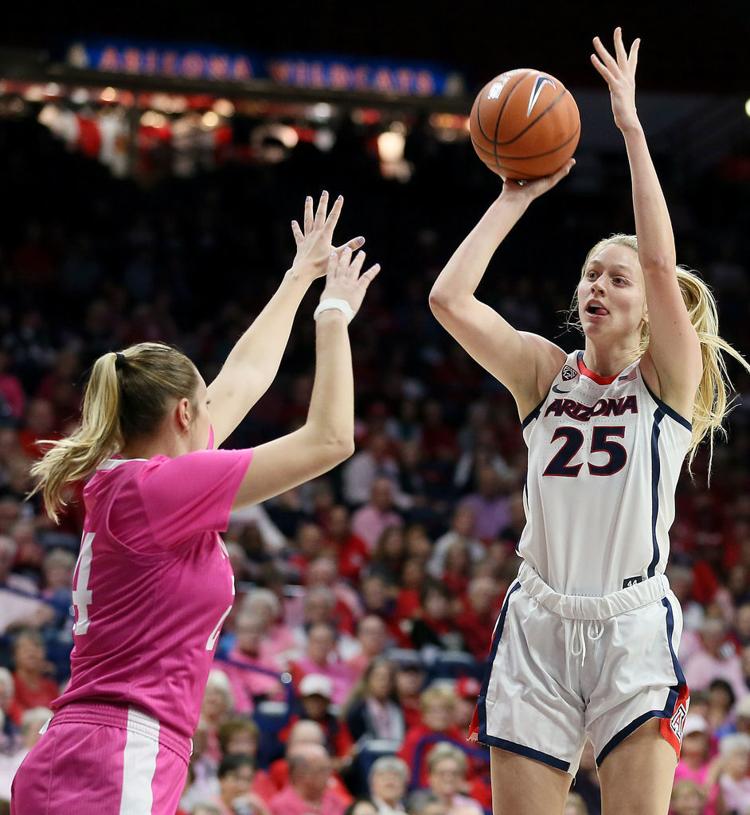 Reese's numbers speak for themselves. She is shooting at a 50.2% clip and hitting 80% of her free throws; both totals rank fifth in the Pac-12.
She also ranks in the top 10 in the league with 7.8 rebounds per game, and in the top-15 with 14 points per game. Her seven double-doubles this season rank sixth in the Pac-12.
"She puts in so much hard work," Barnes said. "Those things matter to her. She wants to come here break on all my (playing) records — she's determined to be great.
"That's why I think she's going to be great.
"I think for her, winning is the most important thing, like everybody on our team. But I think her getting the recognition and respect, and I think asserting herself and being someone to that you have to think about in the scouts, I think those things matter. And I think that's one of the reasons why she's so driven, and it makes her work hard."
Rim shots
McDonald was named to the midseason watch list for the Wade Trophy, given annually to the nation's top player. McDonald is currently up for six national awards.
Barnes was named to Werner Ladder Naismith Women's Coach of the Year late season watch list.
The trip to Utah and Colorado is always hard, given the travel and elevation.
UCLA started drinking shots of beet juice to help their bodies adjust. Arizona won't changing its routine too much. Players have been reminded to drink more, eat better and added a powder mix to their water for hydration. But, from Reese and McBryde there was a resounding 'No' to beet juice.
"I don't think our team is really interested in drinking like green juices or beet juices," Reese said.
Everyone, that is, except for Lucia Alonso, a nutrition major.
Be the first to know
Get local news delivered to your inbox!