Rawle Alkins was a recruit sitting in the McKale Center stands when doomsday hit three seasons ago and, in a way, he loved it.
Oregon had snapped Arizona's 49-game home-court winning streak in an 83-75 game, and Alkins later cited the crying and passion he saw in the UA locker room afterward as a reason to commit to the Wildcats.
"When Arizona lost, it felt like the world ended," Alkins said last season, recalling his official recruiting visit. "That's something that was great to see; it caught my attention in terms of coming to this school. It was good to see but also bad because they lost. When we lose here it's like the world is over."
Since then, it's happened four more times: to UCLA in each of the last two seasons, and this season to Baylor and Oregon, the latter of which beat the UA 59-54 on Thursday at McKale Center.
Still, the Wildcats own the best home-court mark in the nation, 91-5, since the 2013-14 season. The passion and pride still runs high at McKale, even among a team that was forced to replace all five starters this season.
"We haven't lost too many games in this building," UA coach Sean Miller said Thursday. "We have America's No. 1 record. There are 350 teams that don't have our record. So when you lose, it feels funny.
"It's up to us now to bounce back and see if we can be a better team and beat a very good Oregon State team on Saturday."
But can they? Can Arizona beat resurgent Oregon State at McKale? And even if the Wildcats do, what about that next home-court opponent, first-place Washington?
One way or another, Arizona's hold on its home-court dominance appears more in danger after the Wildcats shot just 36.5 percent Thursday and coughed up 14 turnovers against Oregon despite a supportive, boisterous near-sellout crowd of 14,032.
With a veteran trio of Tres Tinkle and Thompson brothers Stevie and Ethan, plus the nation's top shot blocker in Kylor Kelly, the Beavers aren't likely to make it easy.
The Beavers raced to a 3-0 Pac-12 start by beating Oregon in Eugene, then taking care of USC and UCLA at home. They almost completely erased an 18-point deficit Thursday at ASU, which put together the Pac-12's best nonconference mark.
What's probably worse, from Arizona's perspective, is that the Beavers play a lot of zone defense: a 2-3, a matchup, a 1-3-1, and some man-to-man. They'll switch between zones frequently, and sometimes even flip between zone and a man on the same possession.
In similar yet subtly different ways, Oregon switched defenses frequently Thursday, and it rattled the Wildcats' offense.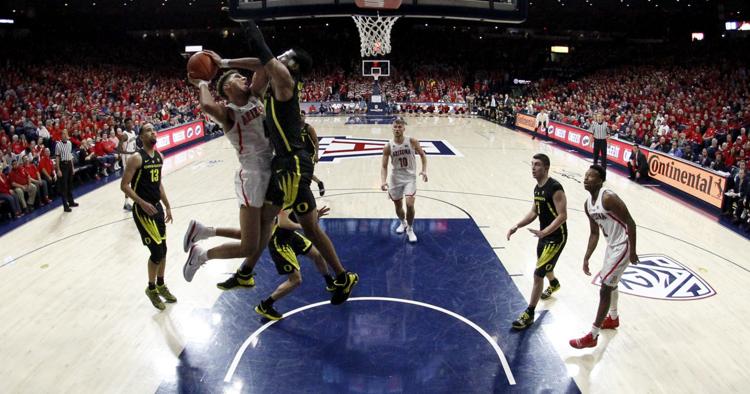 In the first half, the UA shot just 29.6 percent overall and made two of 11 3-pointers . The Wildcats improved to four of 11 from 3-point range in the second half, but Miller expressed particular disappointment in the way he said they lost patience in the first half.
"We've really done a good job against a lot of recent zones we've faced," Miller said. "We've moved it. We've gotten away from taking 3, we've converted some of those tough 3s into drives and free-throw attempts but, again, you have to give credit, their defense is a little bit different and we were out of sorts.
"We never could really get into a rhythm and a couple of guys had tough nights shooting."
Brandon Randolph shot 2 of 9 from the field while scoring just five points against the Ducks, the first time all season he scored in single digits. Ryan Luther was 1 for 7 and missed all five 3s he attempted. Randolph, Brandon Williams and Justin Coleman were each one for four from 3-point range.
"Our shot selection, ball movement and turnovers were much better in the second half," Miller said. "Clearly our offense was a problem here tonight. … You're dealing with microscopic room for error when you play offense like we did."
Oregon State, meanwhile, hasn't given Pac-12 opponents much margin for error. The Beavers allow opponents just 43.8 percent shooting from inside the arc and have had the fourth-most efficient defense in league play.
Still, the Beavers let down defensively at ASU. The Sun Devils shot 43.9 percent overall while taking leads of up to 18 points and powering their way to 70 points on 67 possessions.
OSU coach Wayne Tinkle cited the Sun Devils' physicality for melting the Beavers' defense down.
"They attacked us inside off the dribble and we knew they were going to try to bully us in there," Tinkle said after Thursday's game. "Their bigs and guards really drove it, which took away our shot-blocking ability at the rim because we were knocked on our heels."
Tinkle said the Beavers were able to "create some havoc" late in the game with a 1-3-1 defense, but it wasn't enough to bring them all the way back.
If they can create havoc full-time on Saturday, an uneasy feeling could spill over into the Wildcats' locker room and maybe even the stands. The Beavers haven't won at McKale Center since Miller's first season at UA, in 2009-10, but are aiming to change that history.
"We're going to feel good. We have no choice," Tinkle said of Saturday's game. "We've got one more game on this road trip. We're going to put a plan in place to try and get one to get the road split."