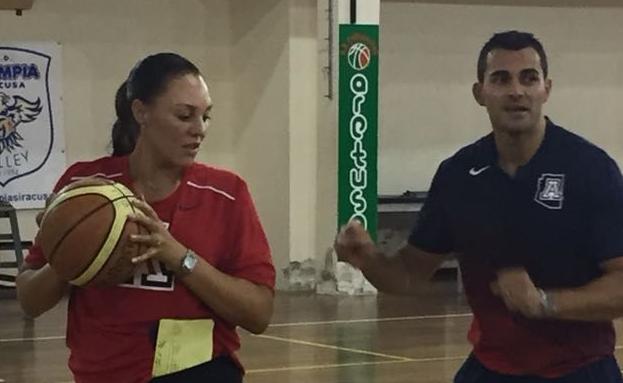 Arizona women's basketball coach Adia Barnes and assistant Salvo Coppa took a detour during their short summer break in early August.
While on vacation in Italy, they went back to where it all started for Coppa — to Syracuse, Sicily.
And, specifically to where he trained to become a basketball coach at the Italian National Basketball Federation of Coaches.
Barnes and Coppa were invited to present a two-hour coaching clinic for the organization.
"It was special for him to come full circle," said Barnes. "The people he learned from and went to school with, to go back and give something different, I think he took a lot of pride in that. His dad is a well-known, long-time coach; so his dad was happy we did it. And, to do this as husband and wife there and to give back to that country and to their basketball, it did mean a lot. It's awesome. It's a coaching school run by the federation. It's not like one or two years, you have to do like seven years. He (Salvo) is an American and still has to pay money to be part of it. But, it's a really well-respected, well-known federation. And it's done a lot for Salvo's growth and development."
That development started when Coppa was 9 or 10 years old running around the streets of his hometown of Syracuse and playing in youth basketball games, being coached and playing with some of the same people he was now teaching.
"It was great; I knew all the coaches since I was a kid," said Coppa. "Some of them were my teammates and some of them coached when I was little and playing basketball. And, one of them was my father (longtime, well-known coach, Santino Coppa).
"So it was a neat moment to see so many friends."
Coppa, who did clinics in Asia while coaching the Thailand Women's National Team, said his favorite part of the session always comes at the end.
"Coaches ask questions — 'Why do you do this?' All these exchanges make you grow. It's a teaching and learning moment," he said.
While Barnes taught, she had to slow down just a little for Coppa to translate some of it into Italian.
"My Italian is not that good. So Salvo translated everything. I can understand everything, I just can't speak," said Barnes.
"When you show stuff on the court, you kind of understand it.
"I was teaching fast-break because we are changing our transition a little bit. I was talking about the spacing on the floor and what we're trying to get out of it.
"I talked about the different secondary offense that we do. In the end they wanted to see a few more things so I showed some competitive shooting drills we like to do every day. They liked it."
The language wasn't the only difference in the gym that day. As Barnes looked around, she noticed there were only two other women coaches. It took a moment for her to remember that there aren't women coaches in Italy.
"It's not like the States. There were two women out of around 100 people. I was like … wow! But, then I thought about it, and I never had a woman as a coach overseas. So it's just so different. I was happy to see two women," said Barnes.
The one thing that this duo would change about the session? Have air conditioning in the gym.
"It had to be one of the hardest clinics you will ever do," said Barnes. "Sicily, the island, is very hot. It's like Florida. It's like 100 degrees and 100 percent humidity. It was like a sauna and I'm not used to it because here (Tucson) it is so dry. It felt like a sweat box. I was dripping sweat. And it was worse for them because they were sitting, I couldn't believe people stayed that long because it was hard to stand and talk.
"It was a small gym that doesn't have any air conditioning. I was shocked that so many people came and stayed under those conditions, because in America no one would have stayed. It just shows that they were interested."
Coppa added: "We were talking and walking and teaching and the guys were playing, but the coaches were sitting and taking notes. So, it was a little better for Adia and me."