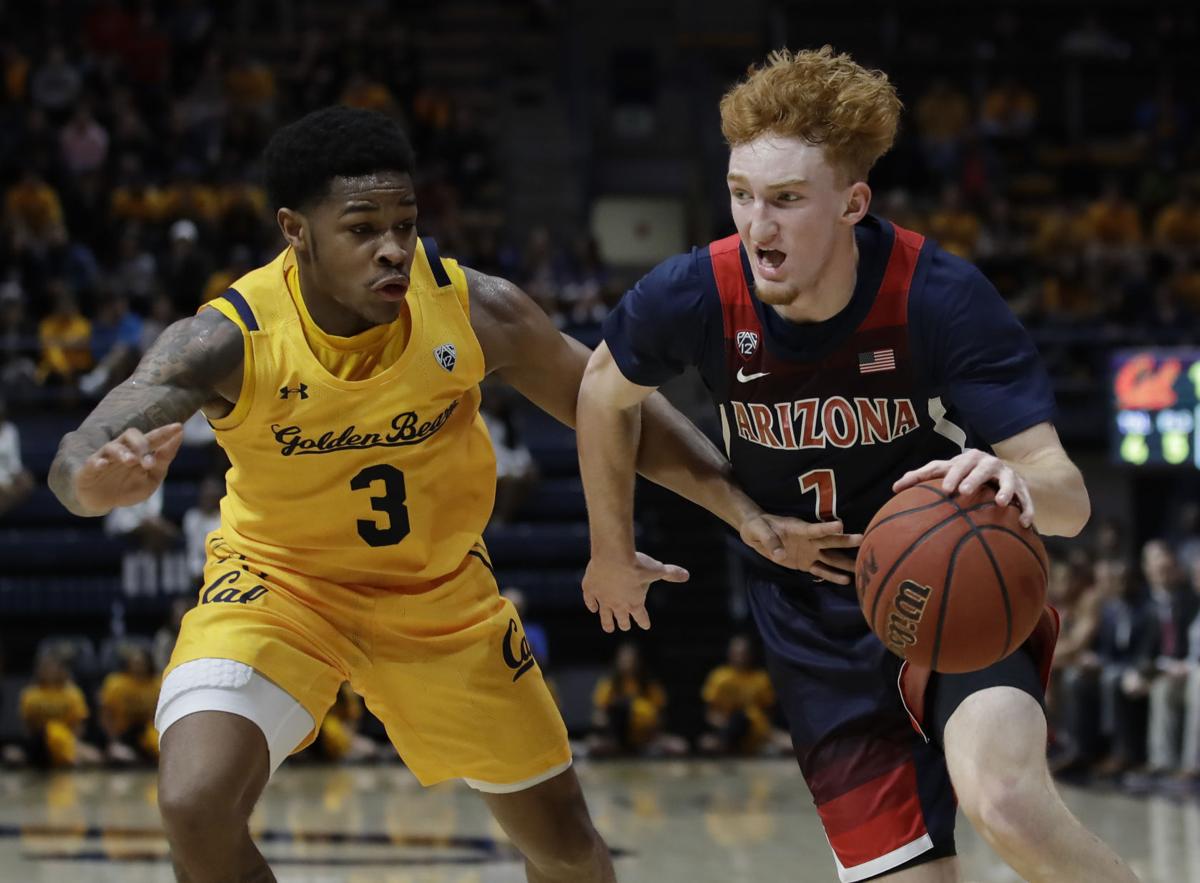 BERKELEY, Calif. – By the time Dylan Smith squared up for his fourth straight 3-pointer in Arizona's 68-52 win at California on Thursday, nobody was guarding him.
He looked around, set his feet, then calmly put the ball through the net.
Easy, right? Hasn't been that way in a long time.
Smith had missed 17 straight 3s entering Thursday's game dating back to Jan. 30 at Washington, and he missed his first one Thursday to move the streak to 18. Then he hit four straight to break out of the slump, while Zeke Nnaji took care of the inside by scoring 21 points on 8-for-13 shooting.
"I hit a couple of shots, finally. Feels good," Smith said. "But as long as we win, I'm happy."
Yeah, that too: Arizona won for the fourth time in its past five games, moving to 17-7 overall and 7-4, where the Wildcats have now pulled back into a four-way loss column tie for first place in the Pac-12 along with Colorado, Oregon and ASU.
Also, their 65-52 loss to UCLA was maybe now pushed back just a bit in their memories.
"It was a big game for us bouncing back from our last game," UA coach Sean Miller said. "Oftentimes what's been the case with our group is we've learned through a lot of different experiences. When we've failed, I think we've grown a little bit."
Not only did Smith find his rhythm outside, keeping his hold on a starting position that Miller had considered taking away from him this week, but also Nnaji found his inside.
Nnaji's back-to-normal efficiency helped the Wildcats go from a team that hit just 3 for 19 from two in the first half of a loss to UCLA last Saturday to one that hit 54.2% overall from two-point range in part by taking advantage of Cal's limited size in the post.
"We knew that they were a little smaller inside," Nnaji said. "I gotta credit my teammates – they gave me the ball and in great positions."
That's the modest way of putting it. Here's what Cal coach Mark Fox said:
"He's whipped a lot of tails this year and he whipped ours tonight," Fox said.
For the game, Arizona shot 48.1% overall and hit 6 of 16 3s, while holding Cal to 38.2% shooting, and managed to win by 16 against the slowest-paced team in the Pac-12.
Even though the Bears are only 10-14 overall and 4-7 in the Pac-12, they had won 4 of 5 previous home games while playing a more deliberate style even than Oregon State or UCLA, two teams that have beaten the Wildcats.
"We handled ourselves overall better tonight terms of playing against a style that was a little bit slower," Miller said. "I thought we came in with a lot of purpose."
The Wildcats were actually outrebounded overall 37-32 but that was partially because the Bears picked up 10 offensive rebounds on their 34 missed shots. UA made up for it by shooting better and scoring 15 points off 15 Cal turnovers.
The Wildcats essentially won the game over two turnover-plagued stretches for the Bears, one in each half.
In the first half, Cal had four turnovers over a six-minute scoreless stretch in which UA went from trailing 8-7 to leading 15-8, and the Wildcats took a 27-20 lead into halftime.
Early in the second half, Smith broke his 3-point futility streak by hitting his first 3 of the game to make it 30-21.
Cal cut UA's lead to 33-32 with a long corner jumper from Grant Anticevich with 14 minutes left but then the Bears hit another rough patch: They went scoreless for the next four minutes while committing three turnovers that helped UA take a 45-32 lead.
During that run, the Wildcats received another 3 from Smith and seven inside points from Nnaji.
Cal later cut UA's lead to 47-39 on a layup from Anticevich but the Wildcats quickly pulled ahead by double digits again. Smith hit two back-to-back 3s that gave UA a 59-43 lead with 4:35 to go and the Bears were never a serious threat after that.
Earlier in the week, Miller had considered shaking up his starting lineup and Smith said Miller even asked him Thursday what he thought, and Smith said he would do whatever it took for the team to win.
Turned out, having Smith was whatever it took for the Wildcats to win.
"It's just I don't want Dylan Smith to be the scapegoat because we lost a home game or because he's shooting" poorly, Miller said. "You don't start him tonight and all of a sudden that's the answer.
"There's a reason that Dylan starts, and it's through his hard work and he's a two-way player. He gives a lot of hustle and a lot of effort on the defensive end. He did that as well tonight but I thought he played within himself, and his 3-point shooting really broke the game open in the second half."
---
Check out our special e-edition here: 
Contact sports reporter Bruce Pascoe at 573-4146 or bpascoe@tucson.com. On Twitter @brucepascoe
Be the first to know
Get local news delivered to your inbox!