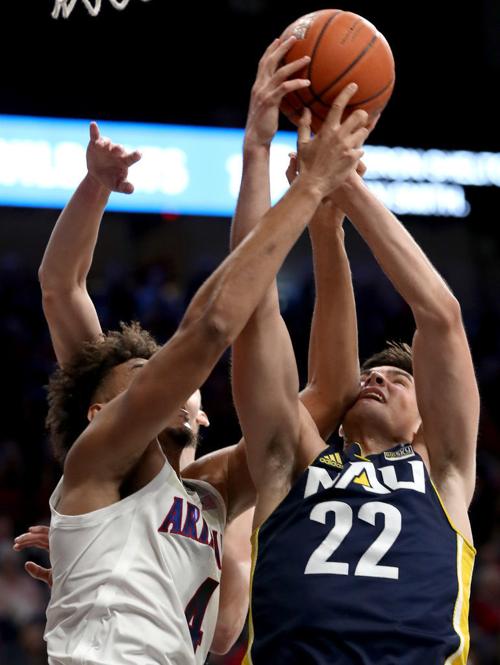 Considering the halt of sports events this spring and maybe summer, any college basketball games might be especially welcome at McKale Center this fall.
If so, then, well, everyone should be happy enough with Arizona's 2020-21 home schedule.
Thanks in part to the Pac-12's addition of two extra games next season — plus already scheduled games at Gonzaga, Illinois and in the NIT Season Tip-Off — the Wildcats have so far scheduled conservatively for their remaining nonconference games.
Arizona has added NAU, Northern Colorado, Cal State Bakersfield, Cal Baptist and Montana to their nonconference schedule, according to Ryan Reynolds, UA's director of basketball operations. Two more home games remain open.
While that isn't exactly a gantlet for the Wildcats to run through at McKale, Reynolds said the challenge for this season was that the two Pac-12 games effectively ate up two spots that would normally be taken by high-major opponents, assuming the Wildcats want to maintain a balanced schedule.
Essentially, Reynolds said, bigger nonconference games the Wildcats played last season against St. John's and Baylor were replaced by Stanford and Colorado. The games at Illinois and Gonzaga are the second part of two-year home-and-home contracts, which previously provided three or four opponents every season.
"In our model, you play one multiteam event and then we'd have basically four games that are high majors or teams like Gonzaga, that are either home and home or neutral-site games," Reynolds said. "This is the same model; it's just minus two nonconference games. It'll make the nonconference look worse but the reality is" about the same.
The NAU game is now part of a three-year contract that will have the Lumberjacks serve as the opponent for each of UA's next three home openers. In their 102-year-old series, the Wildcats and Lumberjacks have met 126 times. In recent years, they've played under single-game contracts, with the games played at various points of the nonconference schedule.
As it turns out, the older brother of departed UA wing Josh Green, Jay Green, will be scheduled to play in next season's opener at McKale after grad transferring to the Lumberjacks.
Arizona has played NAU eight times over the previous 11 seasons of the Sean Miller era, all at McKale Center; the Wildcats haven't lost to the Lumberjacks since the 1968-69 season.
Arizona's two remaining home dates will likely also be mid-major opponents. Upcoming NCAA rules changes will dictate whether they are scheduled by Arizona or by the NIT Season Tip-Off as add-on games to the fixed bracket in Brooklyn.
The NIT Season Tip-Off Bracket to be played over Thanksgiving week has not yet been announced, but the other three participants are Texas Tech, Cincinnati and St. John's.
So even with six to eight nonconference games that could drag down Arizona's strength of schedule, the Wildcats will have six games before Christmas that could help them: Gonzaga, Illinois, Colorado, Stanford and the two NIT games in Brooklyn.
Colorado and Stanford are both expected to be among the top contenders in next season's Pac-12 race, too. The games against those teams are added back from the "schedule skips" in the Pac-12's normal 18-game rotation; now, UA will play all Pac-12 teams twice except the Wildcats will only face Cal at home and only play Utah in Salt Lake City.
The remaining Pac-12 dates are not expected to be announced until summer.
Rim shots
Departing UA center Chase Jeter announced he will join Team 23 for The Basketball Tournament, a summertime winner-take-all event in which former Wildcat Kyle Fogg won four straight titles while playing for Overseas Elite through 2018.
Team 23 says it is recruiting players with "Michael Jordan commonalities," and Jeter's is having played in the McDonald's All-American Game as Jordan did in 1981. Team 23 has also added Jordan Adams (formerly of UCLA), Myck Kabongo (Texas), Larry Owens (Oral Roberts) and Robert Crawford (Central Arkansas) so far.
UA has offered a scholarship to 2020 Turkish forward Tibet Gorener, according to 247 Sports. The 6-foot-8, 195-pound Gorener played last season for Orange (Calif.) Lutheran. He is a consensus top-150 player who is also receiving interest from Creighton, Utah State and UConn.
Be the first to know
Get local news delivered to your inbox!