Arizona's 52-game home nonconference winning streak was in trouble for 20 minutes Thursday at McKale Center, and there were a lot of things to blame.
The Wildcats were having to sandwich what became an 80-69 win over Utah Valley between a big road win at UConn on Sunday and another big road game on Sunday at Alabama. They also had finals to finish up at school.
On top of that, the one factor the Wildcats agreed with, their opponent was pretty good: The offensively efficient Wolverines of the WAC not only shot 50 percent from the field in the first half but also converted 11 Arizona turnovers into 19 points before halftime.
The Wildcats retreated quietly into their locker room trailing 41-29.
"I thought we had energy but the other team was pretty good," guard Brandon Randolph said. "They executed really well."
UA coach Sean Miller insisted this was not about some sort of letdown, too.
"They did not catch us off guard," Miller said. "This wasn't a situation where we were still thinking about our UConn victory or didn't respect Utah Valley. Just the opposite."
But whatever the case, the fact is that the Wildcats — and especially Randolph — were an entirely different bunch in the second half, animated and full of confidence into the second half while the McKale Center crowd warmed up accordingly.
Randolph hit four 3-pointers over the first three minutes and 11 seconds of the second half to almost singlehandedly give the Wildcats a 45-43 lead. And, over the entire second half, UA had only five turnovers against nine assists.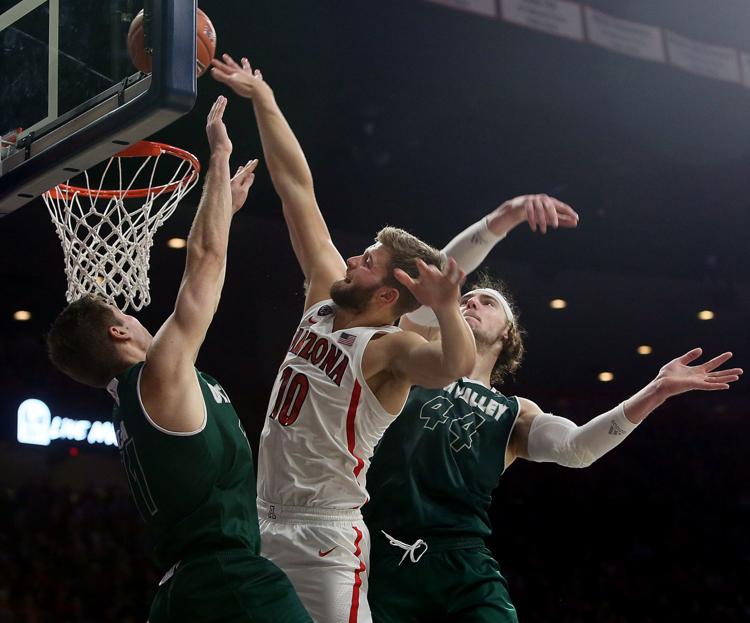 That was the second half, and the game, in a nutshell.
"We really moved the ball and we had a player become unconscious," Miller said, smiling. He then said he hadn't seen anyone with that kind of shooting streak since Gabe York hit nine 3-pointers against Stanford on his senior day in 2015-16.
Randolph, as usual, wasn't about to hype himself.
"I mean, I was definitely determined to win the game," he said. "I definitely got going and my teammates found me and they hyped me up."
Randolph finished with 16 points while Brandon Williams had 15 points and 10 rebounds for his first-double double, the nature of which surprised him.
"Somebody said I had a double-double and I thought it was assists," Williams said.
Williams actually did have five assists to just two turnovers, and he was also instrumental in the Wildcats' second-half surge, showing a confidence and aggressiveness that belies the fact that he still hasn't played 10 college games.
"He's unflappable," Miller said. "Nothing bothers him. I wish I had that characteristic.
"The stat that really jumps out is he had 10 rebounds, eight defensively. He played an excellent game and he too is getting better."
As a team, Arizona shot 60.7 percent in the second half to finish at 50 percent for the game. UA also outrebounded UVU 36-26 and hit 12 of 22 3-pointers.
After Randolph almost singlehandedly pulled them back from a 12-point halftime deficit, hitting all four 3-pointers he took over the first four minutes of the second half, the Wildcats and the McKale Center crowd came to life. UA stayed within a possession or two of the Wolverines over the middle of the second half before pulling away for good with a 19-5 run toward the end of the game.
Emmanuel Akot, starting for the third straight game, made a pair of hustle plays to help Arizona take a 74-62 lead with 3:17 left and take control of the game. Akot fired a pass from the 3-point line to Brandon Williams as he drove the baseline, with Williams making the layup, and then stole the ball from Benjamin Nakwaasah to set up a jumper by Dylan Smith.
In the first half, TJ Washington scored 11 points to lead Utah Valley to a 41-29 halftime lead.
UVU shot 50.0 percent while converting 11 UA turnovers into 19 points. UA shot just 38.5 percent from the field despite hitting 4 of 8 3-pointers.
"They run their offense as efficiently as a team as anybody we'll face all season," Miller said of UVU.
The Wildcats fell behind 7-2 early after Washington stole the ball from Akot and turned it into a three-point play two minutes into the game. But 3-pointers from Coleman and Williams put UA in a 10-7 lead with 17:37 left in the half and the Wildcats went on to take an 18-11 lead on a 3-pointer from Alex Barcello three minutes later.
But two turnovers from Ira Lee led to UVU baskets while the Wolverines went on a 9-0 run to take a brief 20-18 lead, and UVU expanded the run all the way to 21-4 then carried its 12-point lead into halftime.
After halftime, the completely different story moved UA to 7-2, still having not lost at home in nonconference play since the 2011-12 season.
"A lot of us in the locker room right now feel good," Miller said, "because we've earned the record that we have."