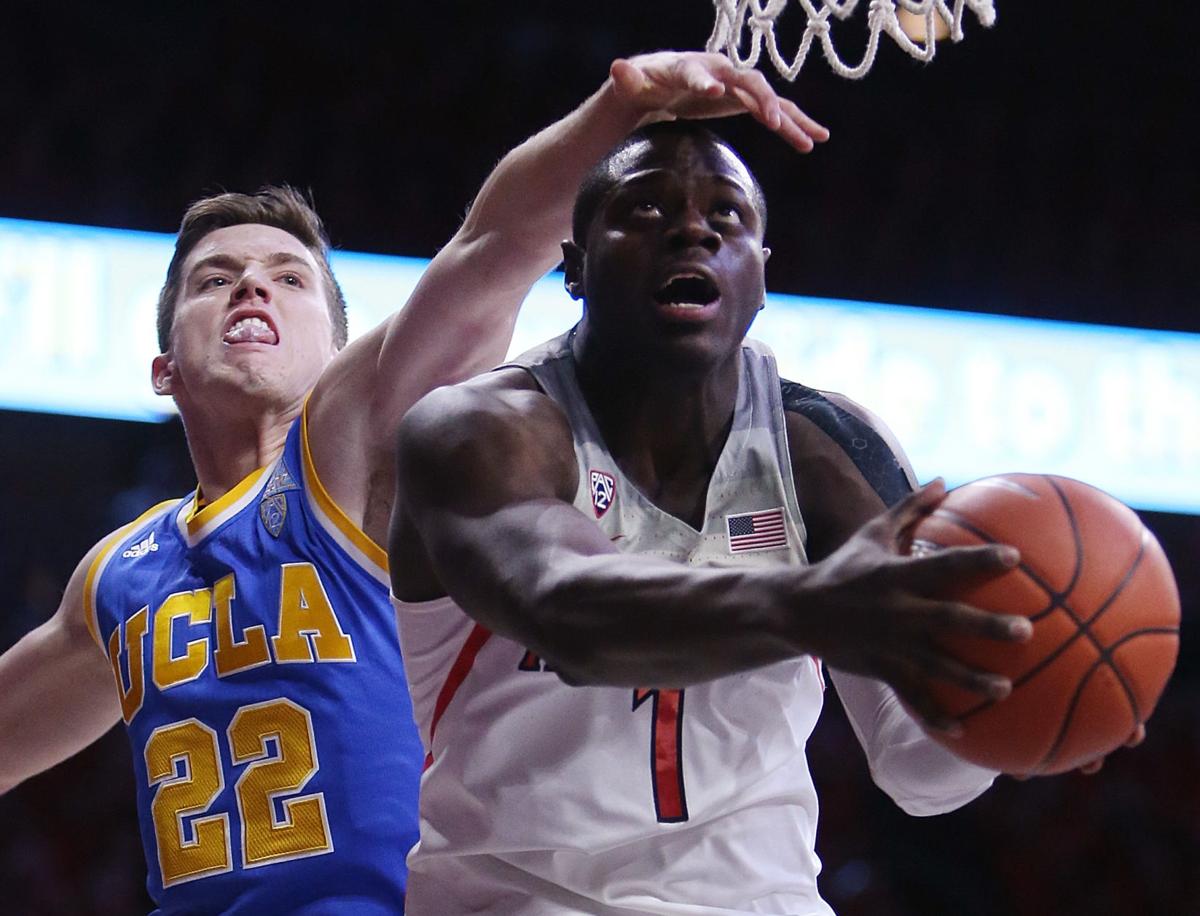 UCLA has three losses this season, and the Bruins have now avenged each one of them: To USC, Oregon and Arizona.
"That doesn't happen very often in sports, especially in men's basketball," Bruins coach Steve Alford said after UCLA beat the Wildcats 77-72 on Saturday.
"That's probably where I am most pleased and proud of our guys."
UA coach Sean Miller hopes he can say the same thing about the Wildcats in a couple of weeks.
While the UA isn't likely to see the two nonconference teams it lost to (Butler and Gonzaga) again unless it meets them deep in the NCAA Tournament, the Wildcats' loss Saturday means they could have a shot at revenge with both UCLA and Oregon in the Pac-12 Tournament.
Oregon is now in position to gain the conference tournament's No. 1 seed because the Ducks are tied with UA at 15-2, own the tiebreaker based on their Feb. 4 win over Arizona and only have to play at last-place Oregon State the rest of the regular season.
If Oregon hangs on to No. 1 and the other top Pac-12 Tournament seedings hold up, that means Arizona would face UCLA in a No. 2-vs.-No. 3 semifinal on Friday, March 10 — likely for the right to face Oregon in the championship game the next night.
Assuming Oregon beats OSU, Arizona will be the No. 2 seed in the Pac-12 Tournament if it beats ASU or UCLA loses either of its home games to the Washington schools next weekend. UCLA will be the No. 2 seed if it sweeps the weekend and the UA loses to ASU, because the teams then would be tied at 15-3 and UCLA would get a tiebreaker edge because it owns a win over top-seeded Oregon.
Miller was already discussing the idea of a rematch after Saturday's game, hoping that his Wildcats could learn from it the way UCLA may have learned from its Jan. 21 loss to the UA in Pauley Pavilion.
"I know the team that we lost to and they're a great team and just like when we went to Pauley Pavilion and beat them there, I'm sure it was a tough moment for them," Miller said. "But they found a way to respond and I'm sure in some ways they're probably better because it happened.
"We have to do the same thing. In two weeks, we could find ourselves in Las Vegas playing this very same team, and hopefully we'll be more ready."
The difference is that while UCLA's defense and bench players have become more productive since the Jan. 21 game than they were before that point, the UA fell backward Saturday in some areas where it has been strong: It struggled to keep UCLA off the rebounding glass, especially when the Bruins were on offense, and couldn't consistently penetrate or shoot over the UCLA zone defense.
Miller told his players "we didn't do a good job of defensive rebounding and it cost us the game," guard Allonzo Trier said. "It's pretty clear-cut."
The good news for the UA is that the Wildcats were given a full week in between the UCLA game and their regular-season finale at ASU on Saturday. That means plenty of rest — particularly for guard Kadeem Allen, whose previously dislocated pinkie remains an issue — and time for some brush-up work in practice.
Also maybe some time to gain perspective.
"I think we can control that," Miller said. "When you're in a situation like ours, when you're 26-4 and 15-2, there are a lot of great moments that we've had and every once in a while people can distract players on your team. It's 'You need to play more minutes.' 'Coach doesn't know what he's doing.' Etcetera, etcetera.
"I think my worry and any coach at this time when you enter March with a lot at stake, is to keep our team on point, to make sure we have our circle and our locker room and we're focused like we've been getting better, preparing for the next game. And in moments like this you learn a lot about the character of your team, about the character of the families that you coach, you learn a lot about yourself as a coaching staff."
A 15-2 conference mark, of course, usually is good enough to cut down some nets. Miller's first three Pac-10/12 champions only lost four (2011), three (2014) and two (2015) games, and yet this season … Oregon is still right there with the Wildcats. That doesn't surprise Miller, since the Ducks retained most of the key players from their Elite Eight team a year ago and added even more talent. They were even picked to finish first in the Pac-12's official media poll.
"We knew before the season started that Oregon was a 1 (NCAA Tournament) seed a year ago and they return a lot," Miller said. "The players they've added in addition to who they've returned are really good so I think you're looking at a one (NCAA Tournament) seed. And I'm not sure if you're look at UCLA that they're not in the conversation for those types of seeds.
"Obviously our season speaks for itself. But it's up to us to put this behind us in some way and in the other ways to learn from it and a week from today to be better, healthy and ready to go."