Considering the balanced attack Arizona used to easily sweep Utah and Colorado last weekend — and Zeke Nnaji's consistent production all season — it might be easy for the Wildcats to have taken their freshman forward for granted.
But UA nominators and voters for the Pac-12's weekly awards didn't: Nnaji picked up his third Pac-12 Freshman of the Week award on Monday after averaging 18 points and 10 rebounds in the Wildcats' homecourt sweep.
Arizona also nominated Nnaji for the Pac-12 Player of the Week award, but that honor went to Washington State's C.J. Elleby, who averaged 23.5 points, 11.5 rebounds and 4.0 assists in the Cougars' surprising sweep of the Oregon schools.
Nnaji averaged 18 points and 10 rebounds while shooting 59.1% over two games last weekend, hitting the one 3-pointer he tried in each game. In the Wildcats' 93-77 win over Utah last Thursday, Nnaji had 24 points and eight rebounds while he had 12 points with 12 rebounds during Arizona's 75-54 win over Colorado on Saturday.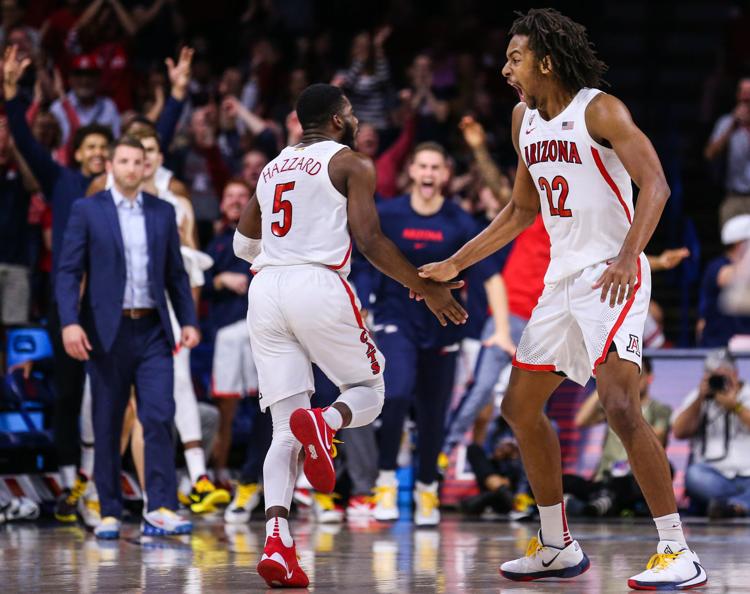 Among other nominees for the Pac-12 Freshman of the Week award were Washington's Isaiah Stewart, who averaged 19 points, 12 rebounds and 4.5 blocks between the Huskies' home win over Oregon State and loss to Oregon; and Stanford's Tyrell Terry, who averaged 20 points and 4.5 assists between the Cardinal's win at UCLA and its loss at USC.
Nnaji also won the Pac-12's Freshman of the Week honors during the first two weeks of the season, while UA guard Nico Mannion won it on Dec. 2 after leading the Wildcats to the Wooden Legacy title. No UA player yet this season has won the overall Player of the Week.
Wildcats back in AP Top 25
After a one-week absence from the Associated Press Top 25 poll, Arizona jumped back in at No. 22 on Monday.
The Wildcats, 13-5 overall and 3-2 in the Pac-12, were dropped from the poll after being swept in Oregon last week.
This week, Oregon slipped from No. 8 to No. 12 after losing at WSU, while Colorado dropped from 20th to 23rd.
Baylor jumped Gonzaga into the No. 1 spot after the Bears beat Iowa State at home and Oklahoma State on the road. Gonzaga beat Santa Clara and BYU at home.
Arizona has now played five current Top 25 teams and beaten two of them (Illinois and Colorado), and those five matchups might also be helping the Wildcats in the computer rankings.
As of Monday, they were No. 11 in the NET, 14 in Kenpom and 17 in Sagarin.
Akinjo becomes secret weapon
A small reason the Wildcats beat Utah and Colorado last week just might have been the way newly arrived guard James Akinjo helped mimic the Wildcats' opponents in preparation beforehand.
"We've got a heck of a scout team," UA coach Sean Miller said of the Georgetown transfer after the Colorado game. "James is very, very quick and all of our guards get an opportunity to play against him.
"And he's fresh, too. He just showed up here so practice is everything to him and I thought he helped our team for this weekend even in the small doses that he practiced."
UA's scout team now can have a "starting five" of Akinjo at point guard and graduate assistant Justin Coleman at shooting guard, walk-on forwards Jordan Mains and Jake DesJardins, plus Brown in the post.
Akinjo, Brown and Coleman have all played Division I, while Mains and DesJardins both attracted low-major offers before deciding to walk on at UA.
Akinjo arrived just in time to join the Wildcats for their game prep last week but Miller said he would be more fully incorporated this week.
"He'll practice even more, which is a good thing for our team," Miller said.
Rim shots
• The Wildcats visited Diamond Children's Medical Center on Monday before practicing in the afternoon. They are scheduled to take Tuesday off then practice daily until playing at ASU on Saturday.
• Former UA forward Lauri Markkanen of the Bulls has started releasing video of five different dunks named after different weather events, in an effort to bring attention to climate change. The dunks are being released via social media before five Bulls away games, starting last Thursday, and Nestle has pledged to donate $1,000 for every point Markkanen scores over those five games.
Be the first to know
Get local news delivered to your inbox!