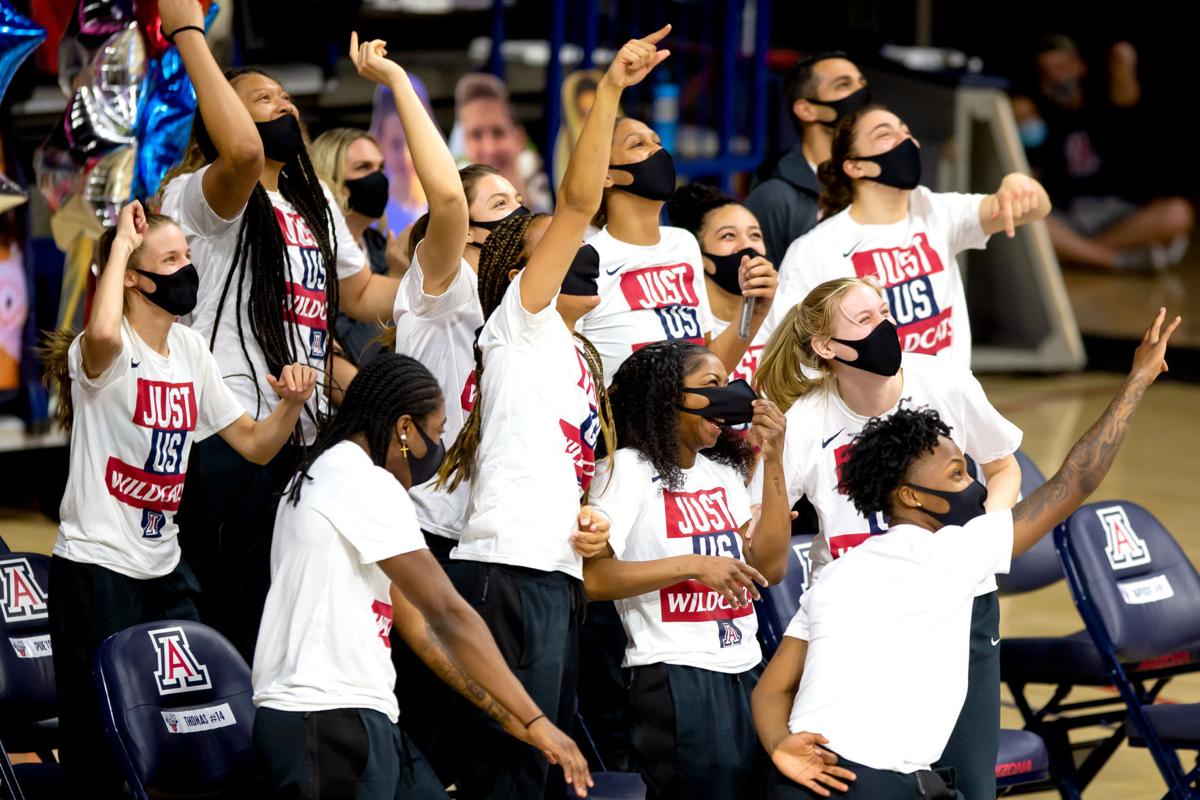 Monday started out like any other day for the Arizona women's basketball team.
The Wildcats got up early for COVID-19 testing at 7:30 a.m., did homework and participated in online classes. Then it was time for practice.
From there, things got interesting in a hurry.
The Wildcats took over the NCAA women's basketball's Instagram account — for the second time this season — to capture their day leading up to the biggest announcement of their UA careers.
That's because it was the first Selection Monday for the program in 16 years.
Arizona has known for most of the season that it would be a tournament team. However, the questions that remained were what seed the Wildcats would be, what region they were in and who they would play in the first round.
The team gathered alone in McKale Center to watch ESPN's Selection Show on the Jumbotron. In a typical year, the stands would've been packed with their fans, but with the pandemic, the seats haven't been full all season.
At 4:08 p.m. Tucson time, the Wildcats (16-5) jumped around and cheered as they heard the news: They were a No. 3 seed playing 14th-seeded Stony Brook next Monday in San Antonio.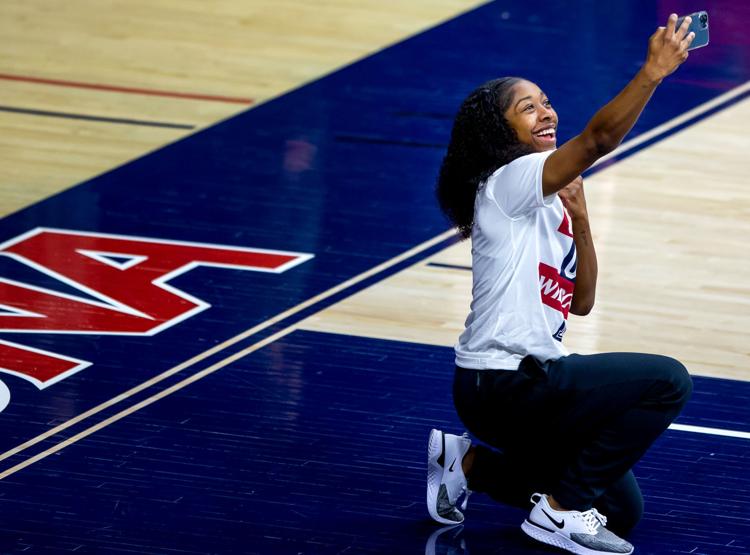 Thirty minutes after the reveal, the Wildcats were still celebrating. They tweeted out a video with Sam Thomas yelling, "Hey, Arizona Wildcats, we're going dancing!" Her teammates were dancing behind her.
"It's an exciting moment — it's a big day for our program, as well," Aari McDonald said. "… We're never going to forget this moment. But now that we're there, the work doesn't stop. We got to keep getting better and stay focused in the moment.
" … It's a clean slate, zero-zero. Like coach (Adia) Barnes says, 'it's not about how you start, but how you finish.' And like Trinity (Baptiste) said, I feel like we haven't really proven anything yet. We haven't done anything. I'm really excited to show what Arizona has, and what we're capable of doing. I'm just ready to get to work."
The Wildcats team tied the 1998 UA team for the school's highest seed ever in the NCAA Tournament. That team, when Barnes played, went to the Sweet 16 — the furthest the Wildcats have even gone in the tourney.
"The (16-year) draught was way too long, but just really excited – excited for the players, excited for the program. All of our hard work has paid off," Barnes said.
"The great thing for us is (that) we didn't experience this last year. Last year, we did all this hard work, we had ourselves in a good position, and then it (NCAA Tournament) was all canceled. This year to see it come alive — to sit there and be waiting, and your name is called, this is the awesome feeling."
Both No. 11 Arizona and Stony Brook (15-5) finished second in their respective conferences – Stony Brook is in the America East conference.
Looking at the path ahead for Arizona to make it to the Final Four, if they were to get past Stony Brook in their first game in Mercado Region, they would play the winner of No. 6 Rutgers vs. No. 11 BYU, then possibly No. 2 seed Texas A&M and then No. 1-seed NC State, assuming there are no huge upsets.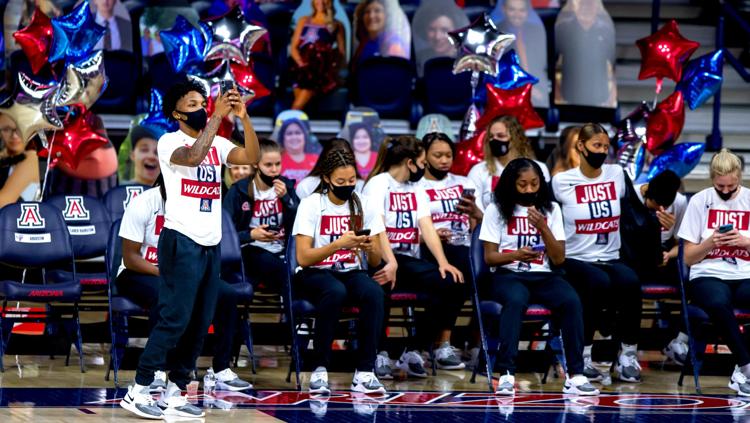 "This week has been preparing mentally just to be ready for what's next. We plan to be there for a long time in Texas and just we have to be mentally tough," Baptiste said.
Six Pac-12 teams made the NCAA Tournament: Stanford — the overall No. 1 seed, UCLA (No. 3), Oregon (No. 6), Oregon State (No. 8) and Washington State (No. 9). The Big Ten and the SEC both have seven teams apiece.
The Wildcats tried to distract themselves in the morning with the IG takeover. Thomas kicked it off then went into the locker room after testing to answer questions: Semaj Smith on who they play next, McDonald on being excited and ready to make noise in tournament, Marta Garcia on international players, Helena Pueyo on being a consistent 3-point shooter and Derin Erdogan on balancing schoolwork with basketball.
Arizona finished the season ranked No. 11 by AP. UA has been ranked in the the Top 25 for 33 straight weeks going back to last season. This season, they were ranked in the Top 10 – making it as high as No. 6 – for 13 of 16 weeks.
In another historic season, the Wildcats finished with this stat line: holding teams to 56 points per game, shooting an average of 36.7%, 10. 5 steals per game and 18.1 turnovers forced per game.
"For me, this is everything I've dreamed of as a kid," Baptiste said. "Growing up in Tampa, UConn used to always play South Florida — 10 minutes from my house — I would always go watch. UConn would dominate and win in the Final Four every year. I just always dreamed of being in that position.
"For me now to have a chance it's always what I wanted.
Rim shots
There is a new wrinkle this year with the pandemic still raging. The last four teams out — Houston, Notre Dame, DePaul and Oklahoma — are on call until 3 p.m. Tucson time tomorrow. If any of the 64 teams cannot participate in the dance, because of COVID-19 issues, the NCAA selection committee will add one of those four teams to the field.
Arizona State and Colorado made it to the WNIT, which will have a 32-team tournament this year.
Photos: Arizona Women's basketball celebrate their No. 3 seed in the NCAA Tournament
NCAA Tournament selection show watch party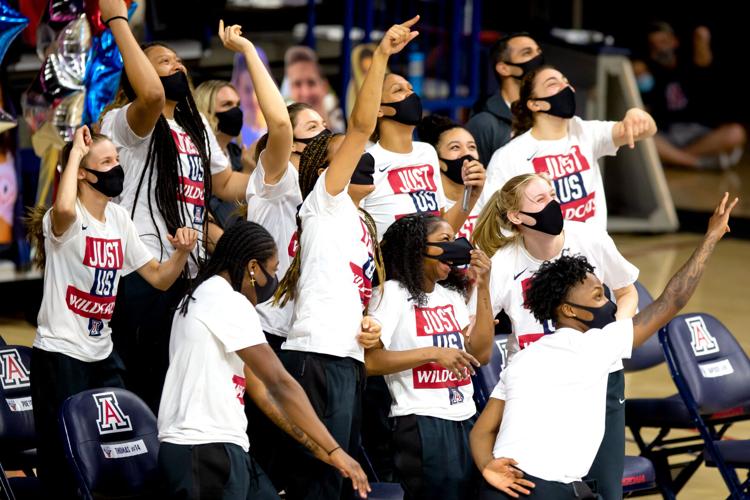 NCAA Tournament selection show watch party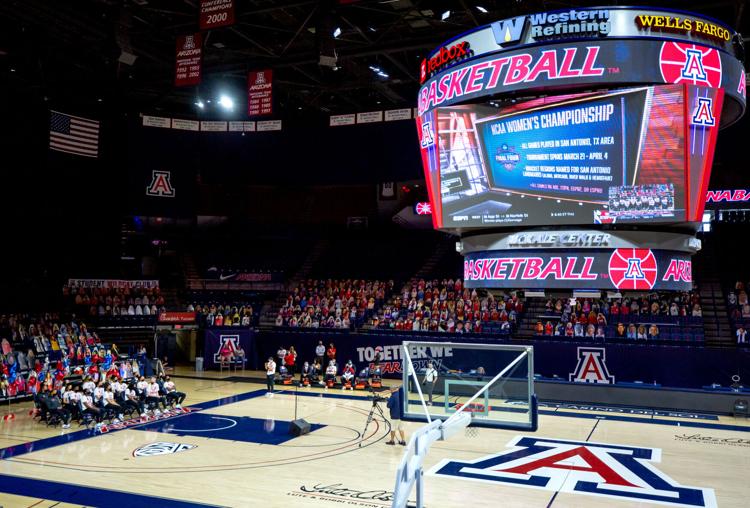 NCAA Tournament selection show watch party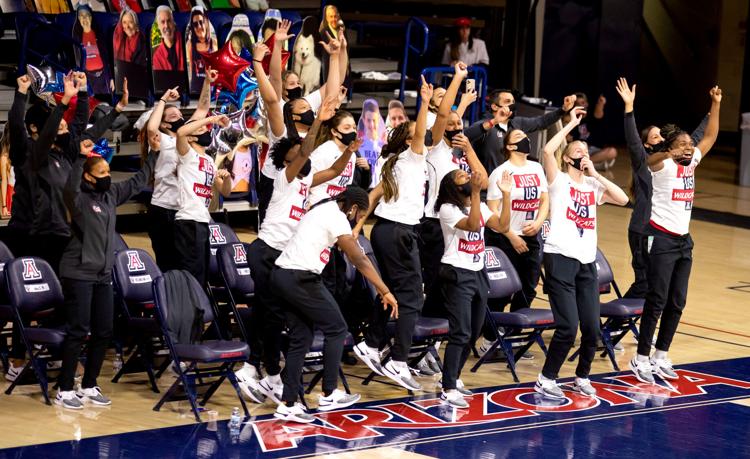 NCAA Tournament selection show watch party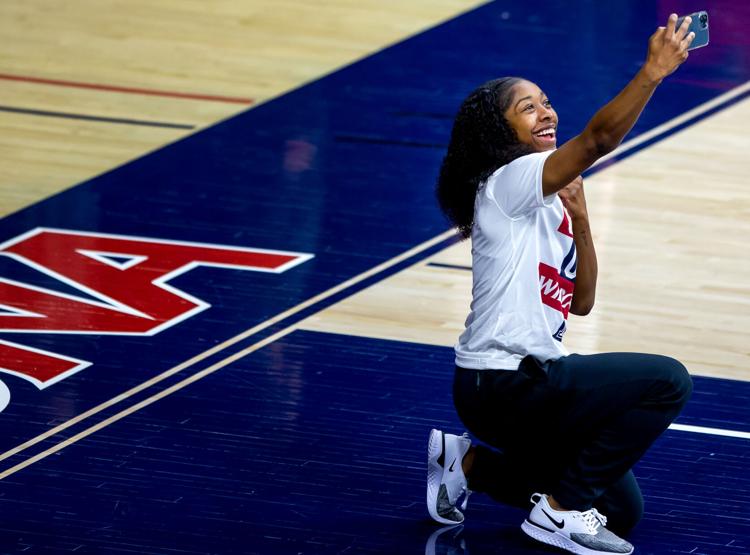 NCAA Tournament selection show watch party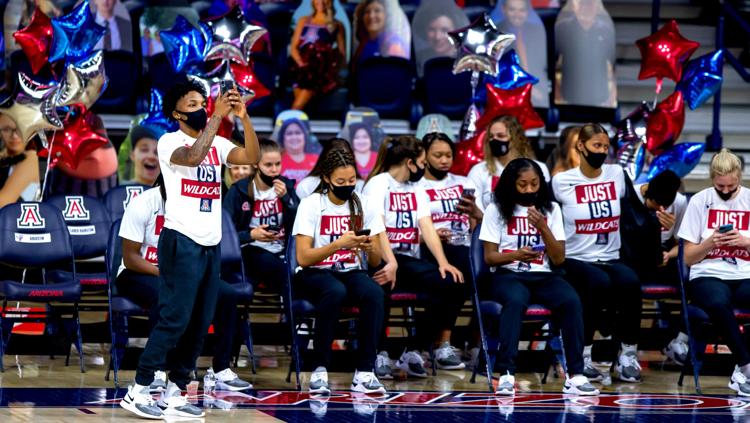 NCAA Tournament selection show watch party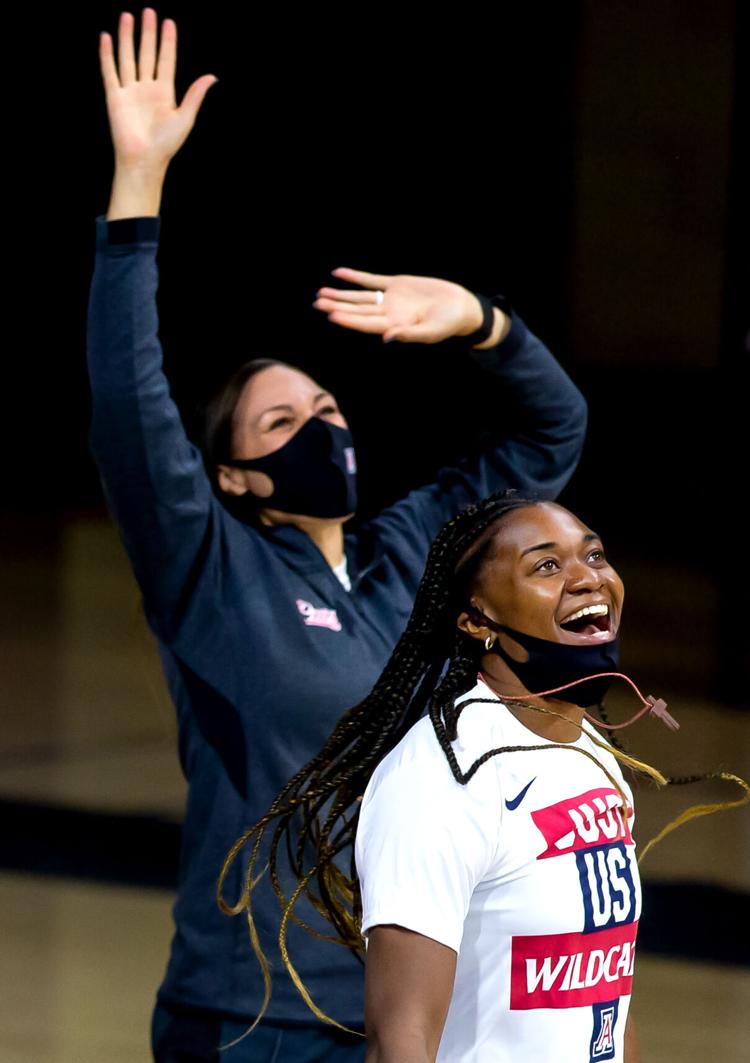 NCAA Tournament selection show watch party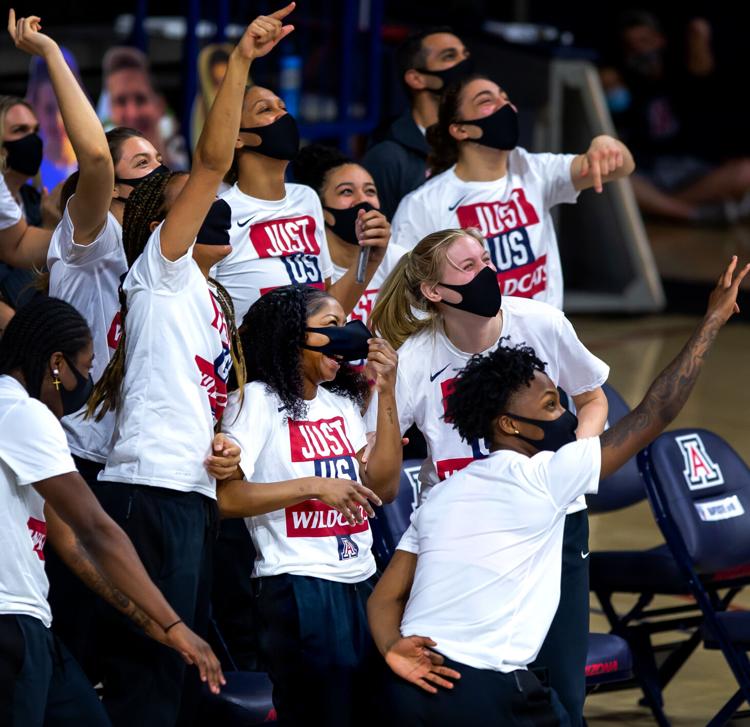 NCAA Tournament selection show watch party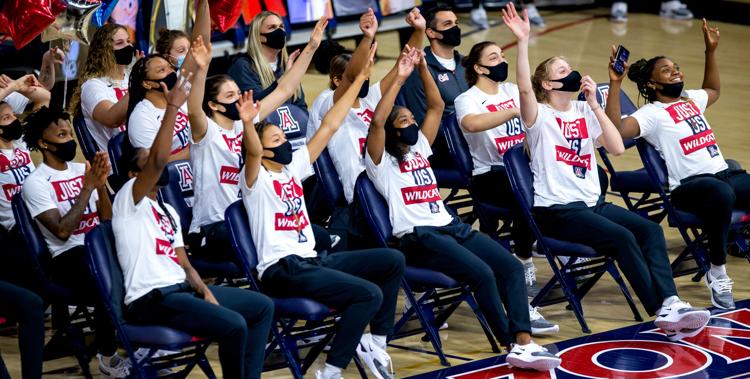 NCAA Tournament selection show watch party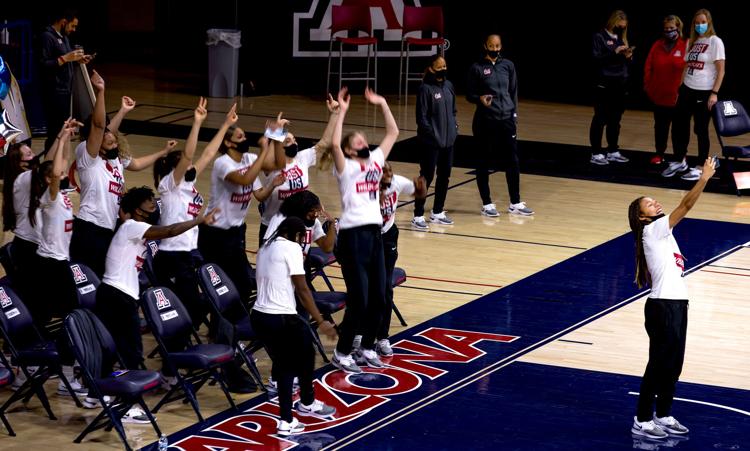 NCAA Tournament selection show watch party