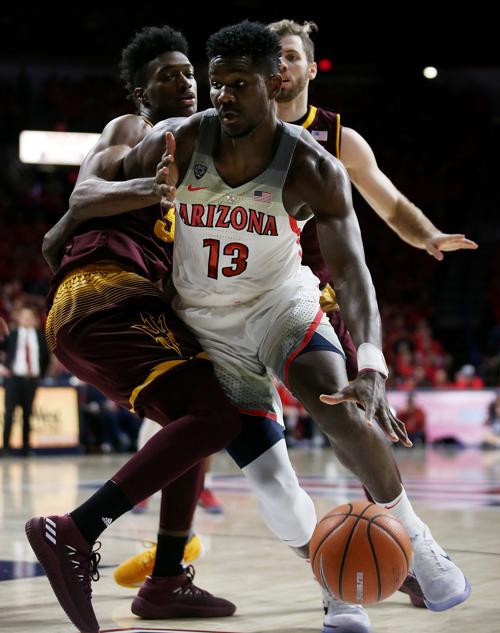 Arguably the most anticipated Arizona-ASU game in decades lived up to the hype Saturday, with Deandre Ayton leading the Wildcats to an 84-78 win before a heated McKale Center crowd.
Ayton had 23 points and 19 rebounds, while tipping in a missed layup by Allonzo Trier with 11 seconds left to give UA an 82-78 lead that the Wildcats (11-3) held on for good, giving the Sun Devils their first loss of the season in 13 games.
Third-ranked ASU entered the game the only unbeaten team remaining in college basketball, with both top-ranked Villanova and 10th-ranked TCU having lost for the first time this season earlier Saturday. With Arizona ranked No. 17, it was the first time both UA and ASU have played each other while ranked since 1994-95.
But even though the Sun Devils were ranked higher, the Wildcats' win was not an upset. UA opened as a five-point favorite, according to Vegas Insider, and bettors pushed it to a six-point margin -- exactly the number UA won by.
Arizona has now won eight straight games over ASU at McKale Center and five straight overall, with the teams scheduled to meet again in Tempe on Feb. 15.
While Ayton was dominant for Arizona, Trier had 23 points and Dusan Ristic 12. The Wildcats shot 55.6 percent in the second half while holding ASU to just 32.4 percent after halftime.
Tra Holder led ASU with 31 points, hitting 15 of 16 free throws.
While Arizona led by up to 12 points, it never really could breathe easy until the final buzzer, especially since Kodi Justice hit a 3-pointer to cut UA's lead to 78-76 with 1:12 left.
ASU, after all, had come back from deficits of nine points or more on five previous occasions to win this season. 
The hotly contested game featured two technical fouls, and plenty of yelling at officials from coaches of both teams. Ayton was called for a technical in the first half while ASU's Shannon Evans was called for one in the second, apparently for what they said in both cases. Evans' foul resulted in two free throws by Trier in the second half that gave the Wildcats a 58-48 lead with 12:28 left.
From there, ASU cut it to one point while continuing to get to the free-throw line more often in the second half. Earlier in the week, UA coach Sean Miller said keeping the Sun Devils from shooting free throws would be a critical task. But while the Sun Devils took just six in the first half, they took 11 in the first 12 minutes of the second half, hitting nine of them to pull within a point, 64-63.
ASU finished with 20 for 25 shooting from the free-throw line, getting there five fewer times than its average entering the game.
UA built its lead back up to 76-64 on a three-point play from Ayton before ASU put up another run with Holder sinking a 3-pointer to cut UA's lead to 76-73 with 2:14 left.
Leading 39-37 at halftime, Arizona held ASU to 22 percent shooting in the first nine minutes of the second half, when the Wildcats expanded their lead to 62-50 on a dunk from Ristic.
The Wildcats hit 9 of 15 over the same stretch early in the second half while Trier hit 2 of 3 shots after going 1 for 7 in the first half.
In the first half, the Sun Devils held UA to 36.1 percent shooting while hitting 44.8 percent from the field – including 5 of 10 3-pointers.
Ayton led Arizona with 11 points, eight rebounds and two blocks, while Dylan Smith had nine points on 3-for-4 3-point shooting. Trier was 1 for 7 from the field but hit two free throws and a 3-pointer in the final 90 seconds of the half to give UA the lead before halftime.
Holder led the Sun Devils with 12 points while Remy Martin had nine.
With McKale Center loudest in the initial minutes, the Wildcats went ahead 9-3 in the first four minutes while ASU missed five of its first six shots. But the game soon after tightened up and remained that way for the rest of the half.
Martin went 3 of 3 over the second four minutes of the first half, helping ASU take a 20-18 lead with 11:09 left. But after Holder hit two free throws to give ASU a 24-21 lead, UA kept the Sun Devils scoreless for the next 2:57 and went ahead 28-24.