The moment freshman forward Zeke Nnaji belted out a piano keyboard version of the national anthem before Friday's Red-Blue Game, it was pretty clear that this season's Arizona frontcourt has some serious versatility.
The same applied once the scrimmage began, too.
Stuck with a thin frontcourt that also lost Emmanuel Akot to transfer midway through last season, the Wildcats reloaded up front this time with the four-star athleticism of Nnaji, the shot-swatting presence of Cameroonian 7-footer Christian Koloko and the smart stretch-shooting game of grad transfer forward Stone Gettings.
Those three guys join two returnees, junior forward Ira Lee and senior center Chase Jeter, to give five different looks to fill the two post spots however UA coach Sean Miller deems most suitable for a given matchup.
Gettings, who sat out the second half of last season after arriving in December once he graduated from Cornell, says he's already noticed the difference.
"I think this team, we have a lot more height, which is great," Gettings said. "Just overall, I would say we're a lot deeper, which enables us to practice a lot harder every single day."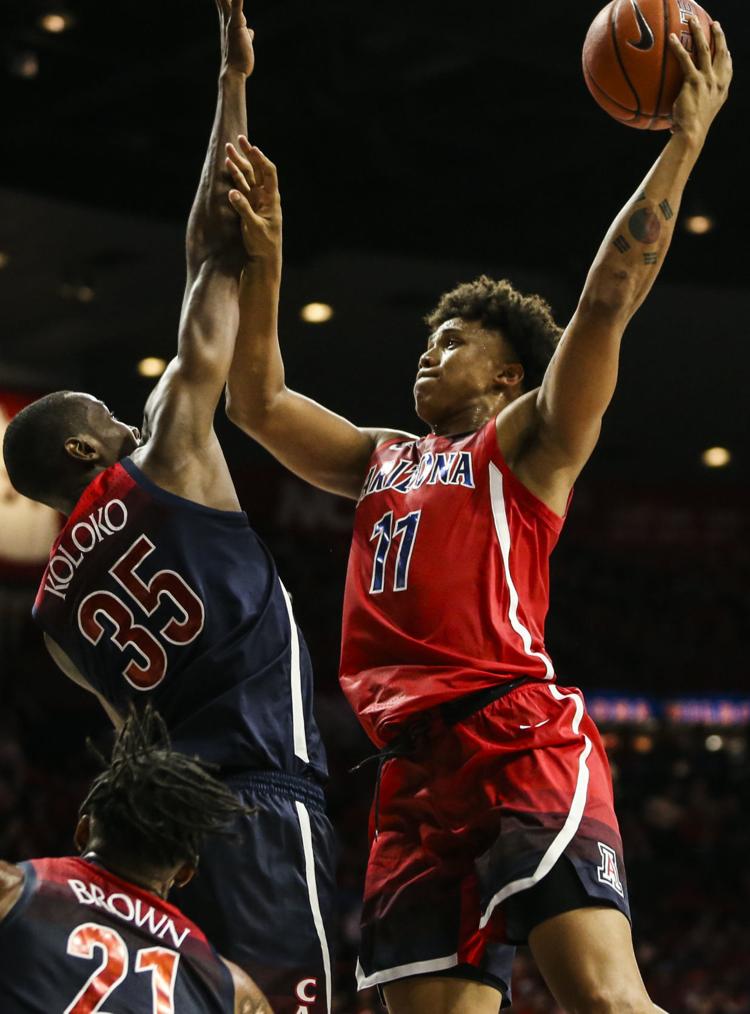 The new guys helped offset Friday's absence of Chase Jeter, who was sidelined with a groin strain.
"I think our front line speaks for itself," UA coach Sean Miller said. "What I love about our practice environment is that we have quality depth, and we have a lot of size. We're not going to get spooked when we play that team that possesses those same qualities.
"The gift of size and depth is something that everybody would love to have, and we have that. It's just now up to us to develop those guys, figure out the combinations, and see who plays well with who."
Miller started Friday by putting Nnaji and Lee together on the Red team, while Gettings and Koloko joined Nevada transfer Jordan Brown on the victorious Blue team.
Nnaji pulled down six rebounds and, though he was 0 for 3 from the field, Miller wrote that off as freshman jitters. "Join the club," Miller said he told Nnaji, noting how many good players before have had difficult Red-Blue debuts.
Meanwhile, Koloko showed why Miller keeps saying he's even better than expected, still something of a project who won't necessarily crack the regular rotation but has shot-blocking skills and a developing offense that suggests at least a spot role now and a significant future.
"Everything's on the table for us (as far as) who's going to play," Miller said. "But to have somebody at seven feet, it can protect the rim. He's still a work in progress offensively, but he can make plays, he can catch the ball, he's a pretty good free-throw shooter.
"And mostly, I love his work ethic. He works at the game, even though he's seven feet tall. We're really thrilled to have him."
Lee had five points and two rebounds, but after two full seasons with the Wildcats, Miller agreed with a question over whether he was poised to make a leap as a junior into a player who can think less and just play more at this point in his career.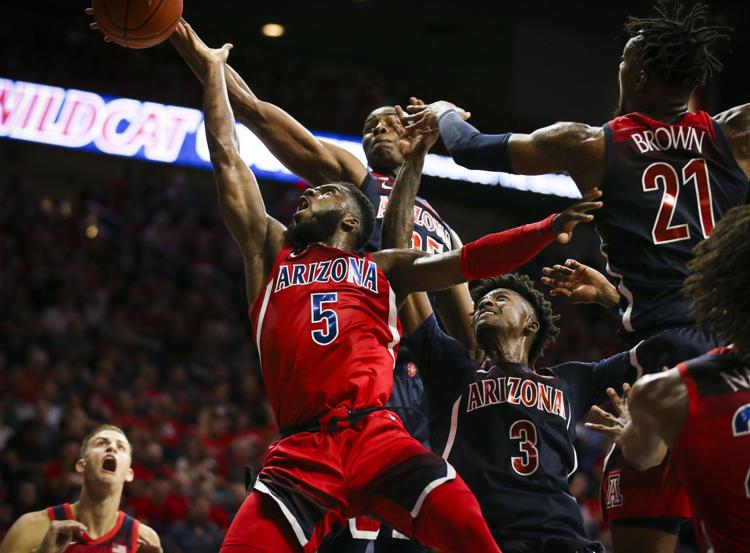 "Ira Lee is your quintessential hard-playing athlete, right?" Miller said. "He gives great effort. He likes to do the dirty work, he'll put his body on the line every day and compete, compete, compete. But … early in his career, at times he's going too fast, not taking what the defense gives. He's reckless when he's going for an offensive rebound. But he's learning and he's growing in that area. I do believe he made a lot of progress last year."
Then there's Gettings, whose possession of an Ivy League degree correctly suggests a keen sense of where to be, when to be there and exactly what to do.
Plus, Miller says, Gettings doesn't just rely on his head.
"He's smart off the court, but he's an incredibly hard worker on the court," Miller said. "The way he plays on offense is very different than our other bigs do. So having him out there changes the way you feel about our offense because he can score from behind the line. He's a clever passer, and he's very good free throw shooter."
Gettings had 10 points and four rebounds Friday to help the Blue team win 46-32, and hit both 3-pointers he tried, all while taking in an environment that isn't quite the same as he experienced even in big games while playing three seasons for Cornell.
"The fans are awesome here," Gettings said after Friday's scrimmage. "Even if a game sells out in the Ivy League, it's selling out a 4,000- or 5,000-person arena, whereas we had 15,000 people here.
"It was quite the experience."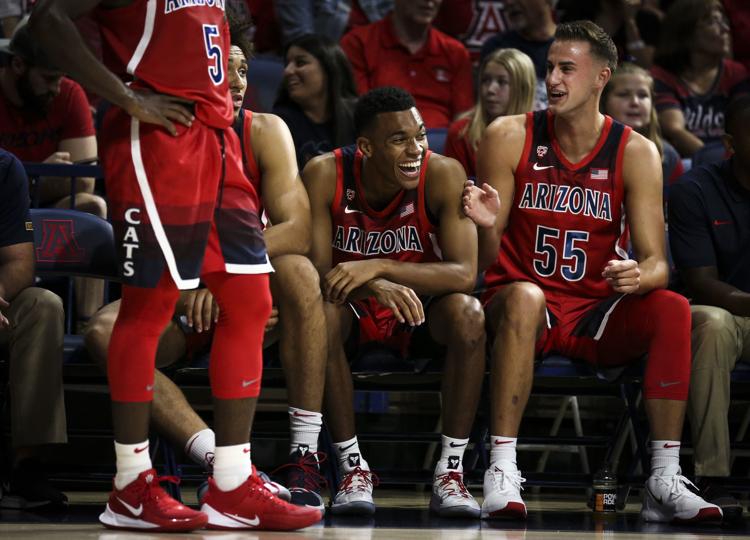 Rim shots
• Injured sophomore guard Brandon Williams made a bittersweet appearance at the Red-Blue Game in street clothes, having to sit out this season because of a congenital knee issue that could also threaten his career.
"He got introduced and it was just hard for me to watch him walk out there," Miller said. "He's a really talented player, one of the most talented guards that we've recruited, and just to see him lose this year. … I've got my fingers crossed, and his rehab continues to go well."
• Miller expressed no concern over Jeter's strained groin, which also forced him out of several earlier workouts. The Wildcats still have over five weeks left before their regular-season opener with NAU on Nov. 6.
"I think he'll be fine," Miller said.