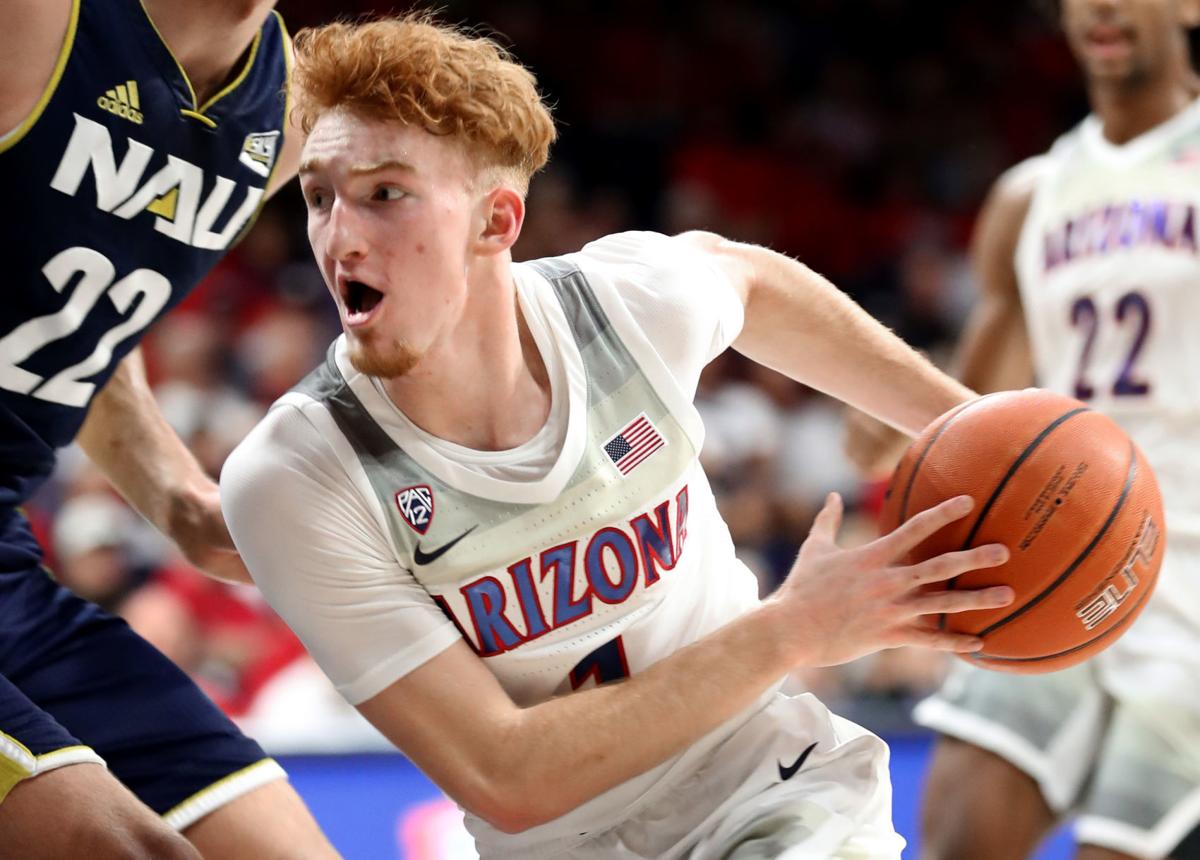 Over the past two years, Arizona coach Sean Miller hasn't just revamped his playing roster. He's also completely flipped over, and slightly expanded, his staff.
UA hired assistant coaches Danny Peters and Justin Gainey in 2018-19, replacing Book Richardson and Lorenzo Romar. This season, Miller replaced Mark Phelps with Jack Murphy as associate head coach while also adding former graduate manager David Miller as the team's new director of on-campus recruiting and basketball analytics.
Miller said UA officials supported the move to add David Miller (no relation), who is contracted to make $110,000 annually. The son of Los Angeles-based NBA analyst Dave Miller, David Miller spent five years as a manager and graduate manager at UA and then the past two as a director of basketball operations at UC Santa Barbara under former UA associate head coach Joe Pasternack.
Since he's not designated as an assistant coach, David Miller can't recruit off campus. He can, however, help coordinate the many actions involved from McKale Center.
"We restructured what we did in large part just because of the avalanche of recruiting that goes on a daily basis," Sean Miller said. "He can really contribute towards our players that are here in also helping us have a great feel for the future.
"He's got a dynamic personality, and being from Southern California has a lot of strong ties and relationships. … (and) he knows our system. He knows this campus and he's got a good feel for how we do things."
Arizona's three assistant coaches, meanwhile, will earn a total of $900,000 this season, a total that is comparable to 2017-18 (a total of $892,000, with Romar making $400,000 as associate head coach) and 2018-19 (a total of $840,000, with Phelps and Peters making $275,000, and Gainey $290,000).
Gainey and Peters were given two-year deals through this season while Murphy's new two-year deal worth $335,000 annually extends through 2020-21.
UA's other basketball support staffers include operations director Ryan Reynolds ($102,510), conditioning coach Chris Rounds ($134,946) and athletic trainer Justin Kokoskie ($100,000).
In general, UA basketball staff salaries are lower than that of comparable positions in football — even though the UA football team ranked ninth among the Pac-12's 10 public schools in football assistant salaries, according to a USA Today database.
In 2018-19, UA paid offensive coordinator Noel Mazzone $600,000 and defensive coordinator Marcel Yates $560,000, while most position coaches made between $200,000 and $400,000.
Trio sets record
When Zeke Nnaji had the highest-scoring total of in a UA freshman debut in the Miller era, he also joined Nico Mannion and Josh Green in being the first three freshmen to start an Arizona season opener in program history.
Nnaji scored 20 points on 9 for 12 shooting against NAU on Wednesday, while Green added 10 points and six rebounds, and Mannion had nine points, four assists and only one turnover.
Combined with backup center Christian Koloko, who had four points and six rebounds, UA had 43 points overall from its four true freshmen.
The Wildcats had three significant freshmen players in their 2016-17 opener, however. Miller started Rawle Alkins and Lauri Markkanen against Michigan State while Kobi Simmons came off the bench to score 18 and power the Wildcats' comeback win.
Old guys matter, too
Then there was the anti-freshman newcomer who also made a splash Wednesday: Cornell grad transfer Stone Gettings was 3 for 4 from 3-point range and finished with 13 points in 17 minutes.
"You could see he gives us a different dimension," Miller said. "What you like about Stone is he's different than the rest of our big guys. He's highly skilled and our team did a really good job tonight of finding him in transition.
"A lot of his 3-point shots came off of our transition game, which is always a good sign because it's hard to find four people on the perimeter. He becomes the fourth and he looked very good on offense."
Miller praised Gettings' work ethic and experience level, while Gettings said his long layoff gave him plenty of time to work. He graduated from Cornell last December, enrolled at Arizona last spring but only practiced with the Wildcats in the second half of last season.
"I've been in the gym quite a bit," Gettings said. "It's been a year and a half since I played and the 3-point shot has been a point of emphasis. Hopefully that continues."