HARTFORD, Conn. — Whenever the Arizona Wildcats needed a free throw over the last few seasons, the same guy kept popping up.
Allonzo Trier hit 14 of 14 free throws in his second game as a Wildcat. Made 12 of 12 at home to make the difference against Stanford as a sophomore, and 11 of 11 to beat Oregon in the 2017 Pac-12 Tournament. Then he won home games at the line last season as a junior against ASU (10 of 10) and Oregon State (11 of 11).
But while the Wildcats were hanging on for a 76-72 win over UConn on Sunday, Trier wasn't available. He's, you know, sort of busy continuing to stun NBA executives as an undrafted eye-opener for the New York Knicks.
This was a problem for the Wildcats. They were unable to make a field goal for the final 6:43 minutes Sunday, and needed somebody to at least take care of the line.
Then they got everybody, a parade of free-throw shooters led by Brandon Randolph.
The sophomore guard from nearby Yonkers, New York, led the Wildcats with 20 points and 9-for-9 shooting from the line, making seven free throws during UA's 12-for-13 barrage over the final 2:13 Sunday.
Ryan Luther added 3 of 4 during that final stretch and Brandon Williams hit two with four seconds left to clinch the Wildcats' victory, their 10th in the past 11 nonconference true road games.
Five UA players hit at least two free throws, and the Wildcats converted 19 of 22 overall at the line.
"We had a lot of different players go to the line and deliver," UA coach Sean Miller said. "It's not as easy to go to the free-throw line on an away court with the game on the line.
"We're used to kind of Allonzo ... and in the last four minutes of the game, he's just a great free-throw shooter. But to watch Brandon Randolph do it and Ryan Luther do it, those are new faces and I think it gives our new young players a lot of confidence."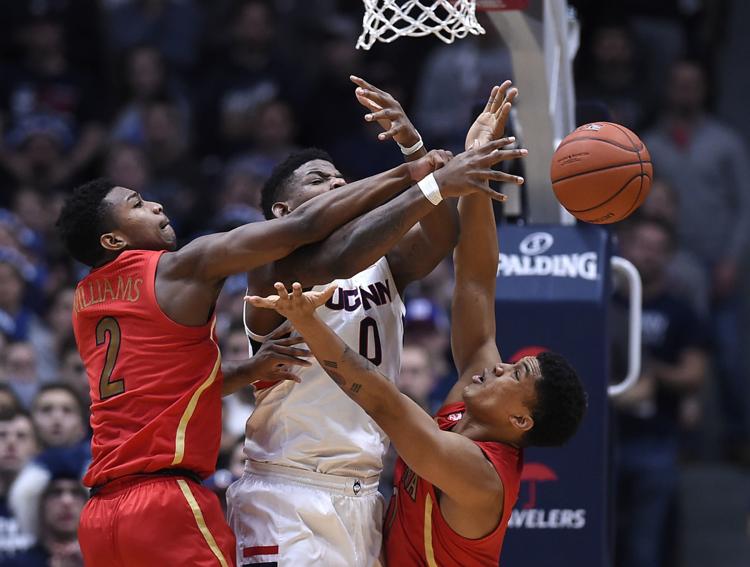 They not only did it under pressure, but also with XL Center fans smelling a comeback, cheering wildly while the Huskies pulled regularly within a basket or two with aggressive transition offense that resulted in 48.3-percent shooting.
After Dylan Smith scored inside to give the UA a 64-57 lead with 6:43 to go, the Wildcats missed four shots, two of them blocked, and turned the ball over once.
But they never did get fazed at the line.
Randolph hit two free throws with 2:13 left, and when he was fouled beyond the 3-point arc 46 seconds later, took advantage by hitting all three free throws.
Then, after UConn cut it to within three, Luther faked along the baseline, picked up a foul when Tyler Polley bit too hard, and sank two free throws. With 24 seconds left, Luther missed 1 of 2 free throws, and the Wildcats led just 72-69.
There was still time for the Huskies to make it happen. But there was also still time for the Wildcats to hold them off by hitting even more free throws.
UConn twice cut it to two points from there, but then came Randolph's two free throws and Williams hit another two with four seconds left to put the game away with a four-point UA lead.
"This just tells us that we can fight through adversity and stay together," Randolph said.
They were calm and confident, no matter the pace the Huskies created, no matter the decibels the crowd created.
"I don't think there was a point in the game where anybody thought we were going to lose," UA center Chase Jeter said. "We had a lot of great plays down the stretch, and the guys were very confident."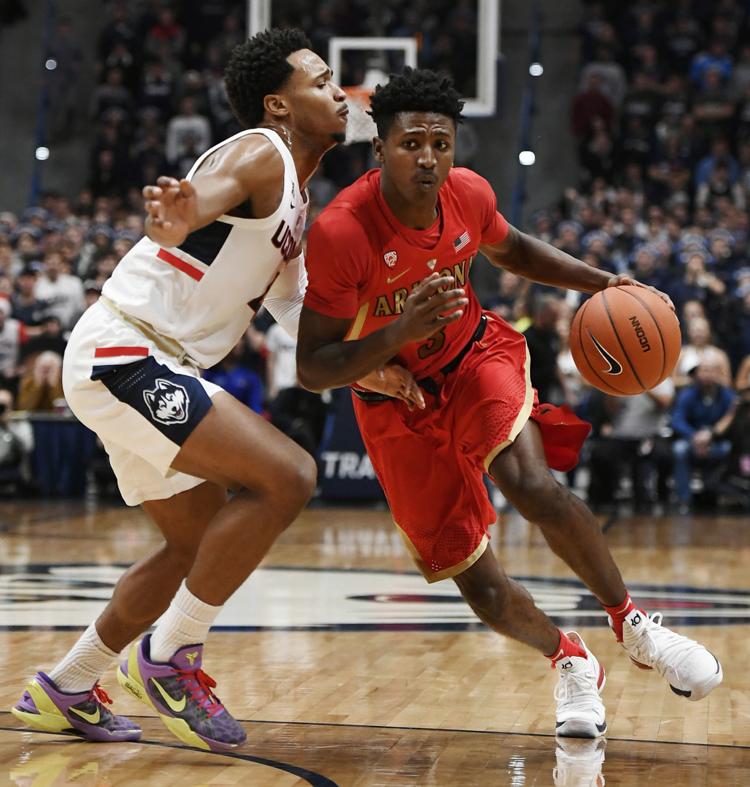 The Wildcats actually led for over 36 minutes in the game, though it was hardly comfortable at any time.
The Wildcats took a pair of seven-point leads in the first half on 3-pointers from Smith, though most of the half was either tied or a one-possession game.
The Wildcats took a 42-38 halftime lead in part by scoring 26 points in the paint while both teams raced inside to score.
UConn made 12 of 18 shots from inside the 3-point line in the first half, and another 8 of 16 in the second half. The Huskies were led by wing Jalen Adams, who scored 21 points for the game on 9-for-16 shooting.
"There were times we did a great job getting back in transition. Their pace is relentless," Miller said. "Those guards, they really attack and push the ball and they had a couple of forwards who made some threes."
The second half remained similarly close, though Arizona built leads of up to eight points while UConn missed six of seven shots during a mid-second half stretch. Then the Wildcats went ahead 64-57 on that Smith shot with 6:43 to go before hanging on at the line the rest of the way.
Twelve free throws later, the Wildcats left with a victory that was supposed to be just an early true road test, but instead became one that may have built both confidence and their postseason résumé.
For a guy who played before similarly rowdy crowds at the then-Hartford Civic Center decades ago with Pitt, Miller couldn't have asked for much more.
"We knew when we chose to play this series, we were going to get one of the great crowds in the country," Miller said. "I can remember as far back as 1991 – when you play a game in here, man, it's a great, great crowd.
"I think we felt whether we win or lose the game, we're going to be better. Playing true road games toughens your team more and gives them the opportunity for big wins. We beat a great program we respect and we were able to leave with a hard-fought win."