LAS VEGAS — Arizona was hesitant to call its 76-48 thrashing of USC in the first round of the women's Pac-12 Tournament on Thursday its most complete victory of the season, but it would not have been a stretch.
The No. 8 seed Wildcats shot a season-high 57.4 percent from the field, limited USC to a season-low in points on 25.8 percent shooting, and broke the game open with a 27-7 run to end the first half at MGM Grand Garden Arena.
"We always say, 'Punch first,' and I think we did that," Arizona coach Adia Barnes said.
Aari McDonald and Cate Reese scored 19 points apiece, Tee Tee Starks had a season-high 14 points and Sam Thomas scored 10 as the UA broke a four-game losing streak. Reese had 11 rebounds, her sixth double-double.
"We've played aggressive defense all year long," said Barnes, whose team played man-to-man and a 2-3 zone. "The catalyst on defense for us is Aari and Tee Tee. You can't teach quickness, and she (McDonald) is just a piranha on the ball."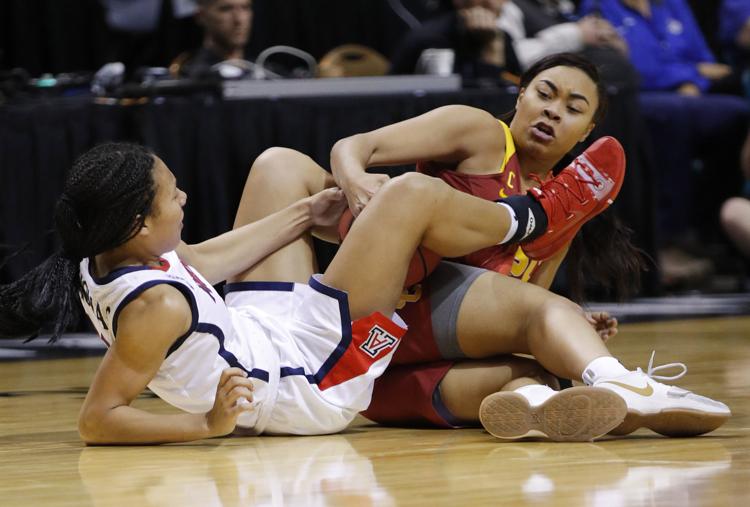 It was just Arizona's day; during a fourth-quarter timeout, Thomas, a Las Vegas native, saw her brother and sister win a hula-hoop contest.
The Wildcats (18-12) have tied the biggest one-season turnaround in program history with 12 more victories than they had a year ago, and they will get a chance to extend that mark against No. 6-ranked and top-seeded Oregon on Friday afternoon. The Ducks won 83-54 in Tucson last Friday.
"We know we need to play 40 minutes of really good basketball," Barnes said. "But we're very capable, and I think our team is confident and feeling good."
The blowout gave Barnes time to rest McDonald, who played only 32 minutes, her fewest against a Pac-12 opponent. McDonald had seven assists and four rebounds. Starks had five assists and four rebounds and no turnovers in 33 minutes.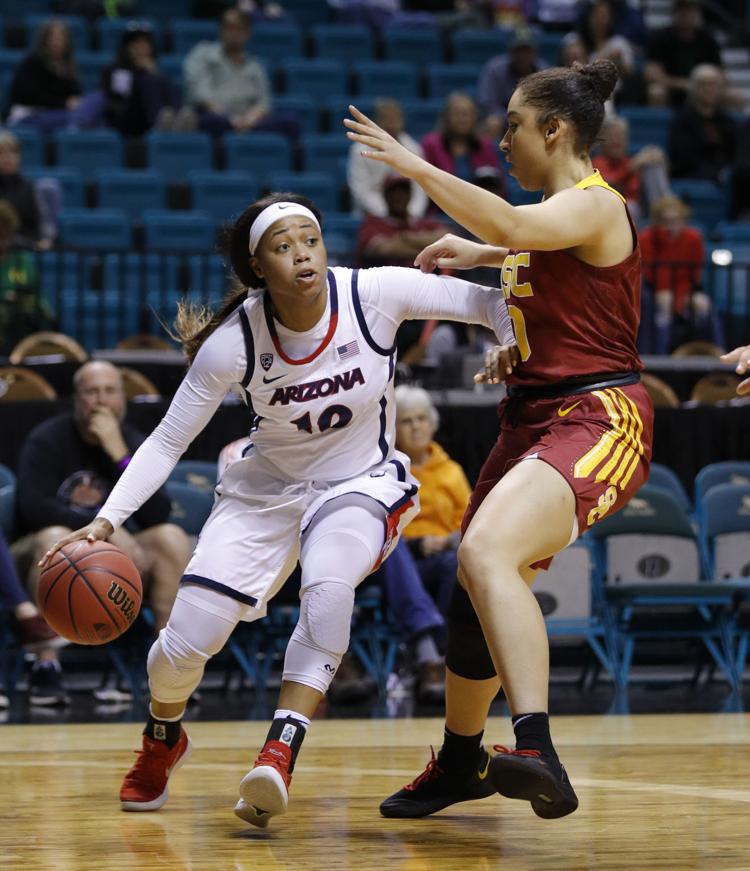 Reese scored 11 points in the second quarter, including a 3-pointer from the top of the key with 32 seconds remaining, as the Wildcats opened a 44-21 lead. USC made only 1 of 16 field goal attempts in the second quarter.
"They defended us well," USC coach Mark Trakh said. "They ran their offense well. They have a kid (McDonald) who is really hard to guard, and we tried."
Mariya Moore, who averages 13.1 points a game, led USC with 12 points but she was only 2 of 14 from the field and 1 of 8 from 3-point range while being covered by Thomas. Kayla Overbeck had 11 points.
"I just wanted to run (Moore) off the line," Thomas said. "I was trying to do whatever I could to make her miss."