HARTFORD, Conn. — Some 45 minutes after Arizona picked up its biggest win of the season Sunday, the only people remaining in the XL Center were employees, media and about 20 folks who kept chatting happily near where the Wildcats' bench was.
Brandon Randolph's family and friends couldn't get enough. Their guy had led the Wildcats to a 76-72 win over UConn by scoring 20 points that included seven clutch free throws down the final 2:13 minutes.
And all of this happened just 108 miles away from Yonkers, N.Y., the first time the Wildcats have played within driving distance of Randolph's hometown during his UA career.
As the group finally headed upstairs toward the exit, Randolph's mother Robin, beamed.
"It worked out well," she said.
For her son, though, it wasn't just about playing near home. It was also about playing on the road, with his teammates, and in front of a vocal near-sellout crowd that matched McKale Center at its best.
There were four lead changes and four ties, but all in the first half. On 10 different occasions in the second half, the Huskies cut Arizona's lead to a single possession, and yet the Wildcats never lost the lead.
Never even fell into a tie after halftime.
"This was just a test for our season," Randolph said. "We stay together, you know."
Even though it was the Wildcats' first true road test, their Maui Invitational experience had them prepared. Fans at the tiny Lahaina Civic Center are more on top of the court than in the wide-open XL Center and it was especially notable in the Wildcats' first Maui game, when roaring Iowa State fans dominated the crowd of 2,400.
After that, the Wildcats had to play top-10 teams Gonzaga and Auburn.
"I think Maui kind of set us up for this because of the environment," junior center Chase Jeter said after Sunday's game. "That was such a small gym and with the intimacy of the fans with our crowd and the opposing teams' crowds, so we knew what to expect coming in."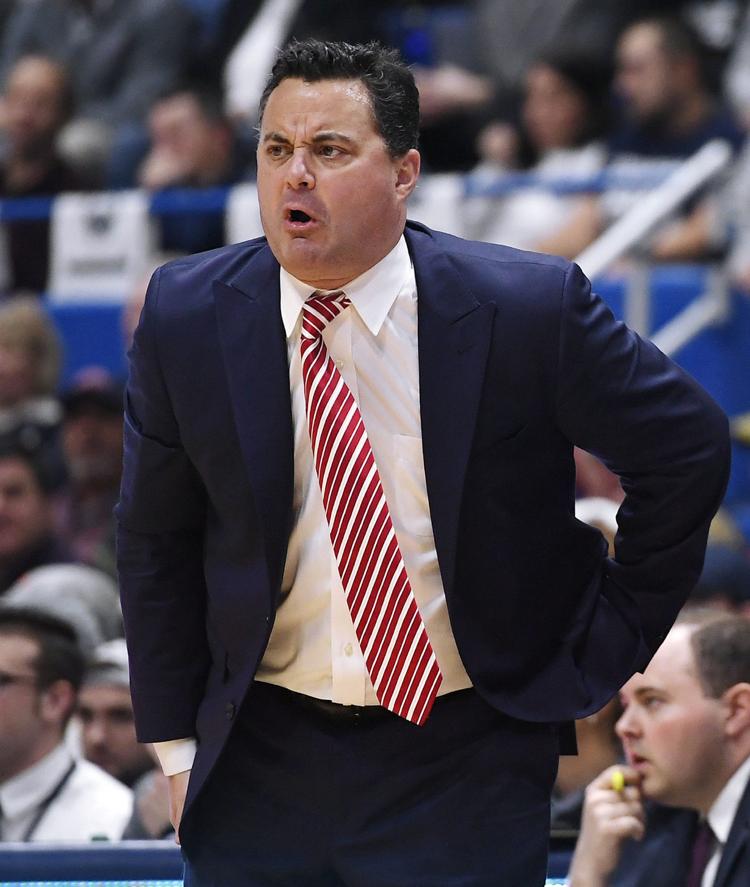 After Sunday's game, UA coach Sean Miller was in an unsurprisingly upbeat and relaxed mood, having pulled a win out of what was mostly just supposed to be a good test for a team still working in an entirely new rotation.
Miller didn't use a deep rotation, but his bench was productive. Ira Lee had three rebounds, two steals and a block in 11 minutes, while Alex Barcello had two points and an assist in four minutes. Dylan Smith hit his first 3-pointer outside of McKale Center this season, going 2 for 5 from long range while collecting five rebounds over 10 minutes.
And forward Ryan Luther, out of the starting lineup for the second straight game, managed 10 points and four rebounds in 20 minutes while working his way back from a finger injury suffered in Maui.
Asked how Luther's attitude was about coming off the bench, Miller spoke positively of all his veteran leaders: Luther, Jeter and point guard Justin Coleman.
"One of the strengths of our team this year is that we have a very unselfish group," Miller said. "Those guys buy into what we're trying to do and you can kind of see it. Ryan and Justin Coleman are new players to our team but they're all older.
"I thought today each of those three guys really delivered and played with a lot of poise. You could sense their leadership. I'm happy for those guys."
In turn, they were happy with the younger players. Especially Jeter, who fouled out with 2:26 left and could only watch while UA went to the free throw line 13 times.
The Wildcats made 12 of those free throws. Randolph was 7-for-7 and freshman Brandon Williams polished the game off by hitting two free throws with four seconds left.
"Young guys hit big free throws, so it was a great win for us," Jeter said.
The Wildcats will try to pull off the same trick this week, hosting Utah Valley on Thursday at the same time that they played Georgia Southern last Thursday.
Then, just like last weekend, they'll hop on a charter flight Saturday to play a game at the same 11 a.m. Arizona time on Sunday.
The next Sunday opponent will be Alabama, and chances are pretty good the Wildcats will be ready for that road game, too.
"There's no question this week kind of mirrors next week," Miller said. "We have a really tough test in Utah Valley, a lot like Georgia Southern. They're winning games and they're a very good team."
Rim shots
ASU (7-0) jumped into the Associated Press Top 25 poll at No. 20 on Monday, while Arizona picked up the 36th most votes overall. The Sun Devils replaced Oregon as the Pac-12's only representative in the Top 25, though Arizona (12), Oregon (3) and UCLA (3) all drew votes.
In the USA Today coaches Top 25, ASU also moved to No. 20 but UA did not receive any votes.
Arizona moved from 24 to 19 in the NET rankings after the win over UConn. ASU (11) and Arizona are the Pac-12's two highest rated teams in the NCAA's new metric.
The Wildcats are No. 22 in the Sagarin power rankings and No. 47 in Kenpom.