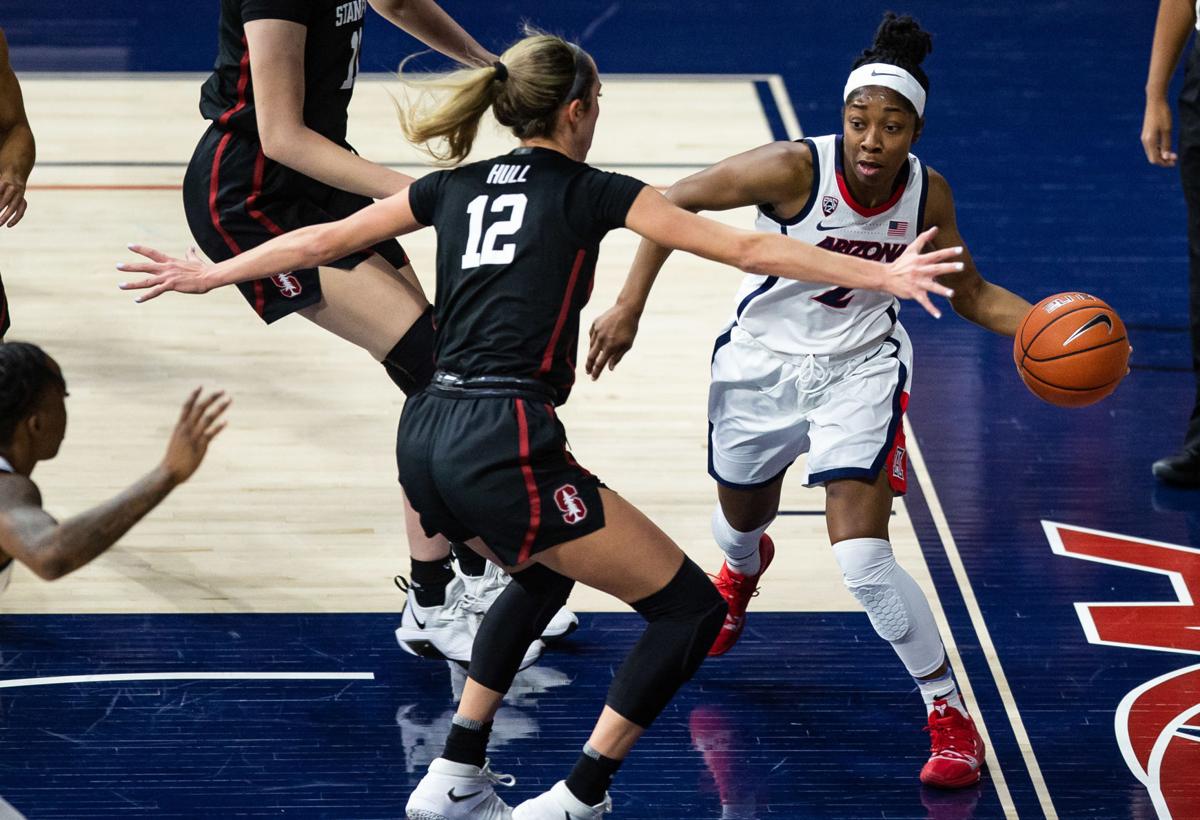 When Arizona coach Adia Barnes wakes up Monday morning, she'll go through the same routine she always does on game day.
But this won't be just any game day.
The No. 10 Wildcats visit No. 6 Stanford in a battle of the two best teams in the Pac-12. The winner has the inside track on claiming the league title, and it's the first time in the five years Barnes has been at the helm that the Wildcats have been in the conversation as one the best teams in the league.
Still, for Barnes it's just a game.
"My philosophy is never get too high or never get too low — just treating every game the same," Barnes said. "Because as a player psychologically, if you treat one game bigger, some people rise, some people fold. It's just better to treat it like that. … For us it's like any other game."
Arizona (15-2, 13-2 Pac-12) and Stanford (20-2, 17-2) will face off at 7 p.m. on ESPN2. The broadcasting team of Beth Mowins and Deb Antonelli will be on the call.
As Arizona looks to extend its seven-game winning streak, it is also trying to overcome the hurdle of beating Stanford at Maples Pavilion for the first time in 20 years. A win would give UA a 14th league win for the first time in 17 seasons.
Barnes doesn't like to think about all these stats, although accomplishing them would be nice. Instead, the Wildcats are focused on avenging an 81-54 loss to then-No. 1 Stanford at McKale Center on New Year's Day.
In this unusual season that has featured numerous postponements, the Pac-12 is looking at win percentage for their regular-season champions. The winner of Monday's game will be the driver's seat.
A year ago, UA beat Stanford 73-72 in an overtime game at McKale. It was an upset and an important step in the Wildcats' growth. Now, they have a shot at taking another big step.
Barnes' message to her team is that they control their own destiny. While this year has been one of unchartered territory for the Wildcats, against Stanford they find themselves back in a familiar position, with no real pressure. Stanford has more to lose as the higher ranked team that on paper is supposed to win.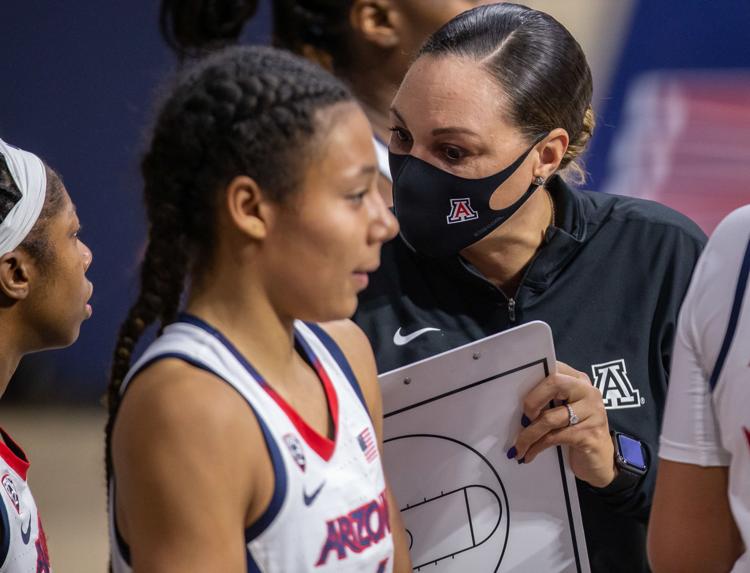 Barnes didn't expect to be here when the season started. This game was never circled on the calendar as a game with such meaning. It was always just another opportunity to play on an ESPN channel — the Wildcats' third this season.
"No, I didn't know what to expect," Barnes said. "I knew we'd be better than last season, but I didn't think we'd be 15-2 and 13-2 in the Pac-12. But, it feels great. We've worked so hard all year to put ourselves in this position. We have a chance to do something special. Our goal is to win out.
"Stanford has dominated for so long and kicked our butts a month ago. But, on any given night we can beat anyone in the country."
Both teams come in at the top of the conference in scoring defense and field goal percentage defense. Arizona is allowing opponent to score 55.7 points; Stanford is at 54.1 points. UA is holding teams to 36.6% shooting: Stanford is at 33.3%.
The Wildcats are leading the Pac-12 in steals per game at 10.2.
Yet, former UA coach and Pac-12 analyst Joan Bonvicini said that Arizona's "elite defense" really isn't about the steals.
"The steals get talked about a lot, but for me they are the results of the tips and deflections," Bonvicini said. "It's their disruption of their opponent's offense. They are in the other team's head before they start playing."
Most of those tips come from the Wildcats' length — the long arms of Sam Thomas, Helena Pueyo and Bendu Yeaney.
Defense is where is all starts for Arizona and it's the first thing Barnes talked about when sharing the keys to beating Stanford.
"We need to play Arizona defense: Defend the 3-point line better (than last time out), contain the posts inside and box out and rebound," Barnes said.
On the other end of the court, it will have to be a more balanced attack, with multiple players sharing the scoring load.
In last week's 75-53 win over Washington, UA hit a record 75% or 12 of 16 from the 3-point line — the second-best percentage of any team in the nation this season. While, Barnes isn't expecting a repeat performance, she did say that they have to bounce back from Friday's 3-of-15 outing against Cal.
Stanford coach Tara VanDerveer, who is known for playing the percentages, won't be guarding them on the perimeter.
"We have to play the way we play — play as a team and have a balanced attack, not just Aari scoring," Barnes said. "We have to be in attack-mode on each possession. Take shots we want, not the shot they dictate."
As someone who has won her share of league titles among her more than 700 wins as a coach, Bonvicini said it's never easy, and even harder this season with the extra challenges of playing during a pandemic.
"It takes a lot of mental preparation, you have to be really focused," Bonvicini said. "Adia has done a fabulous job in a very difficult year. I can't imagine having to prepare for a game then not knowing if you will actually play until the day of the game.
"Adia and her staff have done an exceptional job keeping her players engaged.
"To beat Stanford, they have to stay in the moment and not take any plays off. I learned early on that you can't beat Stanford playing their style. To beat them you have to do it different. You have to pressure them, slow them down and make them take tough shots.
"Can Arizona beat them? Yes. It will take an exceptional effort, but that's how you win big games and championships."