LAHAINA, Hawaii — For the first time this season, the effects of Arizona's year-plus off-court issues became visible to the rest of the college basketball nation.
Arizona played up to its usual reputation for much of two games against top-10 teams in the Maui Invitational for about 30 minutes, but couldn't sustain it.
The Wildcats lost 91-74 to third-ranked Gonzaga on Tuesday after holding a 13-point lead early in the second half, and lost 73-57 to eighth-ranked Auburn on Wednesday after trailing by just two with 10 minutes left to play. It was a far cry from a year ago, when Arizona was ranked No. 2 nationally heading into Thanksgiving.
"We were the furthest team from a team that could finish," UA coach Sean Miller said. "Sometimes that's depth, sometimes that's talent, sometimes that's a little bit of everything, (including) coaching."
Maybe that sort of thing is inevitable when you lose all five starters and replace them with an incoming class that was significantly impacted by the federal investigation into college basketball. There's only so much fuel left on the UA roster, and in November, everybody is still working into new roles.
In both losses, the UA's defense faded late, and its bench provided little help.
"I think right around the eight-minute mark it was a game that could have gone either way if we play well down the stretch," Miller said Wednesday night. "But we didn't. We didn't have enough in either game and we were obviously playing against two really, really talented teams, well-coached teams and experienced groups as well."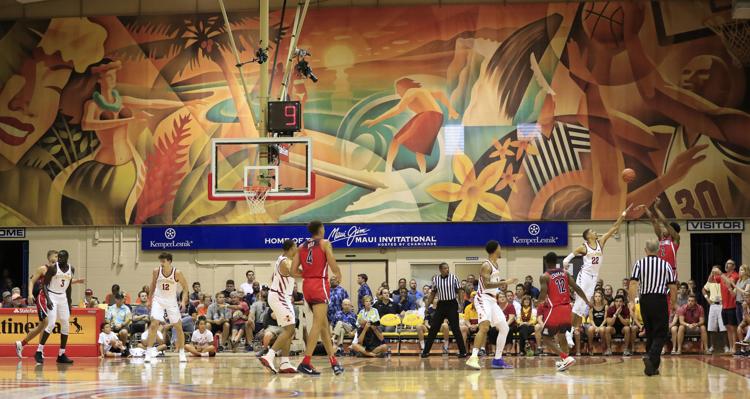 Asked if playing two Top 10 teams in a row was maybe too much to ask of his retooling team, Miller said "evidently so," but also said the Wildcats played some "really good basketball" in stretches against both Gonzaga and Auburn.
There just weren't enough good stretches. Arizona had problems with 13 turnovers in the first half, and broke down defensively in the second, allowing Auburn to shoot 69.6 percent in the second half.
After UA pulled to within a 50-48 Auburn lead, the Tigers went on an 16-3 run to take control of the game and their dunk show began.
"We really held them in check for about 24-28 minutes," Miller said. "And then they finished. But that's what they do."
UA was led against Auburn by Brandon Randolph, with 18 points and five rebounds, and Justin Coleman, with 16 points and five assists.
Totaling 62 points over the three-game tournament, Coleman made the all-tournament team along with Auburn's Jared Harper, Zach Norvell Jr. and Rui Hachimura of Gonzaga, and RJ Barrett and Tre Jones of Duke.
"He was outstanding," Miller said of Coleman. "If he didn't play the way he played, I'm not sure where we would have been in any of the games."
Trailing 28-22 at halftime against Auburn, the Wildcats tied the game at 31 just 84 seconds into the second half by hitting 3 of 3 3-pointers, getting two from Randolph and another from Brandon Williams.
Arizona had a chance to go ahead when Williams broke free for a layup but he missed and Auburn quickly took advantage: Bryce Brown hit a 3-pointer on the other end while Chuma Okeke later scored inside to put the Tigers up by five.
Miller said the Auburn game played out similarly to UA's loss to Gonzaga, when the Wildcats led by 13 points early in the second half before the game slid quickly in the Zags' favor.
Center Chase Jeter, who had 14 points and five rebounds against Auburn, indicated a more even mentality would help.
"I think one of the things we need to work on is not getting too excited when good things do happen and kind of carrying that same fight to the end of the game," Jeter said. "The biggest thing we need to learn is that there's 40 minutes in a game."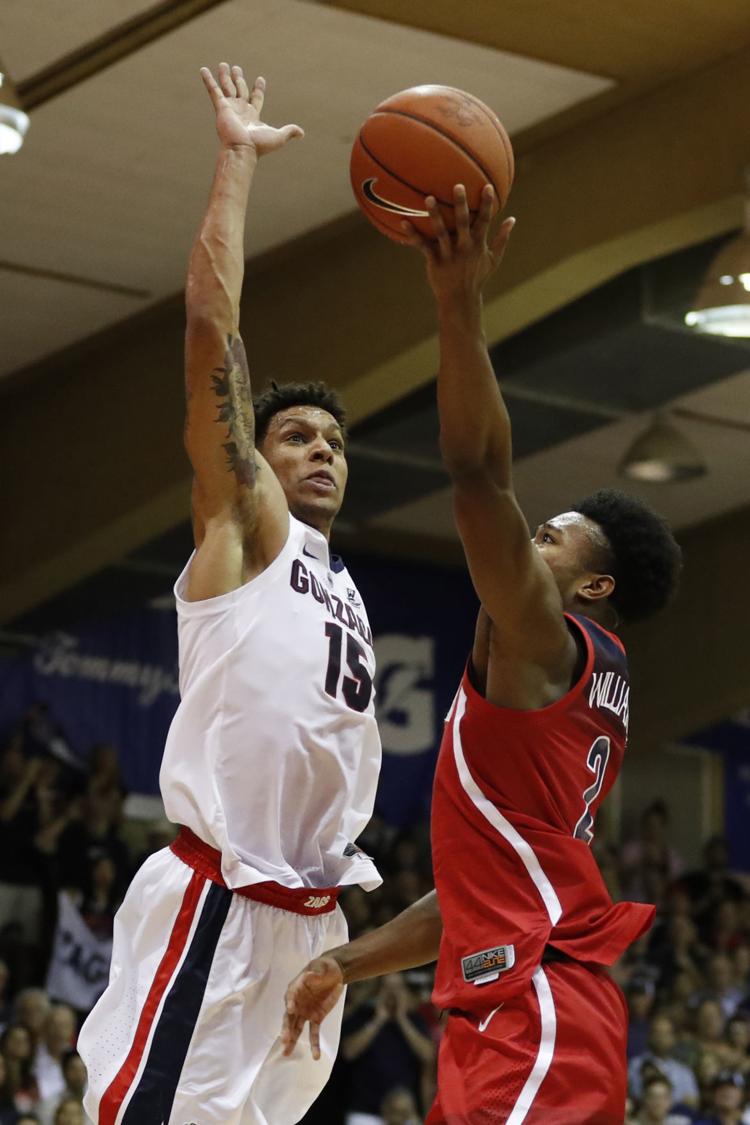 However, the Wildcats haven't been getting enough from their bench to sustain a 40-minute game, while starters Ryan Luther (0 for 3) and Williams (2 for 7) had rough shooting games. Auburn's bench outscored UA's bench 33-4 after the Wildcats' reserves scored just nine of UA's 74 points against Gonzaga.
"That's the key to our success, when we go to the bench and we don't drop off," Auburn coach Bruce Pearl said.
Arizona's Emmanuel Akot was just 1 for 3 off the bench, missing his only 3-pointer, while Dylan Smith missed all three 3s he took. Alex Barcello and Devonaire Doutrive did not score in brief appearances.
"We need to get a couple players who aren't starting the game, our bench, to help us, contribute," Miller said.
With Coleman, Randolph and Jeter doing the bulk of the offensive work, the Wildcats still managed to keep Wednesday's game mostly within two possessions until the final nine minutes.
Coleman hit three 3s within two minutes to pull UA within 50-48 with 10:14 left. But that was the last of it. Auburn then began its game-sealing run by getting an inside basket and an emphatic dunk from Malik Dunbar, his jam coming off a turnover from Ira Lee.
In all, Auburn scored 24 points off 19 UA turnovers while the Wildcats' defense also sagged in the second half. In the first half, the Tigers scored 13 points off 13 Arizona turnovers to take a 28-22 halftime lead.
"Auburn, they turn you over, that's what their defense does," Miller said. "When you play them you have to dribble the ball, you have to drive it. They don't let you play a certain way, and you have to be able to adjust."
Five of the UA's first-half turnovers were a result of offensive fouls, and that trend started right away. Williams was whistled for an offensive foul just 12 seconds into the game and Coleman had the same fate a minute later. The Wildcats had seven turnovers over the first eight minutes of the half, helping Auburn to take a 14-5 lead.
After Arizona cut Auburn's lead to just 24-22 with 3:31 left in the first half, it happened all over again: Randolph and Williams were both whistled for offensive fouls in the last 48 seconds of the half, prompting UA fans to boo the officials heading into halftime. Miller, not surprisingly, also appeared displeased.
Playing with a bandage over his right eye, Jeter led the Wildcats in the half with nine points and four rebounds. Coleman had seven points while making 3 of 4 field goals.
Rim shots
Four-star wing Terry Armstrong signed with Arizona on Wednesday during a ceremony in his hometown of Flint, Michigan, officially giving the Wildcats all of their four-player fall 2019 recruiting class. Three-star center Christian Koloko signed with the Wildcats on Sunday, according to his sister, Stephanie, while five-star guards and Nico Mannion (Nov. 14) and Josh Green (Nov. 16) signed last week. Arizona has not announced the signings. Miller said last week he might discuss them together later.
Now 4-2, Arizona won't play again until it hosts Georgia Southern on Nov. 29, then the Wildcats travel to play UConn at Hartford, Conn., on Dec. 2.