It's a new day at McKale Center.
And even though the Arizona Wildcats have been picked to finish 10th in the Pac-12 this season, there is plenty of optimism to go around.
It's one of the reasons why the Pac-12 Networks focused on the Wildcats' recruiting class — and not Stanford, Oregon or Oregon State, the usual suspects — at Pac-12 media day earlier this month. And it's why the network then sent a crew to Tucson to film a feature on coach Adia Barnes for its "Our Stories" program, which features compelling stories throughout the conference.
Just how compelling the Wildcats will be in 2018-19 remains to be seen. Barnes said she knows how difficult it is to move up even a few spots in the Pac-12, but is certain of one thing: The team will improve on its 2-16 conference mark from a year ago.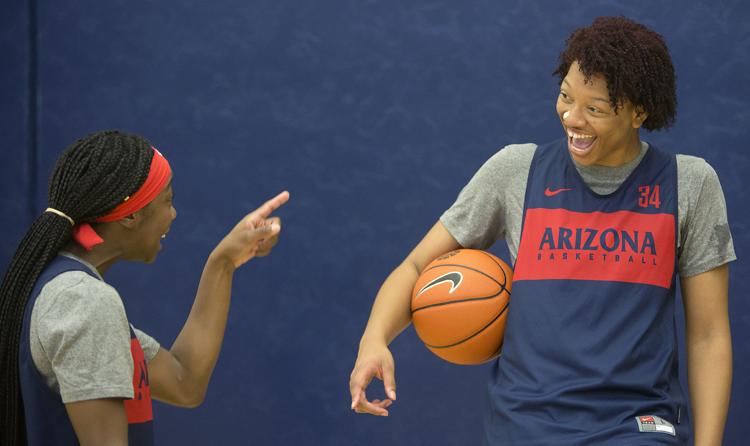 The freshmen
As Barnes endured the toughest year of her coaching career, there was one bright spot. She signed the nation's fifth-ranked recruiting class, the best in program history.
The first player to verbally commit was four-star forward Shalyse Smith from Tacoma, Washington. Then came Bryce Nixon, Cate Reese — the program's first McDonald's All-American — and Semaj Smith.
They arrived on campus this summer, and their impact is already apparent. The Wildcats' returners have matched their intensity in practice.
"We're really competitive — even in our drills we are going extra hard, making improvements," senior guard Lindsey Malecha said. "Being competitive like this is making everyone better as a team."
Barnes said she's already connected with the newcomers.
"I see a lot of me in Cate. She's so competitive. I love that, and that's a lot of how I was," said Barnes. "Bryce is a great kid. She comes from a great family — she really cares about the team. So, all those things that fit into our culture, they all do that. Semaj, I've known her for a long time. I know her mother. She's also a really good kid at the core. Shalyse, I've know her since seventh or eighth grade. I recruited her at Washington. So, I do have a connection with all of them."
Each one brings a needed skillset on the court. They can all shoot, and Nixon in particular is a knock-down shooter from outside. The 6-foot-6-inch Semaj Smith gives the Wildcats a post presence. Shalyse Smith is fearless, Barnes said, when driving to the hoop.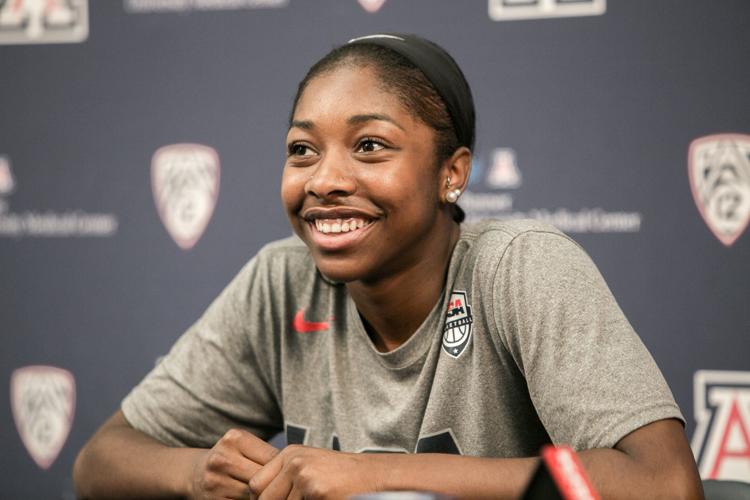 The transfers
If the freshman class is changing the culture, then it's the transfer class — Aari McDonald, Dom McBryde and Tee Tee Starks — that's changing just about everything else.
"We're improved. We have more depth, but we still have a way to go," said Barnes.
"There's so much stuff we are putting in and we're really young. Getting a grasp on all that is taking time. But with Aari playing and Dom and Tee Tee, it really changes things."
McDonald (Washington), McBryde (Purdue) and Starks (Iowa State) all joined the Wildcats a year ago, but had to sit because of NCAA transfer rules. The time gave Barnes some time to change her strategy.
Because of McDonald's speed, Barnes has changed the defensive scheme to be more aggressive. McDonald should draw in the defense, giving teammates Lucia Alonso and Sam Thomas better shots.
"Aari makes everyone on the floor better," said Pac-12 Networks analyst Mary Murphy.
"McDonald's influence is so dramatic. She played on a very good team at UW with (Kelsey) Plum, (Chantel) Osahor, and (Katie) Collier and learned a lot playing with them and watching them. She has experience in big games that matter. She's bringing a lot to the program that they don't have."
Starks could be the Wildcats' best lockdown defender, and McBryde is the team's best post player as the season opens. Barnes praised the forward's "old-man game."
"She should be one of the best post players in the league. That's how highly I think of her," Barnes said. "She changed her body, she got stronger, and she really improved. For us, how we play and what we do, I think her game is going to excel more."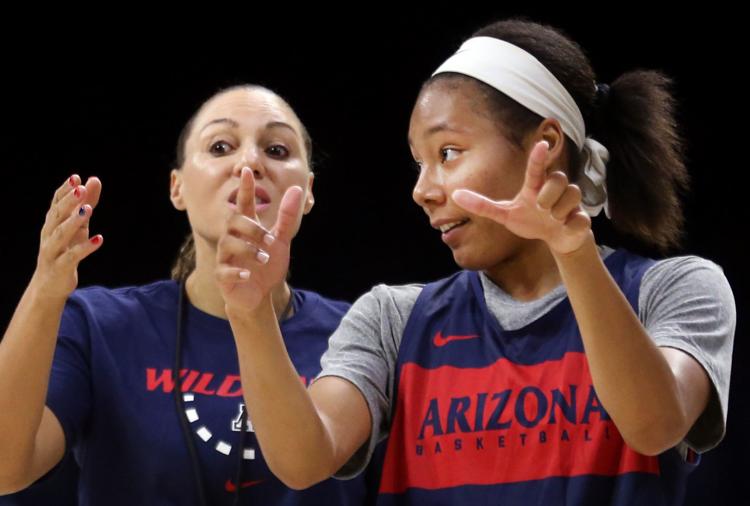 The returners
The Wildcats return five players — Alonso, Thomas, Malecha, Destiny Graham and Kiana Barkhoff — from last season. Barnes said each one has improved.
Thomas did it all in 2017-18, leading Pac-12 freshmen in rebounds, steals, blocks and minutes played. She finished second among freshmen in scoring, and was the only player in the Pac-12 — regardless of age — to finish in the Top 10 in rebounds, steals, and blocks.
"What Sam did last year is terrific," Murphy said. "She played 36 minutes per game without fouling out. She was competitive and as much pressure was on her, she averaged 10 points and her 3-point shooting at 37 percent stands out. She has only scratched the surface."
Barnes said she's excited to get started, in part to show off her players — the new ones, the transfers and the returners.
"We have something special, and when you are not at the top, you are selling a vision," Barnes said. "All these players want to come to war with us. They believe in that vision. They believe in what we have potential to do, so they want to come do it. That's what I love about them. That's why I came to Arizona and Joan (Bonvicini) got me to come here — it was to build a legacy. And we did that. These players all want to do it, and that's why I'd love to go to war with them."