All season long, the Arizona women's basketball team believed it could win. And win a lot.
The Wildcats didn't let the outside noise of being picked to finish near the bottom of the Pac-12 get to them. They set out to prove to anyone listening that this team was different — it was good.
Sunday afternoon, in front of a crowd of 3,534 — some of whom were still trickling in during the second quarter — they took another step forward, reaching 20 victories on the year by crushing Pacific 64-48 in the second round of the WNIT.
The UA will be back at McKale Center for the WNIT's third round — the Sweet 16 — at 6:30 p.m. when it hosts Idaho (22-11).
This is the first time in 21 years that Arizona has won two tournaments games. The last team to do it was the 1998 team that went to the Sweet 16 of the NCAA Tournament.
The UA (20-13) has won 14 more games than last season, already the biggest one-season turnaround in team history.
The fired-up Wildcats came ready to play.
"They weren't going to lose," said UA coach Adia Barnes. "In shoot-arounds I made it a little bit shorter and not as much running. They were really pumped. I think the problem for us in this game is they were so hyped.
"Their energy was great. I think they were super excited — which I like to see, but at certain times they were going for really tough plays. Aari (McDonald) pass to Tee Tee (Starks) — we're going for million-dollar passes — not just the easy pass. But they were out there having fun."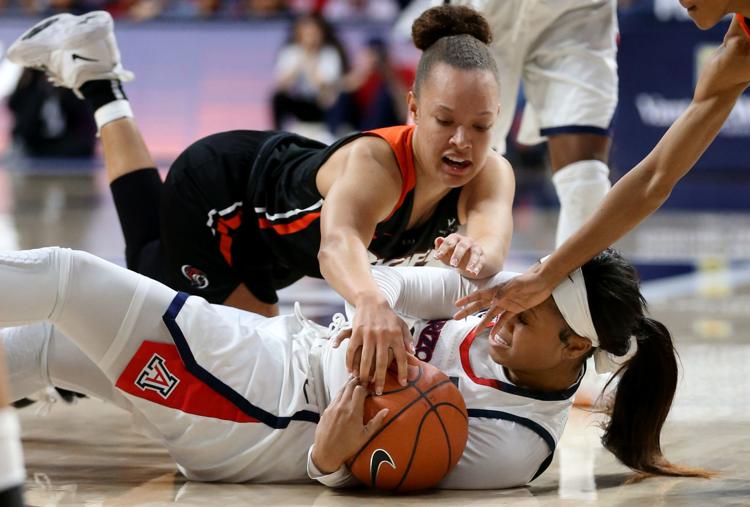 McDonald finished with 20 points, 12 rebounds and seven assists. This gives McDonald a total of 809 points this season, moving her into rare company as only the fourth player in Pac-12 history — along with Washington's Kelsey Plum and Stanford's Chiney Ogwumike and Nnemkadi Ogwumike — to score more than 800.
"That's a lot of points," said Barnes. "She's a great player. I could never dream of scoring 800 points in a season. She's hard to guard, and remember that's a lot of points with three, four, five people sagging on her. You see when she drives in the lane, there are three, four, five people collapsing. Aari is able to do that, despite that."
Pacific (19-13) hung around and trailed only 35-29 at halftime. The Tigers got as close three in the third quarter, but the Wildcats pulled away after that.
Once again, it was the Wildcats' relentless defense that dialed it up a notch to take it home. Late in the third, Dominique McBryde came up with a steal that flipped the switch for the Wildcats. McDonald scored and drew a foul as the Wildcats went up 47-40.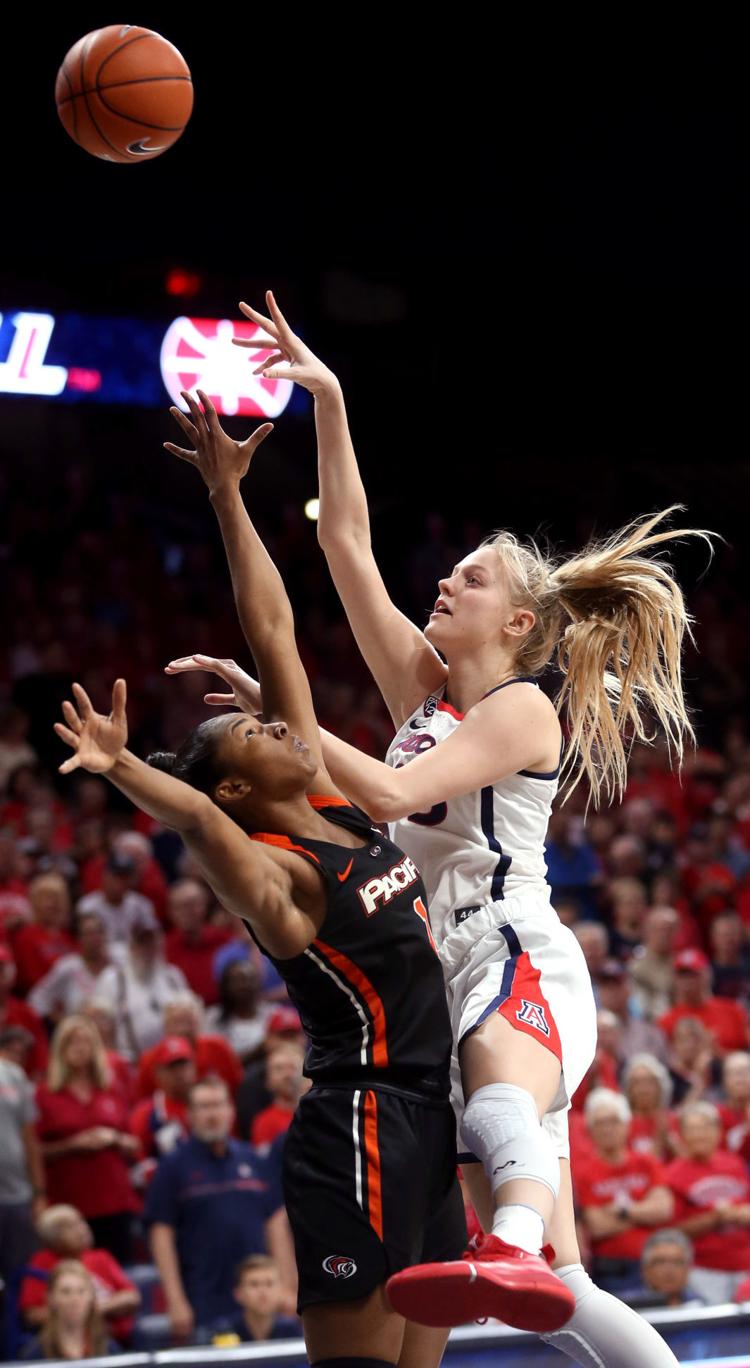 The defense took over from that point. McBryde altered shots and forced the Tigers to throw passes out of bounds or travel. Sam Thomas blocked shots, and Lucia Alonso tipped passes as it all came together.
"We knew we were better than this team and we weren't necessarily playing like it in the first half. But we knew we had to dig deep and come out and play like we were capable of playing," said McBryde, who sat out Thursday's game against Idaho State with an illness.
"We all believe we can win this tournament and I think that's what's getting us going. Coach Adia always talks to us before the game and says that 'whoever we're playing just to punch them in the face.' We take that mentality and just run with it."
The UA held Pacific to 30 percent shooting from the field and just 18.8 percent in the fourth quarter. The UA shot 42.9 percent overall and outrebounded the Tigers 46-36.
Cate Reese followed up her 20-point game on Thursday with 16 points. She scored four consecutive times in the beginning of that fourth quarter as the Wildcats pulled away.
"I was proud of the fact that we executed, trying to get the ball inside in the second half," said Barnes. "We asserted ourselves inside. We said we are pounding it in to this specific position and we scored off of it. I thought Cate did a tremendous job at asserting herself and saying 'I'm going to score this basket.'
"We kept running the same play and they couldn't guard it. We scored like four times in a row. She was playing strong. Cate, three months ago wasn't finishing strong. It showed tonight.
"To have Lucia and Dominique come off the bench, it's pretty special. Our big thing with our team is leave a legacy ... so they are starting to do that. I just want them to keep on going and they want to win the WNIT.
"That's our goal and we're trying to get there. It's one game at a time."
Rim shots
• UA's Bri Felix, the assistant director of operations, earned some bragging rights. Her brother, Paul, is the Pacific men's basketball team's assistant director of athletic performance.
• Arizona had 38 points in the paint and got 21 total points from its bench players.