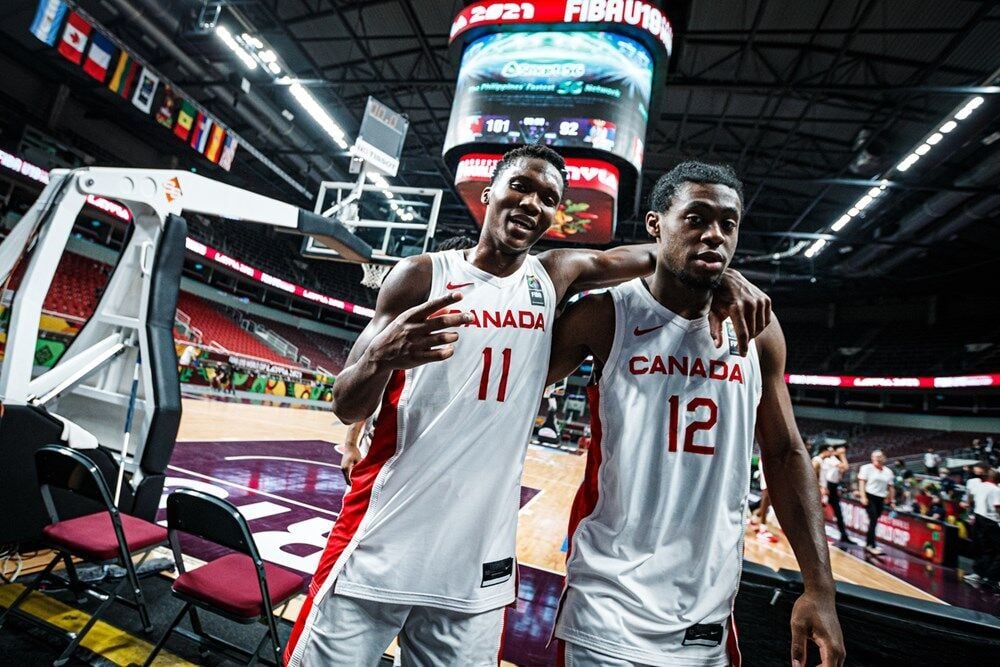 Leaving Tucson a month ago to train with the Canadian senior national basketball team, Arizona's Bennedict Mathurin wound up making the best of an alternative route.
First, Mathurin was bumped down to Canada's U19 team from the senior team, which wound up losing an Olympic qualifier anyway, and instead assumed a leading role on his country's top junior team for the FIBA U19 World Cup in Latvia.
And then, after Canada lost to USA in the U19 semifinals on Saturday, Mathurin made sure the Canadians at least brought home the bronze by exploding for 31 points in a 101-92 win over Serbia on Sunday in Riga, Latvia.
"It's pretty important for the country," Mathurin said via FIBA communications. "The senior team was not able to qualify for the Olympics so we had to represent the country well."
While the USA (7-0) pulled out an 83-81 win over France to win the gold Sunday, Canada (6-1) almost lost a chance to finish on the medal stand for only the second time ever in U19 World Cup play.
The Canadians, who won the U19 event in 2017, this time lost 92-86 to USA in a semifinal game Saturday, then blew a 15-point lead in the third-place game Sunday.
Canada led 45-30 with 5:55 left in the second quarter, then slid all the way to a 63-52 deficit with seven minutes left in the third quarter before reviving thanks in part to Mathurin's efforts. The game was tied at 74 entering the fourth quarter, during which Mathurin poured in 10 points to help Canada go on runs of 10-2 and 11-0.
Mathurin hit 11 of 15 shots and made 9 of 10 free throws, while collecting three rebounds and two steals. Earlier in the tournament, the UA wing also had 30 points on 11-for-15 shooting against Japan.
"I feel pretty good," Mathurin said. "It's not what we wanted but we got third place. Third place is better than fourth place. So, we'll take it. We're not done. We all have a bright future. It was amazing."
Even after Canada lost to USA on Saturday, Mathurin expressed an upbeat outlook. He said then that his team had suffered somewhat because he, Purdue center Zach Edey and Alabama-bound center Charles Bediako all worked out with the senior team and consequently had only a limited amount of time to mesh with the U19 team.
"I feel like we did a great job of fighting through, going to another country and competing," Mathurin said. "It was a sacrifice but we did a great job overall."
The USA also had a short time frame to get ready for the U19 World Cup, inviting a group of 26 players, including UA's Dalen Terry, for a two-day tryout starting on June 20, then cutting down to 17 and then 12 and leaving for Latvia — all within a week.
Shortly after a long-delayed arrival into Latvia, the Americans then lost an exhibition game to Australia 78-72 before the World Cup began but pulled together to win all seven games in the event.
"It was a grind but we had enough down the stretch," said USA coach Jamie Dixon, the head coach at TCU. "This was hard to go through, to make cuts, pick the team and it was hard becoming a team. We were not a team when we got here. We became a team."
Gonzaga-bound center Chet Holmgren of the USA was named the FIBA U19 World Cup MVP, while teammate Kenneth Lofton of Louisiana Tech joined him on the all-tournament team along with Victor Wembanyama of France, Nikola Jovic of Serbia and Canada's Edey.
Although Mathurin and UA teammate Azuolas Tubelis did not make the all-tournament team, they were among the top scorers in the event.
Mathurin finished seventh with an average of 16.1 points while Tubelis finished fifth with an average of 16.6 points after after collecting 20 points and 15 rebounds in Lithuania's 86-81 loss to Spain in the fifth-place game Sunday.
Tubelis also finished in a tie with UA teammate Oumar Ballo of Mali for the fourth spot in rebounding (8.9). Ballo finished second in blocked shots (2.9) behind only Wembanyama (4.7).
During his final game Sunday, Ballo collected 13 points and nine rebounds to lead Mali to a 95-92 win over Puerto Rico. Mali finished in 13th place at 2-5 after losing its first five games, while Lithuania finished sixth at 4-3.