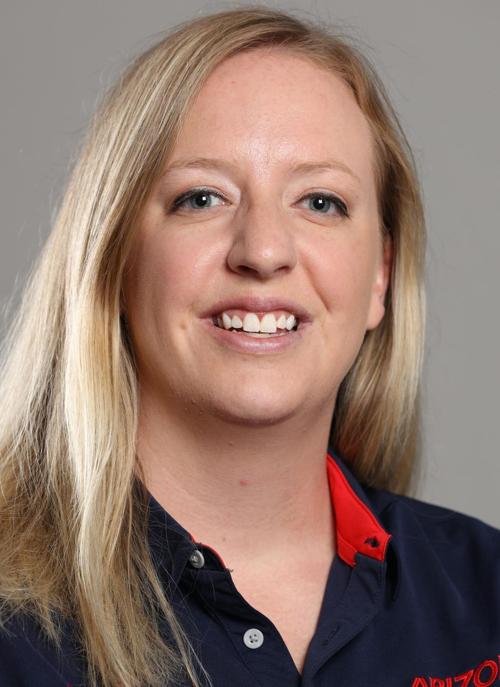 Jessie Johnson's day actually starts the night before.
That's when Johnson, an associate athletic trainer at the UA, sends the Wildcats women's basketball players a reminder about COVID-19 testing the next morning — usually around 7:30 a.m.
Johnson never imagined she'd the COVID-19 protocol police. But in a pandemic, she and others are doing whatever it takes.
"I wish my role was less of, 'Hey, are you wearing your mask? Are you wearing your mask? Did you come to testing on time?' It's a lot of that," Johnson said. "I know everybody kind of dreads when they get that text from me what time testing is the next morning. … They know the deal; they are all used to it. They show up, they get their swab in their tube, they go to work and they turn them in.
"… It's more to the point now like we're all we've been doing the (tracking) chips, masks and testing for a while … now we can joke about it. My goal is to keep it light, like, 'I know this is annoying, but we're here and we're still playing. So that's great. Carry on.' They've got a pretty good attitude, like, 'Hey, if we're going to the (NCAA) Tournament, this is what we got to do. OK, why not?'"
The Wildcats are playing in the NCAA Tournament for the first time in 16 years in part because of the way they were able to navigate their season amid a pandemic. Arizona made it through the regular season will no COVID-19 cases among players, though they missed three games in January after someone else within the program tested positive.
Their reward: A berth in the postseason, starting with Monday's first-round game against Stony Brook in San Antonio.
So far, the NCAA Tournament's protocols aren't that different from what the Wildcats are used to. They will use SafeTags for contact tracing and to remind them to stay at least six feet from each other.
In San Antonio, each team is housed on a separate floor and elevators are timed so teams can go straight from their floors to a secure corridor to access the convention center or COVID-19 testing. Each Wildcat has her own hotel room and can't go into any of her teammates' rooms — a change from the season, when players doubled-up on the road.
The UA's traveling party quarantined for 24 hours after arriving in San Antonio earlier this week. To ease the boredom, the Wildcats had a game night Thursday. UA assistant Tamisha Augustin brought her PS5 and senior forward Trinity Baptiste came with extra books to read.
Johnson won't be administering tests at the NCAA Tournament, but — just like during the regular season — she'll make sure the Wildcats are in line during their allotted testing slot.
"I'm herding cats," Johnson said with a laugh. "At the Pac-12 Tournament, it was the first time I wasn't in charge of coordinating and testing. On the road during season, it's me reaching out to the other athletic trainer and we coordinate together. Sometimes it's me hopping in Uber to deliver the test to the lab or it's just bringing tubes to practice and we do a little trade-off."
Johnson has taken on the extra duties in part because she wants the Wildcats' athletes to stay safe.
"If we're going to put athletes in a situation where it's full contact, I want to make sure we're doing it safely — and that they're protected," she said.
Johnson said she's "really proud" of the Wildcats' players.
"I know this year has been hard. It's a year like unlike any other and it can be rather isolating. But they still have just stuck to it," she said. "They've been smart when they're not around because I can control what they do in the building. I'm the mask police, like 'Keep your distance' and all that. But as soon as they leave this building, they're a free person, they can do whatever they want.
"I just am so happy and relieved that they're really driven for the season. … I just appreciate that they helped me make my job a little bit easier. Because they took this seriously."
Rim shots
UA forward Sam Thomas reacted to social media posts that have shown the differences in weight rooms between the women's and men's teams at the tournament. She said if people really "want to support us and help make a difference, then they have to support us and actually watch our games. Talk about us outside of everything that's happening that's unfair to us, talk about how great women's basketball is, talk about anything positive about women's basketball because I think that's honestly, at the end of day what's going to make a difference. Friday afternoon, Dick's Sporting Goods packed up truckloads of fitness equipment and was ready to deliver to the tournament. The NCAA has said it plans to have improved weight facilities open to players by Saturday morning. That isn't the only controversy raging at the tournament. UConn coach Geno Auriemma, who is not on-site in San Antonio while he recovers from COVID-19, said that men's teams are using daily PCR tests, which he considers more reliable, while the women are using antigen tests. The NCAA did not respond to a request for comment.