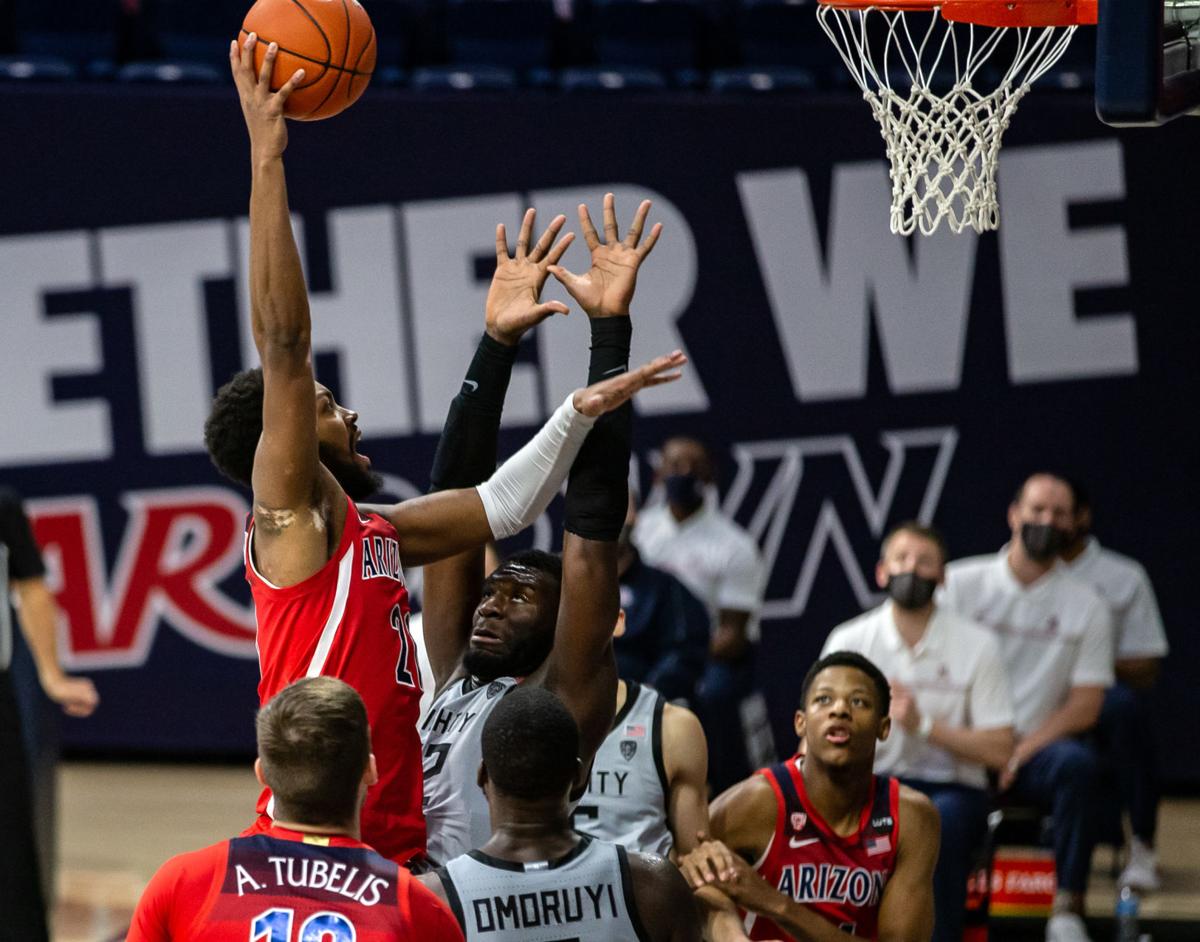 Arizona will get another crack at Oregon after all, and the Wildcats might even have an advantage this time.
The Pac-12 on Monday assigned Arizona a March 1 game at Oregon to make up the Jan. 16 date that was postponed because of the Ducks' COVID issues. The tipoff time has yet to be announced but the game will be carried on ESPN or ESPN2.
Because the Ducks were in what turned out to be the first of two COVID pauses in mid-January, they're paying for all that time off now with six games scheduled over the final 13 days of the regular season, meaning the Wildcats could be fresher to face a team that has beaten them six straight times.
After playing at USC on Monday night, Oregon was scheduled play at Stanford on Thursday and at California on Saturday before hosting Arizona on Monday. The Wildcats, meanwhile, have the week free until hosting Washington State on Thursday and Washington on Saturday.
The rescheduling also means Arizona now has a chance to play a full 20-game conference schedule, and the Wildcats also have an opening to play a final nonconference game if they choose to since their canceled Dec. 21 game against San Diego was never made up.
Ryan Reynolds, UA's director of basketball operations, said it was possible the Wildcats could look to play a final nonconference game at home but wasn't sure, with the team just having found out about the Oregon rescheduling earlier Monday.
The Pac-12 originally scheduled only geographic rivals to play on the final day of the regular season, March 6, leaving the early portions of next week open for makeups. But last month the conference started pushing some of the March 6 games up to keep the entire final week open for makeups.
Arizona's March 6 home game with ASU was moved to Jan. 25 as a result, with the previously COVID-plagued Sun Devils instead now using the last week to face Washington State, Colorado and Utah.
However, that Jan. 25 UA-ASU game was just four days after UA beat ASU in Tempe and just three days before the Wildcats lost to Stanford, something UA coach Sean Miller indicated didn't help the Wildcats' energy in a 73-64 loss to the Cardinal.
Pac-12 honors Tubelis
Forward Azuolas Tubelis picked up his first Pac-12 Freshman of the Week award Monday in the most direct way possible: By going through USC and the guy who usually owns the award, center Evan Mobley.
Already having scored 31 points on USC last month, Tubelis had 16 points and 15 rebounds during Arizona's 81-72 upset win over the Trojans on Saturday to beat out the also-nominated Mobley, who had 23 points and five rebounds against the Wildcats.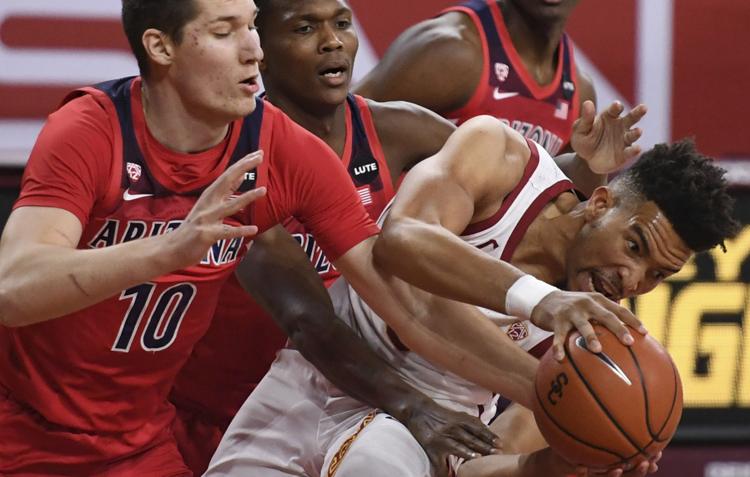 Over two games last week, Tubelis averaged 17.0 points and 11.5 rebounds while shooting 48.3% from the field while Mobley averaged 22.5 points and 9.0 rebounds between the Trojans' win over ASU and their loss to Arizona.
While Mobley has won Freshman of the Week a record six times and Player of the Week once, Arizona had previously had only one Player of the Week and one Freshman of the Week award all season.
Jemarl Baker received the Player of the Week award on Dec. 14 after a three-game week that included a 33-point effort against NAU while Bennedict Mathurin was named Freshman of the Week on Jan. 4, after he had 24 points and 11 rebounds while making 8 of 12 shots during Arizona's double-overtime win at Washington State.
This week, Arizona also nominated guard James Akinjo for Pac-12 Player of the Week after he had 20 points, seven assists and only two turnovers at USC. But Washington State's Noah Williams took the honors after scoring 40 points against Stanford and 32 against Cal in the Cougars' sweep of the Bay area schools.
In two games last week, Akinjo averaged 20.5 points, 5.0 assists and 1.0 turnovers in two games while shooting 44.4% overall and hitting 14 of 18 total free throws (77.8%).
Estonia qualifies
Playing without Kerr Kriisa but with other veteran guards, Estonia qualified for Eurobasket 2022 on Monday despite losing to North Macedonia.
Kriisa quote-tweeted FIBA video of celebrating Estonian players, adding, simply, "!!!!!!!!"
Estonia lost 84-82 to tie with North Macedonia for the third and final qualifying spot in its group, but won the tiebreaker because it had the winning overall margin, having beaten North Macedonia 81-72 in the first matchup, played a year ago.
Kriisa went home to play Eurobasket qualifiers for Estonia in November, when he was still ineligible to play under NCAA rules, though Estonia wound up playing only one game, a loss to Russia, because a second game was postponed due to COVID issues with North Macedonia.
"It made sense for Kerr have a chance to play for his national team when he wasn't eligible to play for us," Miller said. "But Kerr's really helping us. He's meant a lot to us. …he's focused right now on finishing the season, going to school and doing all those things."
USC still ranked
USC remained the Pac-12's only ranked team Monday, dropping two spots to No. 19 after losing to Arizona, while Oregon continued to gain momentum.
The Ducks received the 29th most points in voting, while UCLA finished 33rd in voting. Colorado was 35th in voting despite being No. 14 in Kenpom and No. 21 in the NET.
Arizona is No. 45 in NET, 51 in Sagarin and 39 in Kenpom. The Wildcats are now 2-3 in Quad 1 opportunities after their win at USC (their Dec. 28 home win over Colorado was the other win).
Stanford's win upgraded
The NCAA announced Friday that Stanford's temporary home in Santa Cruz earlier this season would be classified as a "neutral" site, meaning the Cardinal's Dec. 19 win over Arizona now counts as a Quad 1 win, according to the San Jose Mercury News.
Stanford's Jan. 23 win over UCLA also moved up from Quad 2 to Quad 1, helping the Cardinal's prospects of landing an at-large NCAA Tournament berth. Stanford is currently 57 in the NET and 61 in Kenpom.
The Cardinal lived out of a hotel and went 5-0 while playing at Santa Cruz' Kaiser Permanente Arena, about 45 miles away from Maples Pavilion, since a Santa Clara County health order prohibited Stanford from playing at home until this month.